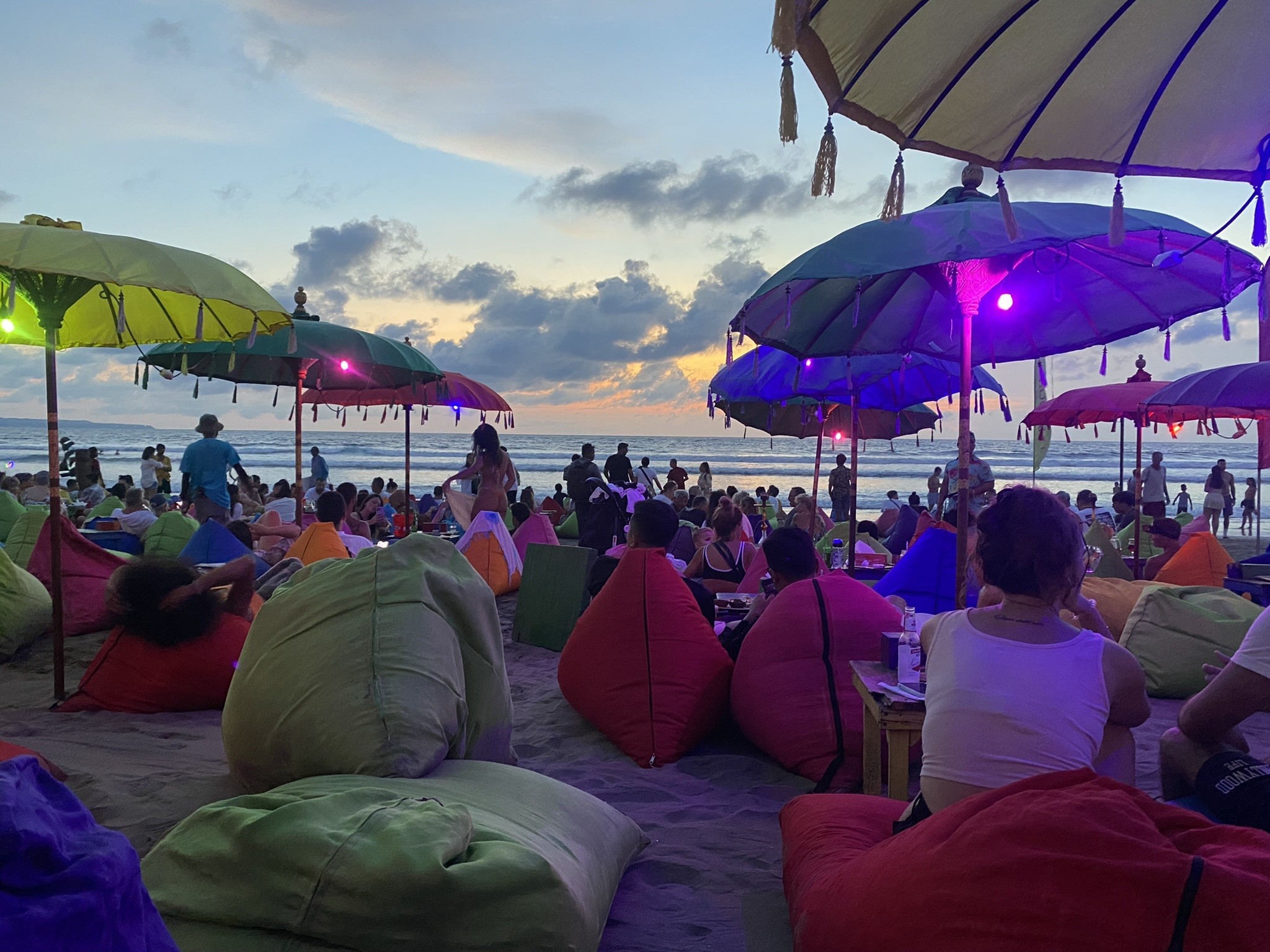 The beautiful island of Bali is a province of Indonesia and is the biggest among its smaller neighbouring islands - Nusa Lembongan, Nusa Penida and Nusa Ceningan. Bali is Indonesia's main tourist destination and is renowned for its arts including dance, sculpture and painting especially in its cultural hub Ubud. The island is the only Hindu-majority province in Indonesia. Most of Bali's population adheres to Balinese Hinduism, formed as a combination of existing local beliefs and Hindu influences from mainland Southeast Asia and South Asia. There is an abundance of birds and wildlife on the island and a vibrant energy that can be felt all around.
Indonesia as a whole is a very vegetarian-friendly country. Due to its Hinduism, Bali is in fact a paradise for people looking for delicious vegetarian and vegan delicacies with about 70% of its population being vegetarian. Gado Gado is a local delicacy and by far the most common vegetarian dish. It is served with a green bean-style vegetable, tofu, fried tempeh (fermented soybean sticks), a hardboiled egg and other restaurant-specific additions depending on where you go.
As the world opens up after the pandemic, my family and I were lucky enough to travel to Bali for a family wedding and took the opportunity to live and work there for two months afterwards. During this time, we immersed ourselves in the culture, spending time in various towns around the island including Nusa Dua, Uluwatu, Seminyak and Ubud.
The busy beach town of Seminyak is where we spent a lot of our time. There you will find many vegetarian and vegan options in most restaurants. Whether you're after a Western or traditional Balinese meal, these restaurants are a treat for the taste buds.
Should you ever get the opportunity to go to Bali here are the top 8 places to eat in Seminyak, all offering an array of options including vegetarian and vegan food.
Revolver – tucked in a laneway off the main road in Seminyak, Revolver is one not to be missed! With a laidback atmosphere, the restaurant is a coffee institution and you can't go wrong if you go for breakfast or lunch. We enjoyed a delicious lunch and the stars of the show were the burrito bowl and fatoush salad.
Ginger Moon – Voted the best fusion restaurant in Bali, Ginger Moon provides options of Western and Asian cuisine and is perfect for dinner. Not to be missed are the jackfruit rendang steamed buns, mushroom dumplings and Gado Gado salad.
Kilo Kitchen – This restaurant has an unconventional and beautifully minimalist décor. We went for dinner and the atmosphere was vibrant, the food delightful, and the mushroom gnocchi are a 'must try' here!
Watercress Café – If you're after a Western style breakfast or lunch, this café is the place to go. We went a few times and each time the food was consistently delicious with only the freshest ingredients used. The smashed avocado is the best in town.
Café Bali – This restaurant was recommended to us by locals, and it did not disappoint. It had delicious comfort food for the whole family and fantastic service. The vegetarian Mi Goreng was particularly delicious.
Ku De Ta – One of Bali's most well-known restaurants and one of our favourites! Ku De Ta has a vibrant atmosphere offering indoor and outdoor seating options next to the pool and right by the beach. The menu boasts a selection of local and continental cuisines. We enjoyed a light lunch and loved the margarita pizza and burrata salad.
La Plancha – Nestled in the heart of the Balinese landscape, this is Bali's original Chiringuito style restaurant. The brightly coloured restaurant is vintage inspired and right on the beach, bringing Spanish culture to Bali. The dishes are tapa style and must-tries are the vegetable tempura, patatas bravas and tomato salad.
Mari Beach Club – Open for lunch and dinner and set right by the Batu Belig beachfront, this is the perfect place to enjoy a relaxed dining experience. Beautiful bamboo décor sets the background while the menu celebrates coastal Mediterranean and Japanese delicacies. The star of the show is the delicious and beautifully presented eggplant dish.
Bali has left us inspired and rejuvenated. The positivity and friendliness of the local people is unparalleled. If you get a chance to travel to Bali you will not be disappointed. The island's natural beauty and ancient cultural heritage offer a rich array of experiences. Whether you want to relax by the beach at one of the beach towns or immerse yourself deeper into yoga and culture in the midland, there are options for every lifestyle.
By Ina Babic – NZVS Marketing & Communications Manager | Editor, Vegetarian Living NZ