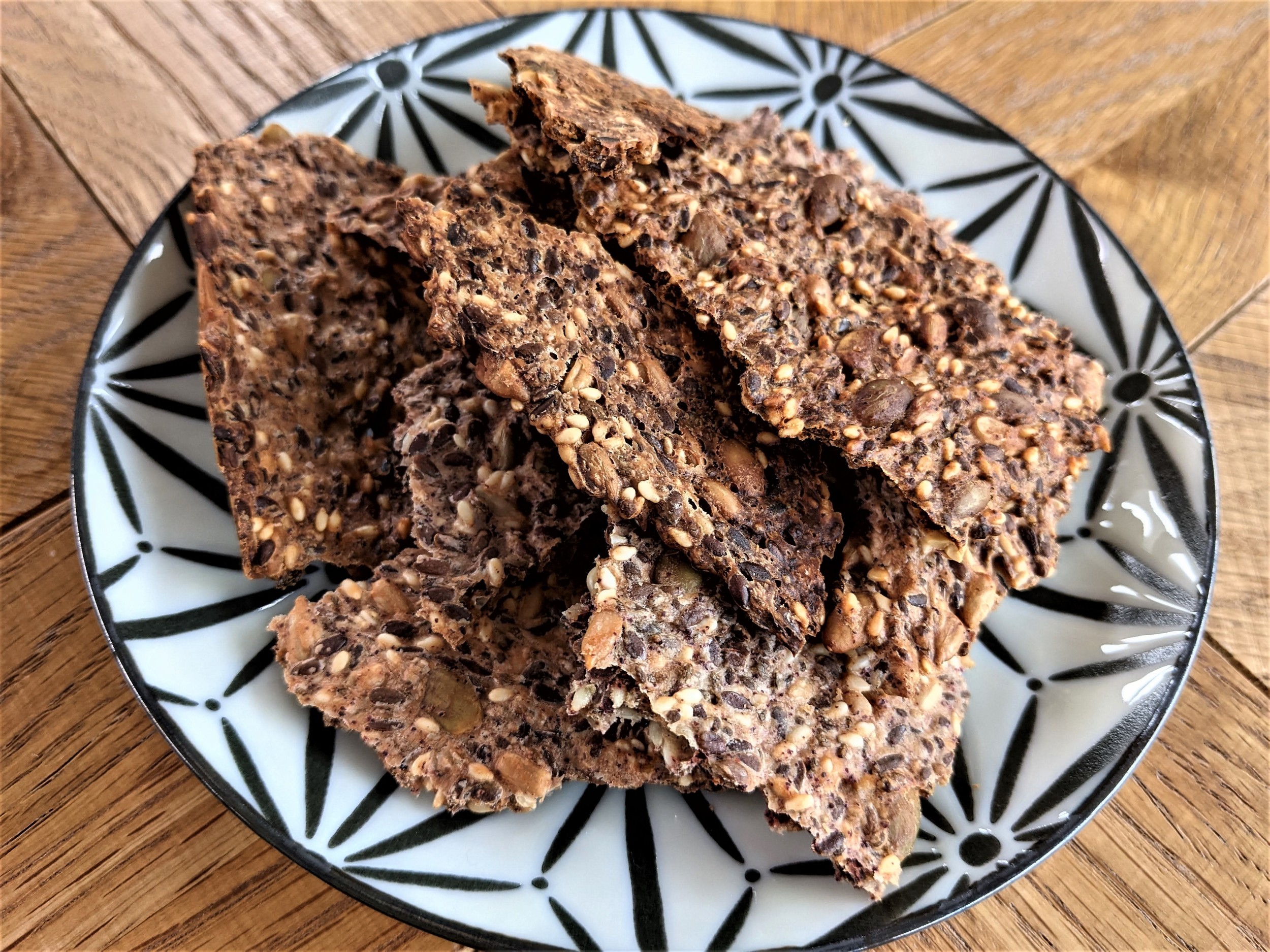 You are going to LOVE this recipe and probably adopt it as one of your favourite's.
What you need for this simple recipe is a kitchen scale, in order to weigh the ingredients accurately. You can use one bowl, zero the scale between adding the next ingredient, then just mix everything in this one bowl, first the dry ingredients, then the liquids.
Those healthy savoury crackers are vegan and GF and great for entertaining with various dips. This is also a great snack for hikes!
Ingredients
Dry ingredients
120 g sunflower seeds
120 g flax seeds
60 g chia seeds
55 g pumpkin seeds
55 g sesame seeds
90 g chickpea flour (can be replaced with 70 g tapioca flour or corn flour)
2 tsp raw sugar
1 ½ tsp salt
¾ tsp black pepper (coarsely grounded)
Optional: add spices that you like, such as chili, zaatar, etc.
Liquid ingredients
375 ml boiled water (=375 gram)
¼ cup olive oil
3 Tbs tahini paste (raw)
Directions
Heat the oven on 180°C
Prepare 2 large big oven baking pans, covered with a baking paper. You can use flat cookie baking pans or the standard oven pans.
Mix all the dry ingredients in a large bowl.
Pour the liquid ingredients into the bowl and mix well. The mixture should be quite runny.
Pour half the mixture on each baking pan and flatten it with a spatula neatly.
Bake each pan for about 40 minutes, until it looks brown and crispy. Let it cool down and break into pieces.
Keep the crackers in an air tight container. The crackers would keep fresh and tasty for about 2 weeks, but there is no chance that you won't finish them by then…
Latest vegetarian & vegan recipes
Other delicious ideas…