Recipes
Hemp Seed and Protein Bagels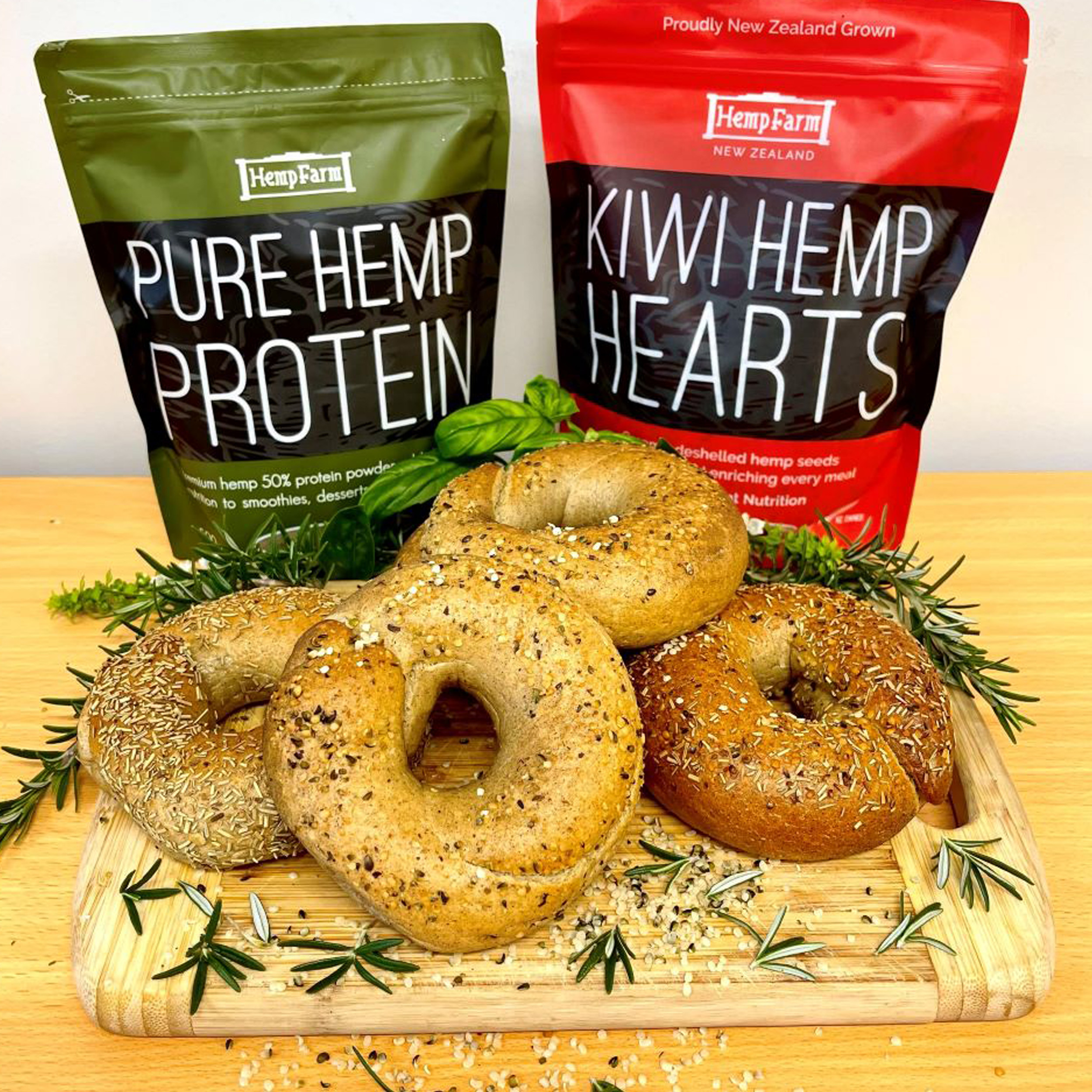 How good do these plant-based protein Bagels look, and who doesn't love a bagel!
These ones are loaded with NZVS vegan-certified Hemp protein powder and Hemp seed hearts.
The seeds are inside the bagel, rather than on the outside, as some seeds and nuts burn very easily. So instead of putting those items on top of your bagels, you can fold them into the dough. But if you love a coating on a bagel here are a few options that work well: poppy seeds, sesame seeds, coarse sea salt, rosemary, rolled oats.
Our favourite toppings are cream cheese or dairy-free alternatives, avocado and hemp hearts, peanut butter, and banana, avocado, and sweet chili jam! Perfect for a weekend treat!
Photography by Fay McCormick, HempNZ™
Ingredients
1 ½ cups warm water
1 Tbs dry yeast
2 tsp salt
3 Tbs natural sweetener eg. raw cane or coconut sugar
3 ¼ cups bread flour or if not available use high-grade flour
¾ cup Hemp Protein
½ cup Hemp Hearts for folding in before you shape the bagels
4 Tbs Sweetener for the water brine, eg malt sugar, maple syrup
3-4 Litre of water, bring to a rolling boil
½ cup Hemp Hearts mixed with your choice of herbs eg. rosemary, and sesame seeds for the topping
Equipment
Large mixing bowl
Large, wide pot (3-4 Litre capacity for boiling)
Mesh strainer or large slotted spoon to scoop out bagels
Baking sheet for the baking tray
Directions
In a large mixing bowl mix the warm water with the sweetener (coconut sugar, honey, cane sugar) until dissolved, sprinkle the yeast on top and then cover the bowl for 5 min or until the yeast starts to froth. In another bowl mix flour, salt, and Hemp Protein until evenly combined.
After the yeast has been activated, add the flour mix to the liquid and knead together quickly. As the dough starts to become firmer, tip it onto a floured bench and then knead it well for another 5 minutes.
Place the dough ball back into your mixing bowl dusted with flour. Cover with an air-tight lid or place the bowl inside a plastic bag to prevent moisture to escape. Cover with a tea towel and let the dough rise in a warm spot for about an hour or until about doubled in size.
When the proof time is up, tip the dough onto a floured surface, fold in the hemp hearts, and knead it lightly.
Cut the dough into equal pieces - at approximately 120g each. This recipe should make around 9 bagels.
You are shaping the bagel by rolling each portion into a sausage approximately 12cm long, so it wraps around your hand. This way it is easy to pinch them closed in the palm of the hand the bagel wraps around. Place them on a lightly floured board and set aside.
Preheat the oven to 220°C, and line your baking tray with baking paper or a silicone baking sheet.
Bring the water in the large soup pot to a boil and add the sweetener to dissolve. Cook 3 – 4 bagels at a time, sliding each bagel carefully into the hot water with the straining spoon. Be careful you don't drop them in to avoid hot splashes on your skin. Cook each batch for 1 – 2 minutes. Then scoop each bagel out with the straining spoon again, and let the water drip off a little before placing the bagels on the baking tray.
In between batches you can dip the previous cooled batch into your toppings, e.g. a mix of hemp hearts with herbs like dried rosemary or flaked sea salt and sesame seeds if you like it savoury.
Bake the bagels at 220 °C for 25 minutes or until slightly browned.
Cool for 10 – 15 minutes before serving.
Latest vegetarian & vegan recipes
Other delicious ideas…