Recipes
Berry Chocolate Dessert Cake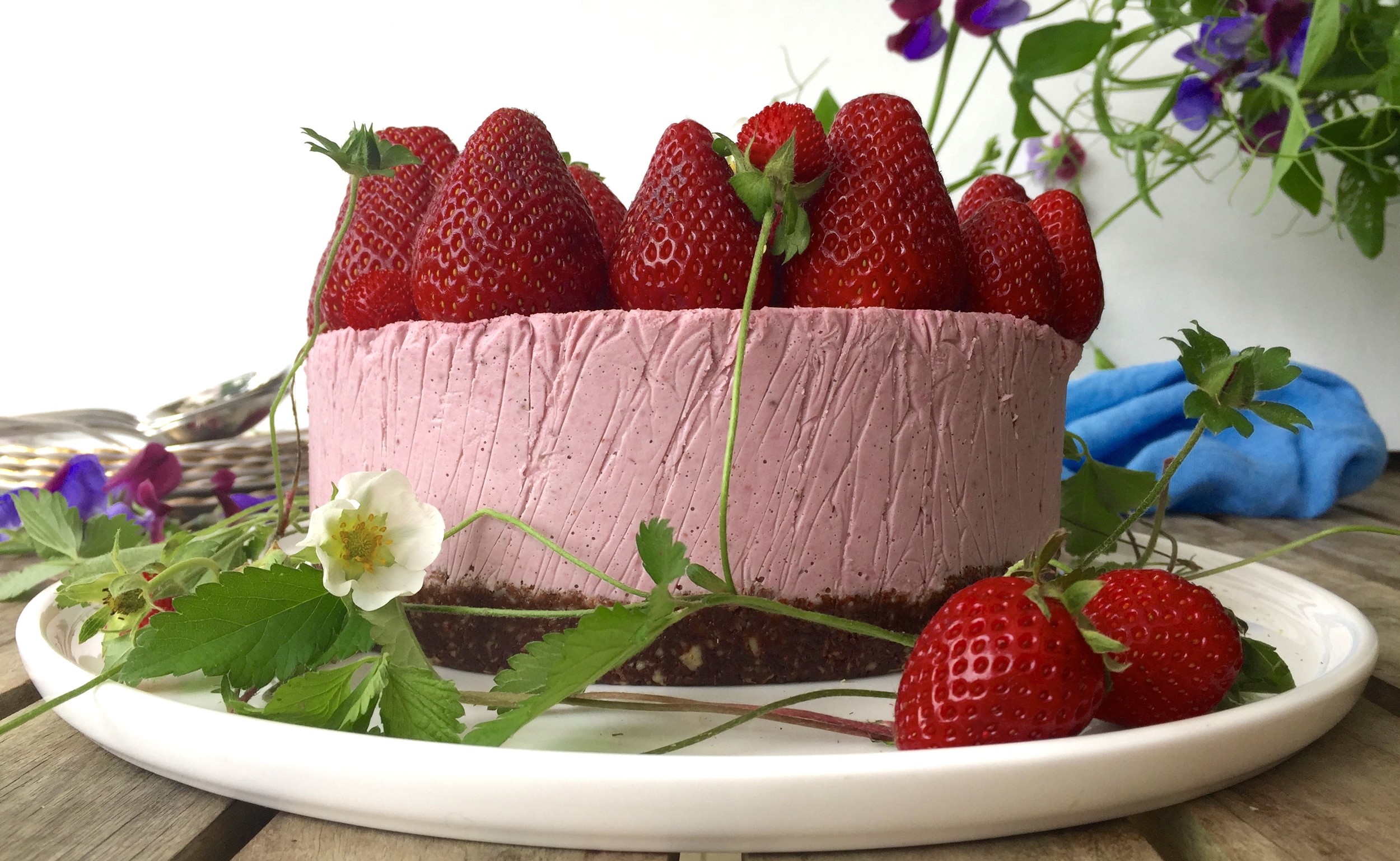 This recipe is from the Veggie Tree Cookbook by Anna Valentine. Anna's recipes also feature in our Vegetarian Living NZ magazine.
This is like a frozen cheesecake or ice cream cake but without any dairy or cheese involved. It is great because you can make it a couple of days ahead of time. Remove it from the freezer into the fridge an hour before serving so that it has a chance to defrost slightly. Note that the nuts and maybe the dates will need to be well soaked before making this recipe.
Please note you will need at least 6 hours freezing time, 1 hour in the refrigerator and 2 hours to soak the nuts.
Ingredients
Refer to next section for ingredients.
Directions
Gather your ingredients and get out your food processor. With the chopping blade fitted, add:
1 cup macadamia nuts or almonds
1 tsp macadamia oil
1/2 cup desiccated coconut
1/4 cup Dutch cocoa or raw cacao powder
A pinch of salt flakes or pink salt
1/2 cup (8) medjool dates, pitted (or regular dates soaked)
Blitz until it all comes together in one mass and is chopped well. You may need to give the food processor a jig or scrape down to help it blend evenly. Tip out into a cling film lined spring form tin and push the mixture down evenly with a spatula or your hands. Chill in the freezer while you make the filling. You will need to clean out your food processor:
2 1/2 cup (350g) raw cashews, soaked for at least 2 hours
In a saucepan melt together the following over a very low heat, stirring all the time and remove from the heat as soon as they are melted:
3/4 cup virgin coconut oil, melted
2 Tbs cocoa butter, melted
Add the melted mixture to the processor along with:
1 cup coconut cream
Zest and juice of 1 lemon
1/2 cup coconut nectar or maple syrup
1 tsp vanilla paste
3 cup (350g) fresh berries
Blitz up until super smooth and creamy, about five minutes or so. Scrape the filling into the chilled base and smooth around evenly. Return to the freezer, cover with cling film and freeze for at least six hours. Remove from the freezer and carefully push the cake up and out of the tin, remove the cling film and place onto a plate in the fridge for one hour before serving. Top with berries and edible flowers.
Latest vegetarian & vegan recipes
Other delicious ideas…