Recipes
Braised Veggie Meat with Potato au Gratin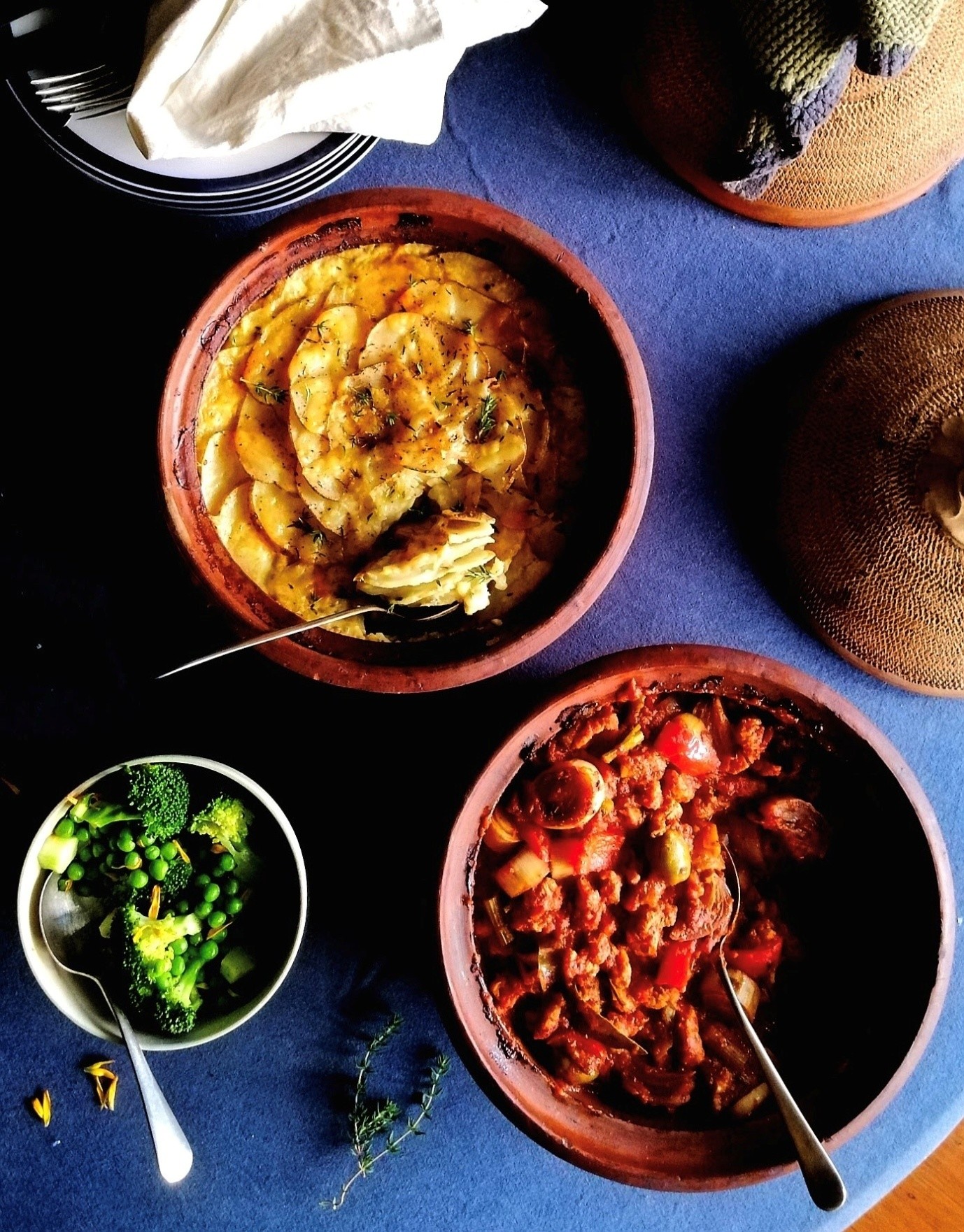 This recipe is a great one for those times when you just want to chuck the dinner in the oven and walk away from the kitchen for an hour while it cooks.
"Any type of beans or lentils could be used as an alternative to the plant protein, or plant-based sausages, I use 'Frys' chicken strips.
The main tip I can give about cooking with plant-based proteins is they need fat and sauce. Plant-based proteins including beans and lentils are predominantly pure protein, which means you need to add fat which gives you a choice how much, and which ones you prefer to use.
Braising is a great method of cookery for juicy flavourful meals and perfect for fuss free cooking."
Our thanks to Anna Valentine for sharing this recipe! Click here for more delicious recipes.


Ingredients
Refer to next section for ingredients.
Directions
Gratin
1. Gather your ingredients and prepare the following so you can layer them into an ovenproof dish:
4 potatoes, scrubbed and thinly sliced (I use a Japanese mandolin)
1 shallot, thinly sliced
2 cloves garlic, thinly sliced
4 sprigs fresh thyme, leaves stripped
250g Gruyère cheese or plant-based mozzerella, grated
200ml cashew or dairy cream
50ml water
2. Grease an ovenproof dish, then add a layer of potato, with the slices overlapping.
3. Sprinkle over a third of the grated cheese, then a third of the shallot, thyme and garlic. Add a little pinch of salt and pepper. Repeat with another two layers.
4. Pour the cream and water over the layered potato, then top with the remaining cheese.
5. Cover and bake at 180°C for 1 hour. Test the potato is done by putting a knife in the middle; it should easily go through the potato layers.
Braised Veggie Meat
Prepare the following:
2 shallots, halved
2 small red onions, halved
1 clove garlic, chopped
2 stalks celery, sliced
100g olives, pitted
1 stalk fresh rosemary, leaves stripped
1. Slowly heat a heavy based frying pan or oven proof dish, then add:
2. When the oil is hot, add the shallots and onions and:
1 packet (300g) veggie meat or alternative
3. Sautee to until beginning to colour, then transfer to a warmed, ovenproof dish.
4. Add the garlic, celery, olives and rosemary and:
1 x 400ml can chopped tomatoes or passata
200ml water
½ tsp salt and a few cracks of pepper.
5. Cover and bake at 180°C for 1 hour.
6. Serve with your choice of steamed green vegetables.
Latest vegetarian & vegan recipes
Other delicious ideas…