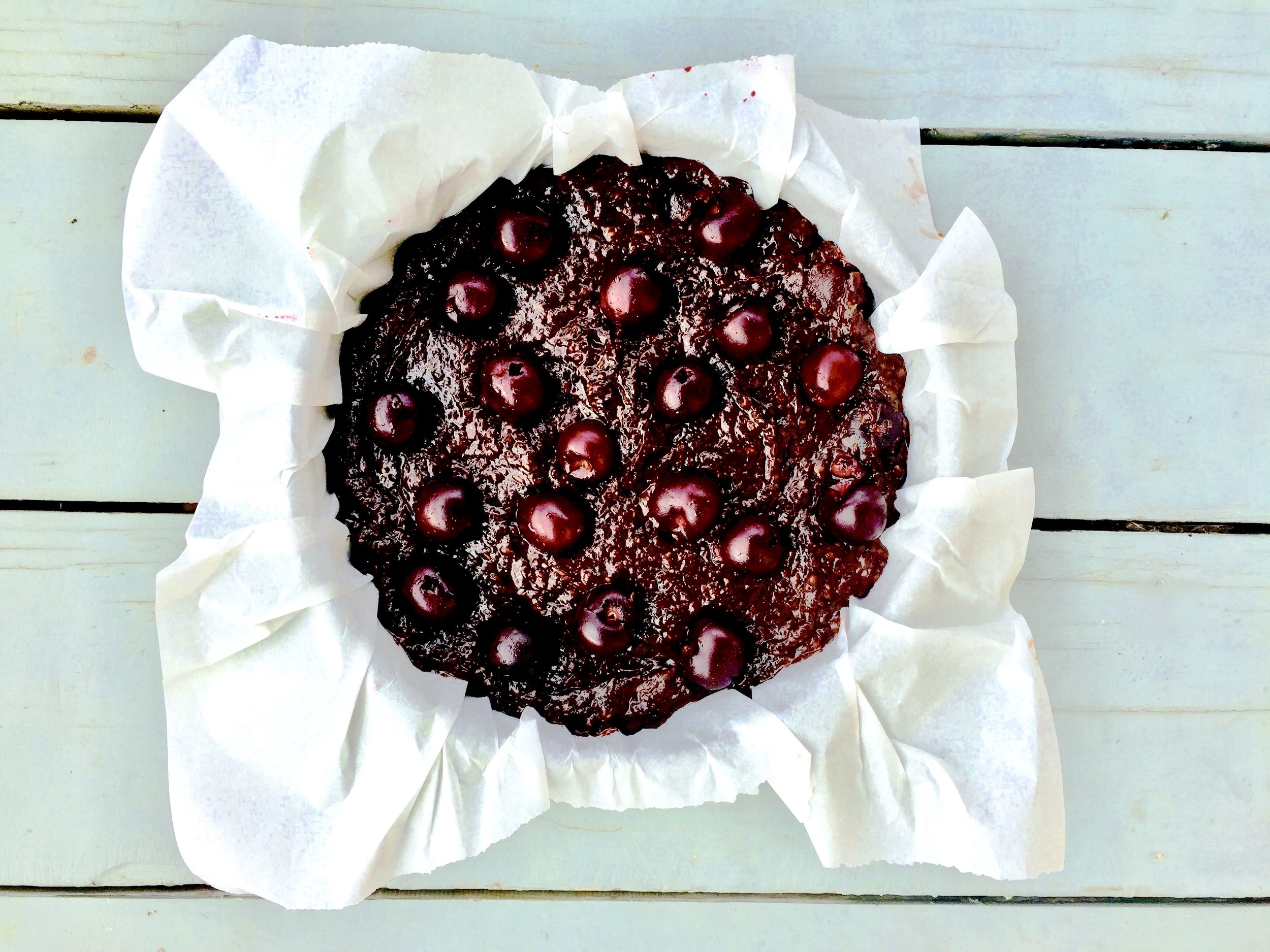 This recipe is from the Veggie Tree Cookbook by Anna Valentine. Anna's recipes also feature in our Vegetarian Living NZ magazine.
Cherries are the most exciting Christmas treat for me. This cake is moist, decadent and healthy. No refined sugar added and a yummy choc sauce that can also be used for choc dipped fresh summer fruits. Enjoy!
Makes 1 x 21 cm cake.
Ingredients
Refer to next section for ingredients.
Directions
Line the tin with baking paper and pre heat the oven to 180 degrees C.
In a bowl place the following:
200g dates
1 tsp baking soda
100g chocolate chopped
180g coconut oil
½ cup boiling water
Give the mixture a stir and leave to melt together. In a separate bowl add:
3 Tbs chia seeds + 200 ml water
Stir the chia and water together then again in a 5 minutes. In a large bowl measure in the following:
½ cup Dutch cocoa
½ cup desiccated coconut
½ cup wholemeal spelt flour or coconut flour
½ cup coconut sugar
2 Tbs maple syrup
2 tsp baking powder
Into a food processor add the first date chocolate mix and whizz till smooth. Scrape this out of the processor into the dry mix bowl and add the chia mix and:
250 g cherries, half in mix half on top
Mix together and scrape into your lined tin then scatter the second measure of cherries on the top. Bake for 1 hour, until a skewer inserted comes out clean. Remove with the baking paper and cool on a cooling rack. Chocolate icing or sauce. Add the following ingredients to a small pot:
¼ cup coconut oil
2 Tbs maple syrup
½ cup raw cacao
1 tsp cacao butter
100g dark chocolate
Melt together gently and stir until smooth. Remove from the heat as soon as it is melted. Pour over the cake when cool or use as a sauce.
Latest vegetarian & vegan recipes
Other delicious ideas…