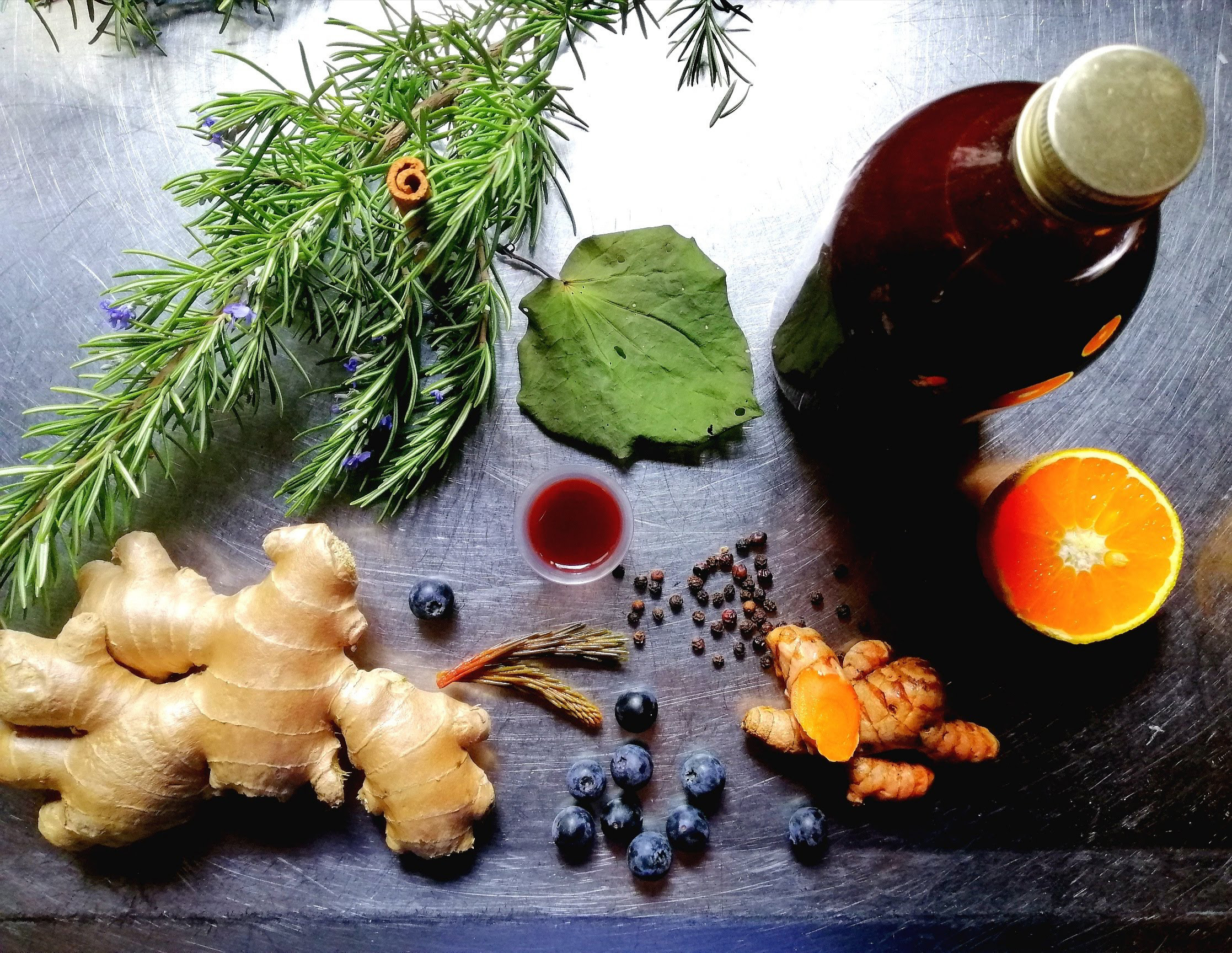 This tonic helps fight off the germs whilst building a healthy immune system.
The addition of ginger, turmeric, black pepper, cloves, cardamom, cinnamon, rosemary, oregano, thyme, kawakawa, kumarahou and pine gives a wide range of soothing properties for colds and flu symptoms, and respiratory aliments.
This recipe is from the Veggie Tree Cookbook by Anna Valentine. Anna's recipes also feature in our Vegetarian Living Magazine.
Ingredients
Refer to the next section for the ingredients.
Directions
1.) Gather your ingredients and prepare the following in a large pot:
1 kg elderberries, black currants or blueberries
500g grapes (optional)
4 lemons, sliced
4 oranges, sliced
8 cm fresh ginger, sliced
8 cm fresh turmeric, sliced
2 tsp black peppercorns, crushed
2 tsp cloves
2 tsp cardamom pods, crushed
1 cinnamon quill
1 large stick rosemary
2-3 sticks fresh oregano or 1 Tbs dried
6 sticks fresh thyme or 1 tsp dried
a handful of pine needles (optional)
6-8 kawakawa leaves (optional)
6-8 kumarahou leaves (optional)
1/4 cup molasses
2 L water
2.) Bring to the boil and simmer for 1 hour. Strain the tonic through a sieve into another pot and push to remove all the liquid you can. Reheat if needed and stir through the honey until melted:
1/4 or 1/2 cup manuka or kanuka honey or agave syrup
Optional additions:
20 drops echinacea or usnea tincture
3.) Pour into warm sterilised bottles and cap. Once opened store in the fridge.
Dosage, shake before use:
1 tsp children
1 Tbsp adults
As often as required when symptoms present.
Latest vegetarian & vegan recipes
Other delicious ideas…