Recipes
Date Caramel & Chocolate Slice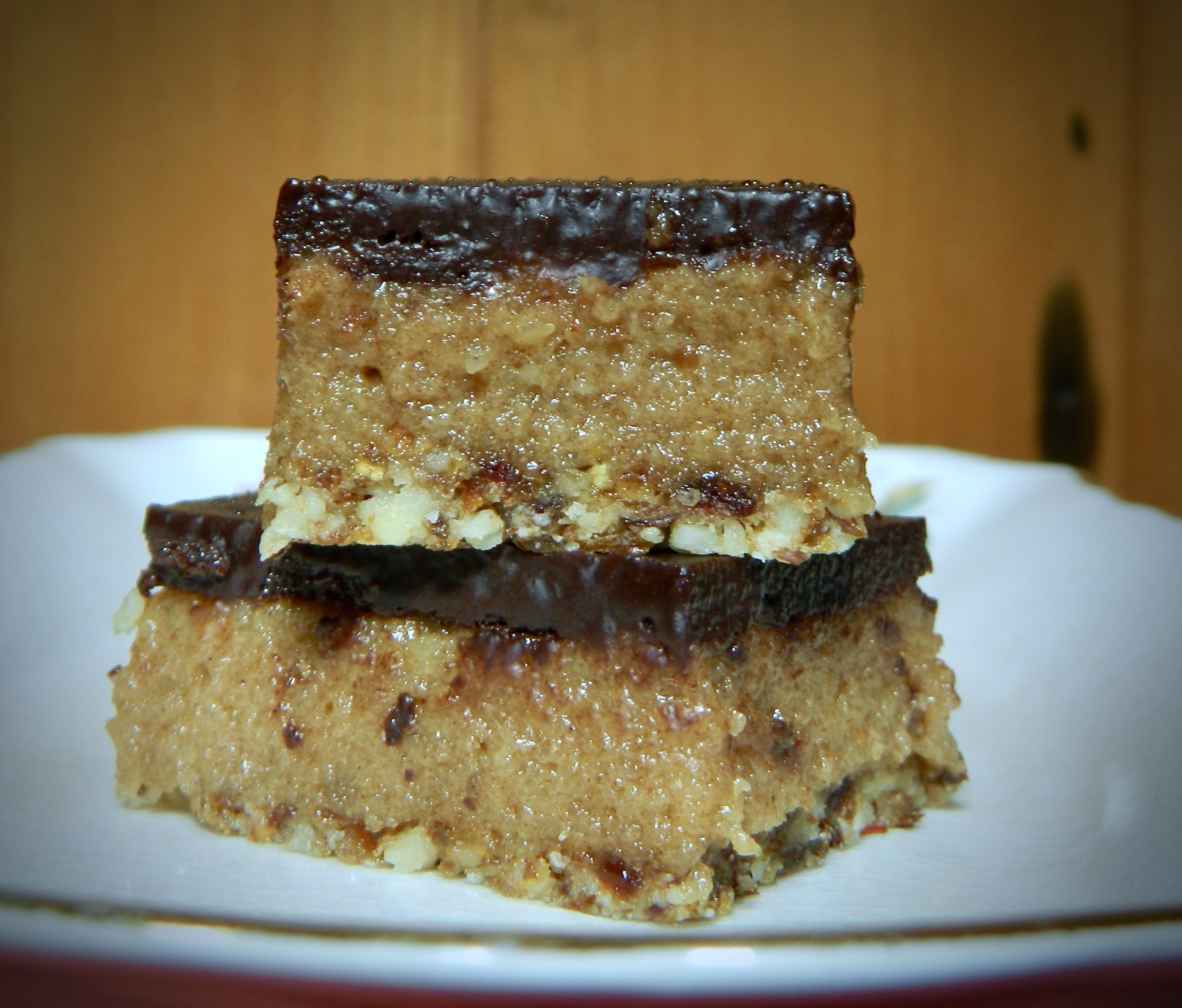 This is a cold slice that's stored in the fridge. It is all made in the food processor too, so it's very easy to make.
This recipe is from the Veggie Tree Cookbook by Anna Valentine. Anna's recipes also feature in our Vegetarian Living NZ magazine.
Allow an hour to soak the nuts and extra time to freeze the slice.
Ingredients
Refer to next section for ingredients.
Directions
Line a 20cm x 30cm slice tin with baking paper.
BASE
Gather your ingredients. Start by soaking nuts in water for at least 1 hour:
1 cup raw macadamia and/or cashew nuts
1 cup water
Measure straight into the food processor (if using date paste pulse the nuts until coarsely chopped first):
1/2 cup almonds
1/2 cup walnuts or brazil nuts
1 cup medjool dates, pips removed, or date paste
1 Tbs coconut oil
Process until it's the texture of coarse breadcrumbs and is sticking together. Now push the mix evenly into your lined tin and put it in the freezer to set.
FILLING
To make the filling, drain the macadamias, reserving the water. Put them in the food processor and add:
1 cup medjool dates, pips removed or date paste
1 Tbs tahini or 1 Tbs coconut cream
1/3 cup coconut sugar
1/4 cup water
Blitz until smooth, then spread over the base and return the tin to the freezer.
TOPPING
Make the chocolate layer by slowly melting the following ingredients together in a pot:
80gm cacao butter
3 Tbs coconut oil
1/2 cup maple syrup
1/2 cup cacao powder
1/2 tsp vanilla seeds or extract.
Swirl the mixture in the pot (ensure it does not boil) to help melt the cocoa butter and take the pot off the heat as soon as it's melted.
Check the filling is set before pouring over the chocolate. Spread the chocolate evenly across the top and put it into the freezer until totally set.
Remove from the freezer and cut into pieces. Store in an airtight container in the fridge.
Latest vegetarian & vegan recipes
Other delicious ideas…