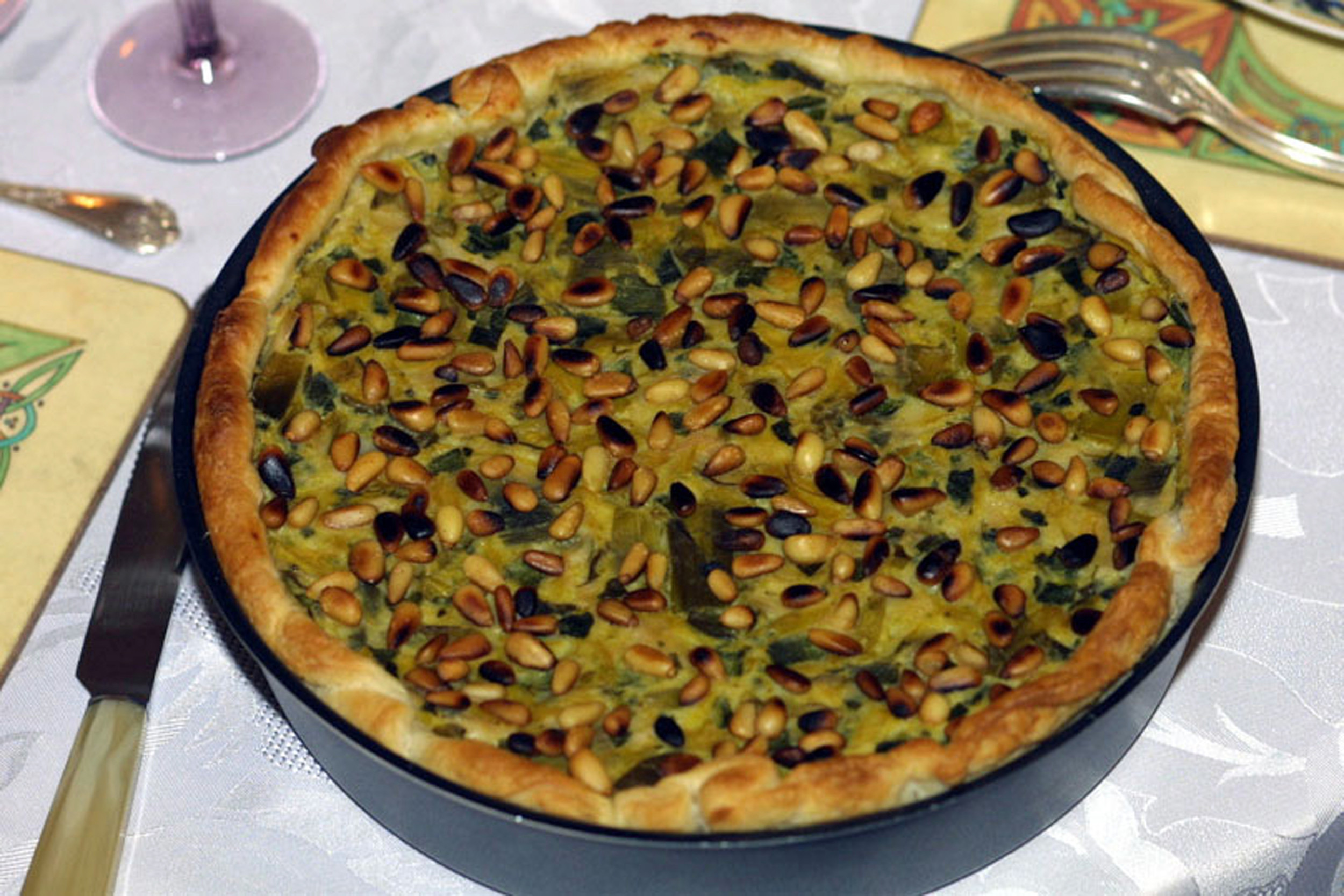 Vegetarianism is growing rapidly in New Zealand, but other parts of the world have had meat-free cuisines for centuries. For a rich and varied plant-based diet, talk to Chinese, Indians, Mexicans… Our wonderful volunteers have shared authentic recipes from around the world. Most of these recipes were traditionally vegan, but some were meat-based recipes that have been 'veganised'. We have collected 31 recipes from 31 different countries to share with you – one for each day of October, World Vegetarian Month.
Here is a recipe from France.
Thanks to Diana Dunningham Chapotin for the recipe.
Ingredients
Six large leeks
A red or yellow onion
Almond butter
Arrowroot
Pastry (circular-shaped pre-packaged one!)
A handful of pine nuts
Directions
Lightly grill some pine nuts in a pan without oil. Set aside.
Pre-heat the oven to 200°C.
Finely chop the leeks and the onion and steam them together.
Transfer to a large bowl.
Stir in a dessertspoonful of almond paste and three dessertspoonsful of 'No Egg' or arrowroot.
Add salt and pepper to taste.
Place the pastry into a shallow round pie dish and prick it with a fork.
Spread the mixture onto the pastry.
Topping: Spread the grilled pine nuts on top of the mixture. Put in the oven at 200°C until the pastry is brown.
Optional: Put a sheet of aluminium foil lightly on top to avoid the pastry burning. The foil It should barely touch the pie.
Accompany with a tomato salad.
Latest vegetarian & vegan recipes
Other delicious ideas…