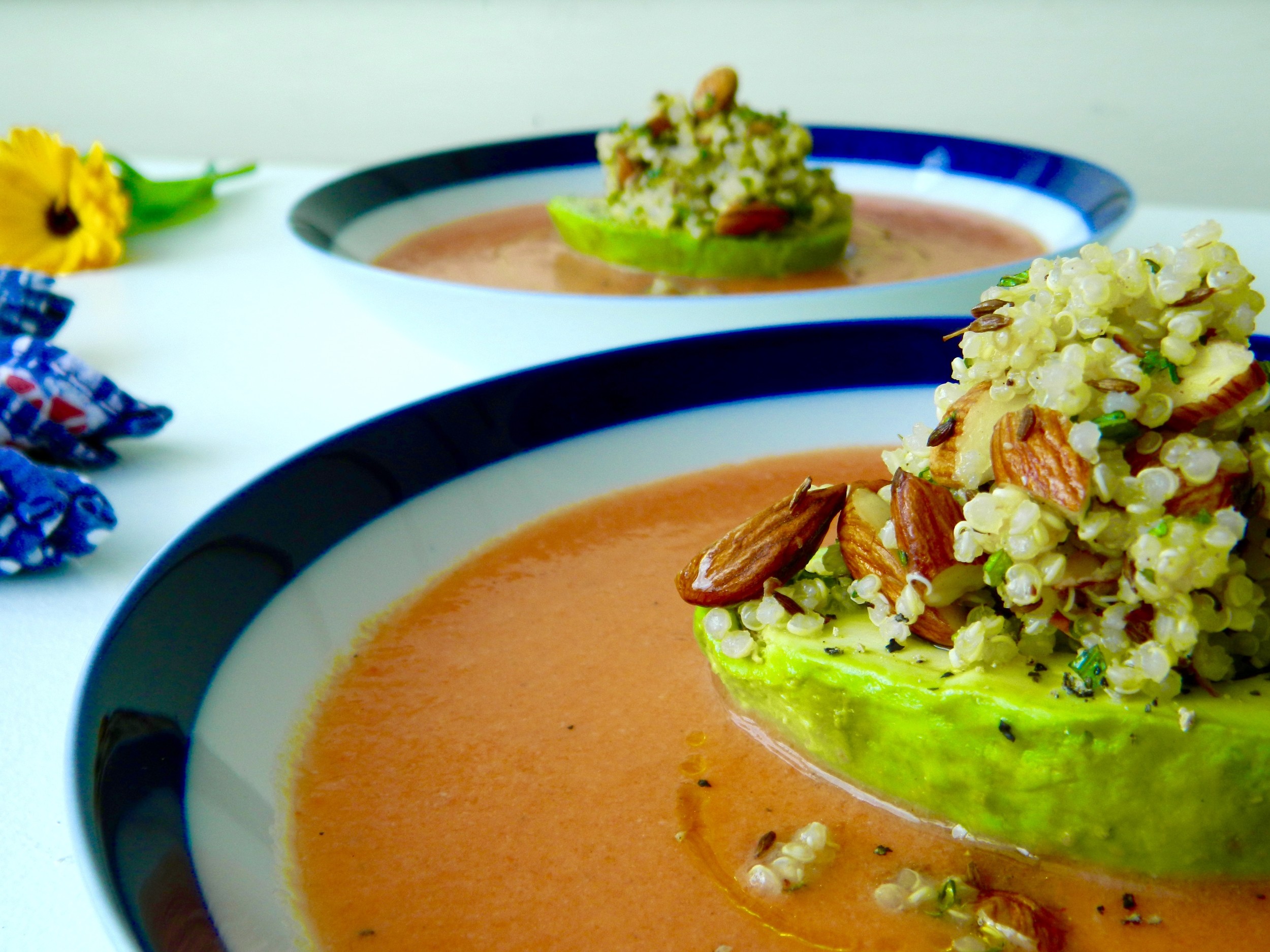 This recipe is fantastic for a hot summers day and makes the most of lovely ripe tomatoes. It is best served ice cold so ideal for making ahead of time so it gets a chance to chill before serving.

This recipe is from the Veggie Tree Cookbook by Anna Valentine. Anna's recipes also feature in our Vegetarian Living NZ magazine.

Makes 2 litres.

Ingredients
Refer to next section for ingredients.
Directions
Gather your ingredients.
Start with the tomatoes:
8-10 tomatoes (1 kg), peeled
Remove core and use a sharp knife to put a cross the base to make it easy to peel. Bring a pot of water to the boil and drop your prepared tomatoes on carefully. As soon as the skin starts to pull away from the tomato (30 seconds or so) remove tomatoes with a slotted spoon and cool them down quickly by running under coldest water or plunging into ice water. The peel should just slip off. Meanwhile take a large bowl and add:
2 slices of bread, no crusts torn into pieces
2 clove garlic,
½ red onion, roughly chopped
¼ cup (60 ml) extra virgin olive oil
¼ cup (60 ml) red wine or balsamic vinegar
Mix these together and leave to marinate while you get the other ingredients ready and add them to the bowl of bread as they are ready.
1 red capsicum, remove seeds and stem
¼ cucumber, peeled
1 Tbs salt
½ tsp cracked black pepper
Put the tomatoes and all other ingredients into the blender and whizz up until smooth, add ¼ cup water if needed. Then put a sieve over a large bowl and ladle the mix through the sieve pushing it all through with the ladles rounded edge, discard seeds etc that's left in the sieve. Check the seasoning and chill in the fridge until ready. While the soup is chilling make the topping. Start with cooking the quinoa:
½ cup (100g) quinoa
250 ml water
Cover and bring to the boil, then turn down to a simmer leaving the lid on and cook for about 6 minutes until the water is absorbed. Turn remove from the heat and leave to steam for a couple of minutes. Remove the lid and stir to help cool. Meanwhile toast the almonds and cumin in a frying pan until the cumin seeds start to pop:
½ cup almonds, roughly chopped
2 tsp cumin seeds
Add the cold quinoa to a bowl and dress with:
Juice of ½ a lemon
1 Tbs extra virgin olive oil
½ tsp salt
A few cracks of black pepper
3 sprigs mint, leaves finely chopped
And the toasted almonds and cumin
Toss together. To serve ladle the soup into bowls and to the centre of each bowl:
1/2 avocado per person, slice a flat edge on the bottom side of the avocado
To serve fill the stone holes with the quinoa topping and a drizzle of extra virgin olive oil.
Latest vegetarian & vegan recipes
Other delicious ideas…