Recipes
Great Vegan Chocolate Mousse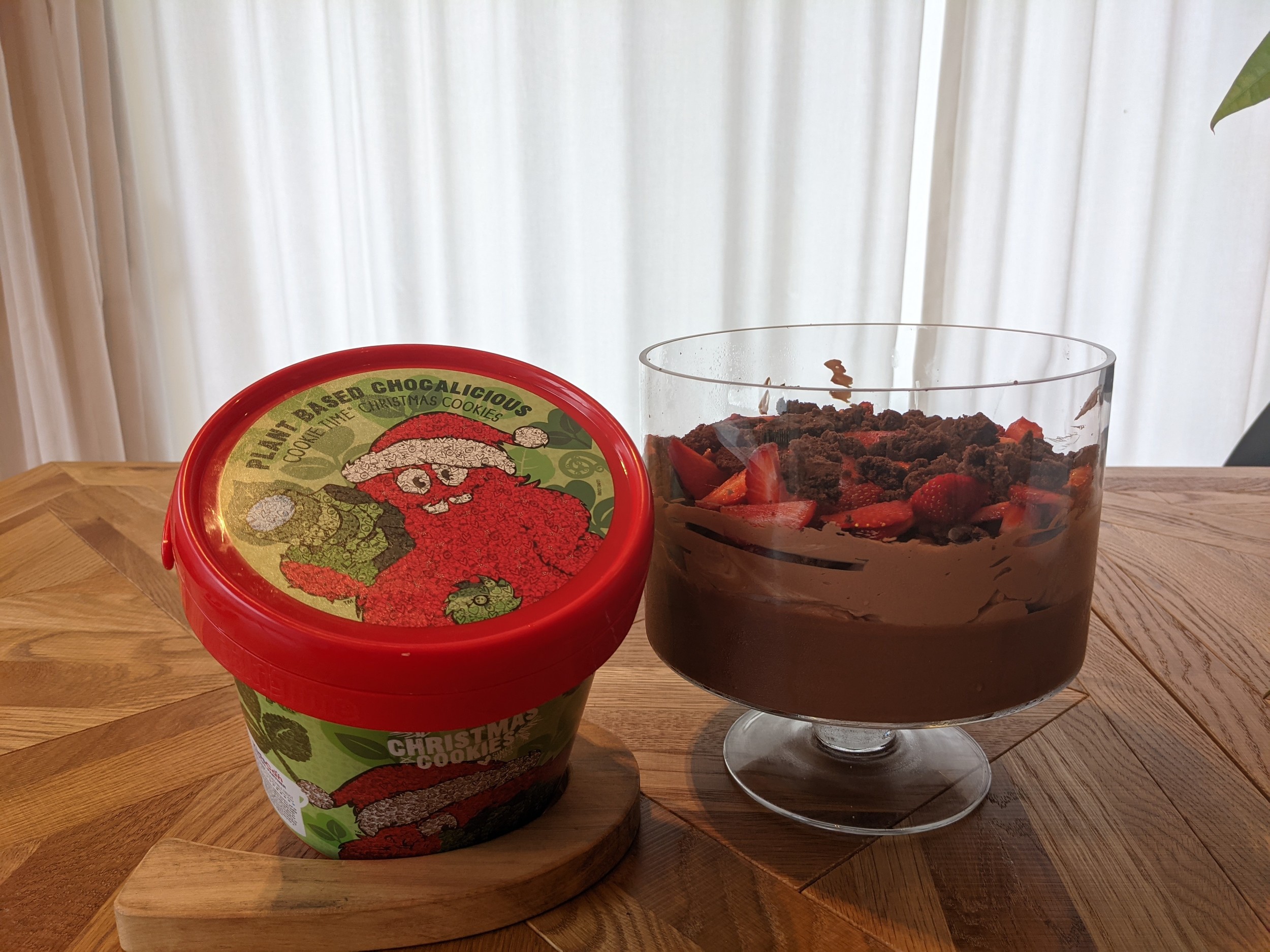 Great vegan chocolate mousse, which can be also used as a layer on top of a simple chilled chocolate cake, makes it a decadent and impressive dessert. This mousse can be a lovely Christmas dessert that you can keep in the fridge a few days before. We added loads of plant-based Christmas Cookies by Cookie Time... Yummy!
Ingredients
2 cans of coconut cream – above 18% fat – chilled in the fridge, at least overnight
150 grams of grated dark chocolate – preferably at least 70% cocoa mass
½ cup high-quality 100% cocoa powder
5 Tbs Icing Sugar
Toppings: cookies, fruit, nuts, peanut butter… We used the plant-based Christmas Cookies by Cookie Time, it is a perfect match.

Directions
Scoop the thick creamy hard layer of coconut cream from the top of the chilled cans into a bowl and put it back in the fridge. Keep the watery part at the bottom of the cans, it will be added to the chocolate.
On a Bain-Marie (just a simple glass or stainless steel bowl over a pot with a bit of water) put in the chocolate (broken into cubes), cocoa, icing sugar, and the coconut water that was left in the cans. Heat and mix until melting. If you would like to add peanut butter, mix 2-3 Tbs into the chocolate. Take the bowl away from the steam and let it cool down on the side, for about half an hour.
Whip the cold coconut cream for 5 minutes.
Mix the chocolate into the coconut cream.
Pour into a nice serving bowl or small glasses.
After 5 hours / a night in the fridge, add the toppings that you would like to put on.
Can be kept in the fridge for up to a week.
ENJOY!!!
Latest vegetarian & vegan recipes
Other delicious ideas…