Recipes
Greek - Lentil and Spinach Soup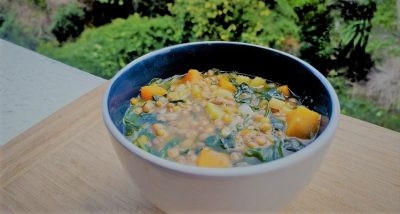 This is an extremely flavoursome, budget-friendly vegan, gluten-free, low-fat lentil soup. A vegetarian nurse liked this soup so much that he ate it every single work day… for 17 years! The recipe was adapted from Dairy Hollow House Soup & Bread by Crescent Dragonwagon. Workman Publishing, 1992.
The ingredients are cheap and long-lasting, hence this recipe made it into our staple recipes section. If you want to avoid going to the store often during Covid-19 lockdown, it's best to plan ahead with the shopping and make the most of your ingredients.
Onions, potatoes and uncut squash/pumpkin can be stored in cool, dry and dark place for several weeks. To keep celery fresh longer, wrap it up tightly in aluminum foil, and then keep it in the refrigerator's crisper drawer. The good news is that you can even freeze leftover celery. Frozen celery will no longer be crisp, but they work well in soups, stews and hot dishes.
It's always a good idea to keep a bag of frozen spinach in your freezer. That way, you never run out of green leafy vegetables! Dark green leafy vegetables are an excellent source of fibre, folate, antioxidants and carotenoids. These vegetables also contain vitamins C and K and the minerals iron and calcium. Adding a bunch of frozen green leafy vegetable to any soup, stew or hot dish is a simple and cheap way to boost the nutrition content of any meal!
Lentils are inexpensive, rich sources of protein, fibre, magnesium, iron, zinc and many B vitamins. Make sure that you have at least one bag of lentils (or canned) in your pantry.
Herbs and spices are a great way to add flavour and colour to dishes without adding extra sugar or salt. They also provide antioxidants and have many health benefits!
If you don't have lemons at home, you can use lemon juice as well. Lemons are high in vitamin C and help the absorption of iron from the meal.
The soup can stored in the fridge for 3 days. Enjoy!
Ingredients
500g lentils, soaked and rinsed
2 Tbs olive oil
1 large onion, chopped
2 garlic cloves, diced
2 tsp ground coriander
1½ tsp cumin seeds
2½ tsp dried oregano
2 bay leaves
2 medium potatoes, scrubbed and cut into 1.3cm cubes
1 small butternut squash or pumpkin (about 3 cups) peeled, seeded, and cut into 1.3cm cubes
2 celery sticks, sliced
10 cups vegetable broth or water
300g baby spinach, chopped or frozen
Salt & pepper to taste
1/3 cup fresh lemon juice
Optional: 1 jalapeno pepper, chopped
Directions
Soak the lentils in cold water for an hour or so. It will speed up the cooking process.
In a large soup pot, over medium-high heat fry the onion on the oil until the onion is soft. Add some salt to the onion.
Once the onion is soft, add the garlic, fry a few seconds.
Add all the spices (cumin, coriander, oregano, bay leaves). If using jalapeno peppers, add them now. Stir for a few seconds.
Add potato, pumpkin, celery and stir continually to make sure it doesn't burn. Add a few drops of water if needed.
Drain the soaked lentils and add to the pot. Add the water/vegetable broth and salt and pepper. Cook until everything is soft.
Add the spinach and cook it for a few minutes.
Turn off the heat and add lemon juice.
Serve the soup hot, with a lemon slice/wedge for each bowl.
Latest vegetarian & vegan recipes
Other delicious ideas…