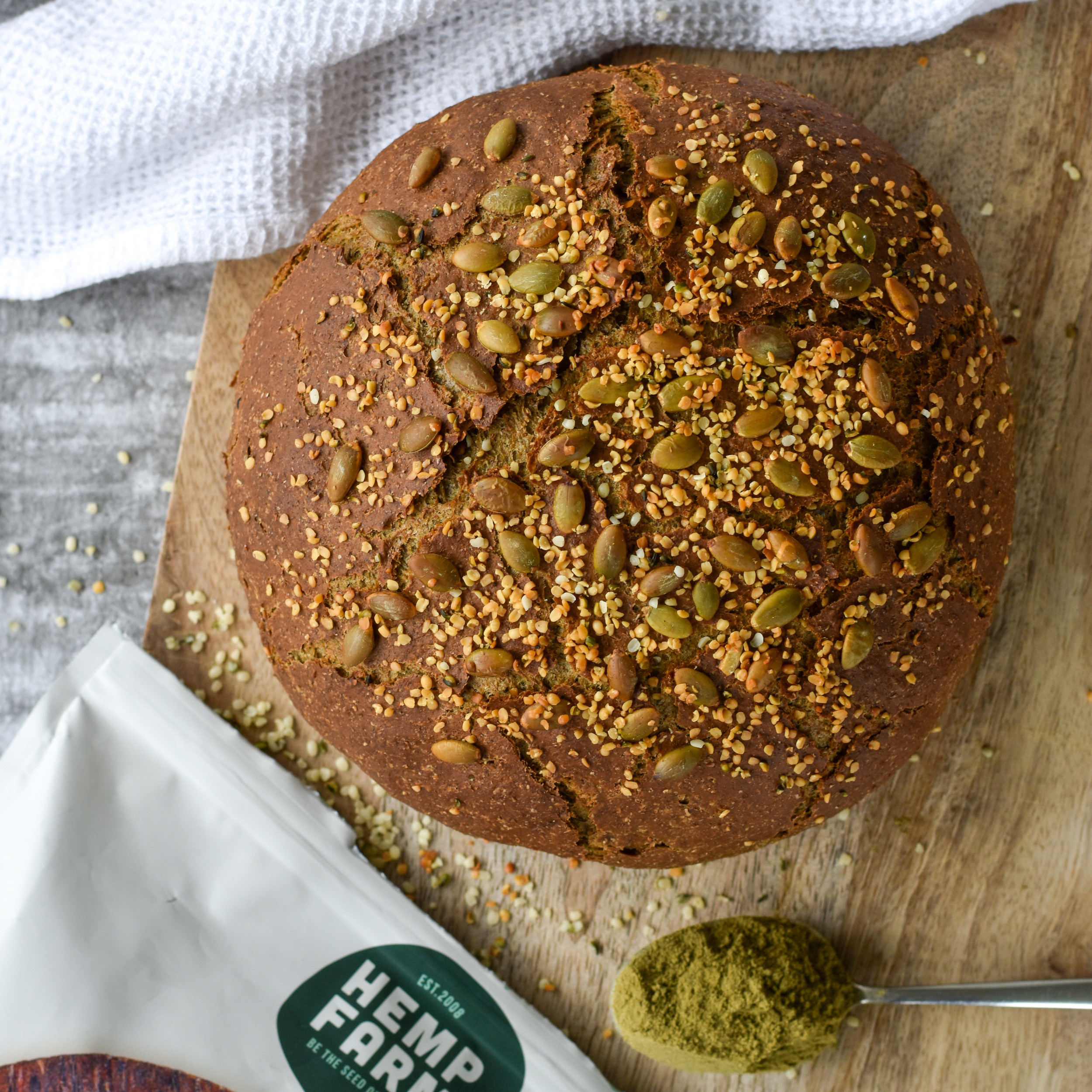 Photography by Fay McCormick, HempNZ™
A delicious homemade bread using hemp protein powder. High in fibre and protein, this bread has an earthy, nutty flavour with a beautiful texture.
What are the benefits of baking with hemp protein?
The protein found in hemp seed digests better than other plant-based proteins. Just one 30 gram serving of our hemp protein powder will provide your body with 15 grams of protein, 8 grams of dietary fibre, and energy-giving nourishment. Hemp protein powders also contain a variety of other nutrients including B vitamins, magnesium and vitamin E, chlorophyll, and antioxidants without any saturated fat, cholesterol, sodium, or sugar.
Ingredients
2 tsp yeast (heaped teaspoons)
¼ cup lukewarm plant-based milk, e.g., soy
1 cup lukewarm water
1 Tbs raw sugar
2 cups whole meal flour
½ cup high-grade flour/bread flour
1 cup hemp protein powder
½ Tbs salt
Toppings
2 Tbs hemp hearts
2 Tbs pumpkin or sunflower seeds
Directions
In a large bowl, whisk dry yeast, lukewarm milk, lukewarm water, and raw sugar.
Add the flour, hemp protein, and salt and mix very well. Transfer the dough onto a previously floured surface and knead for approx. 10 minutes.
(How to know it's kneaded enough: gently press it with your finger. If the dent stays, the dough needs more kneading. If it springs back to its original shape, the dough is ready.)
Shape the dough into a ball and place it in a floured mixing bowl. Cover with a tea towel and let it rest for 1 hour.
By this moment, your dough should have doubled its size. Knead it again for 2-3 minutes and shape it into a ball again.
Place the ball in a bowl lined with baking paper. Generously brush or spray water over the bread and sprinkle the seeds on top. Cover with a tea towel and let it rise for 30 mins. Place a cast iron pot (Dutch oven) on a lower shelf of the oven and preheat the oven to 220'C. (for 30 minutes while the bread is raising).
Score the bread. Remove the cast iron pot from the oven. Carefully place the bread into the pot holding the baking paper. Cover with the lid and place it in the oven. Bake the bread for 30 minutes.
Uncover and bake for 10-15 more minutes.
Remove the bread from the oven and let it cool down on a cooling rack.
Enjoy!
Latest vegetarian & vegan recipes
Other delicious ideas…