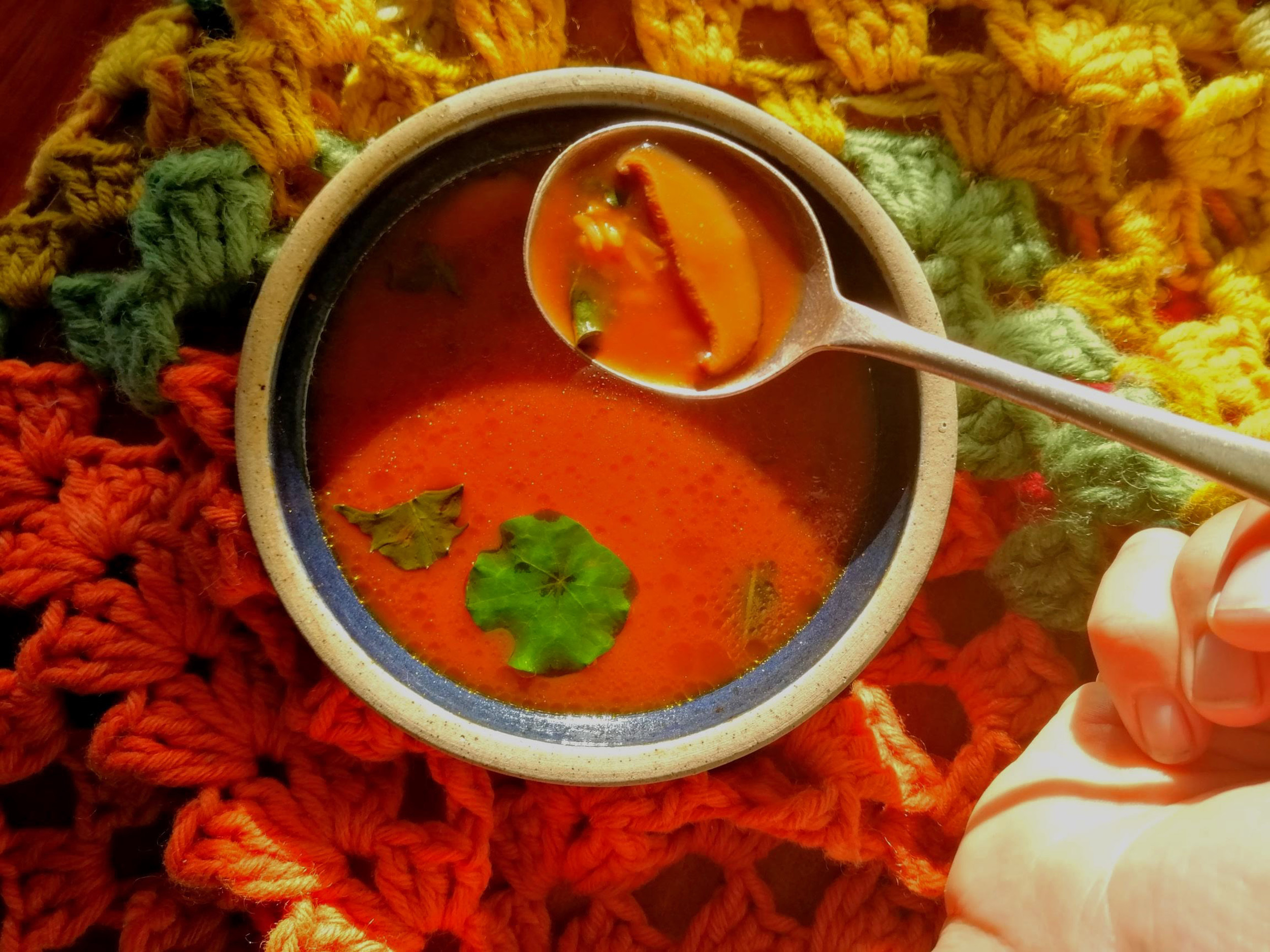 The collagen you get from bone broth isn't absorbed by the body in its whole form. It is broken down into amino acids to then be absorbed into the body; in this plant-based broth we get our amino acids from the mushrooms, miso and soy sauce.
Seaweed is a great source of omega 3, iron, calcium, iodine and vitamins, it also has a thickening quality that mimics gelatin. The generous portions of garlic, ginger and turmeric adds anti-inflammatory and antioxidant support, helps digestion, reduces nausea and fights colds and flu. Along with the other vegetables and dark leafy greens at the end, this broth is packed with easily absorbed nutrients.
Sprouting the lentils instead of cooking in the soup means you are getting the best nutrition out of them, because when a seed starts to sprout their nutrition is at the highest it will ever be, as each seed contains all the goodies it needs to grow into a plant, so the minerals and vitamins are at their peak.
You will need to prepare the sprouted lentils in advance. Soak dried lentils, green or brown, overnight covered in water. Drain it off in the morning through a sieve. Cover the sieve with a tea towel and rinse the beans again at night then again in the morning until little tails sprout out. They are now ready to use.
This recipe is from the Veggie Tree Cookbook by Anna Valentine. Anna's recipes also feature in our Vegetarian Living Magazine.
Ingredients
Refer to next section for ingredients.
Directions
Gather your ingredients and preheat the oven to 200°C (If you wish, you can omit the roasting stage and just add ingredients to the pot).
1. Prepare the following:
1 onion, skin on roughly chopped
1 leek, roughly chopped
1 bulb garlic, halved widthways
2 sticks of celery, roughly chopped
2 carrots, roughly chopped
1-2 beetroot, roughly chopped (optional)
2. Put the roughly chopped vegetables into a roasting tray and drizzle with:
3 Tbs Extra Virgin Olive Oil
3. Roast for 10 minutes while you prepare the remaining ingredients in a large pot:
400 g tomatoes, halved, passata or a tin
8cm piece fresh ginger, sliced
8cm piece fresh turmeric, sliced
1/2 tsp black peppercorns
1 stick lemongrass, bruised
1 stick fresh rosemary
2 bay leaves
8 (35 g) dried mushrooms, shiitaki, oyster, porcini or foraged
10 g medicinal mushrooms, reishi, turkey tail, chaga or cordyceps
1-5 pieces dried seaweed, kombu, wakame or kelp
4. Then add:
Bring to a boil then simmer for 1 hr. If you want a clear broth with no 'bits' add greens and seasonings now and cook for a further 10 minutes.
5. Strain off the liquid into another pot, pressing vegetables to remove all the liquid.
If you are after just a stock it is now ready, you could add soy sauce for seasoning if desired. Put into warm sterilised jars and cap.
6. Keep the mushrooms and chop them up and add back to the broth.
Put the liquid (and mushrooms) back on the heat and add:
2/3 cup brown rice or barley (soaked for a couple of hours to reduce cooking time)
1/3 cup quinoa
7. Simmer for 15 minutes until the rice/barley is cooked. Strain and finish with miso-yeast paste. Scoop a ladle of the broth into a bowl with:
¼ cup miso paste
¼ cup nutritional yeast
8. Mix well to form a loose paste then add back to the broth and season with:
1 tsp salt
½ tsp cracked black pepper
1 tsp smoked paprika (optional)
2 Tbs soy sauce, Tamari or Braggs
1 cup roughly chopped dark green leafy greens (silverbeet, kale, spinach)
A big handful of fresh basil, parsley, coriander, spring onion or onion weed roughly chopped
Stir together well, remove from the heat and serve.
Latest vegetarian & vegan recipes
Other delicious ideas…