Recipes
Indian - Rajma Masala/Red Kidney Beans Curry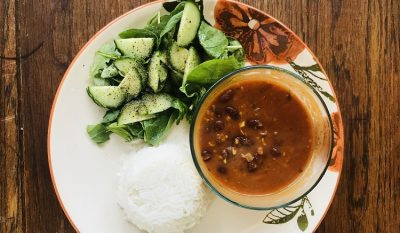 Vegetarianism is growing rapidly in New Zealand, but other parts of the world have had meat-free cuisines for centuries. For a rich and varied plant-based diet, talk to Chinese, Indians, Mexicans… Our wonderful volunteers have shared authentic recipes from around the world. Most of these recipes were traditionally vegan, but some were meat-based recipes that have been 'veganised'. We have collected 31 recipes from 31 different countries to share with you – one for each day of October, World Vegetarian Month.
Thanks to Beata Kovacs for the Indian recipe.
Ingredients
1 onion finely chopped
3 medium tomatoes or 1 cup strained tomatoes
4 cloves
Small cinnamon stick
2 bay leaves
4 medium garlic finely chopped
1-inch ginger finely chopped
1 tsp coriander power
Red chili to taste
¼ tsp turmeric powder
½ tsp garam masala
½ tsp cumin seeds
1 tsp methi (dry fenugreek leaves)
2 Tbs oil
1-2 cup water (more if needed)
1.5 to 2 cups of kidney beans cooked
Salt to taste
Directions
Heat oil on medium heat, add cumin and let them crackle.
Add onions, cloves, cinnamon, bay leaves and sauté them until the onion is caramelized.
Add ginger and garlic, stir and sauté for 1 minute.
Add the tomatoes, sauté for 2-3 minutes.
Add all the spices, stir and sauté the mixture for 30 seconds.
Add the cooked beans, water and simmer for 10 minutes or until the curry thickens slightly.
Serve hot with steamed rice or chapati.
Latest vegetarian & vegan recipes
Other delicious ideas…