Recipes
Lemon Coconut Chia Cake with Lime Rum Ice cream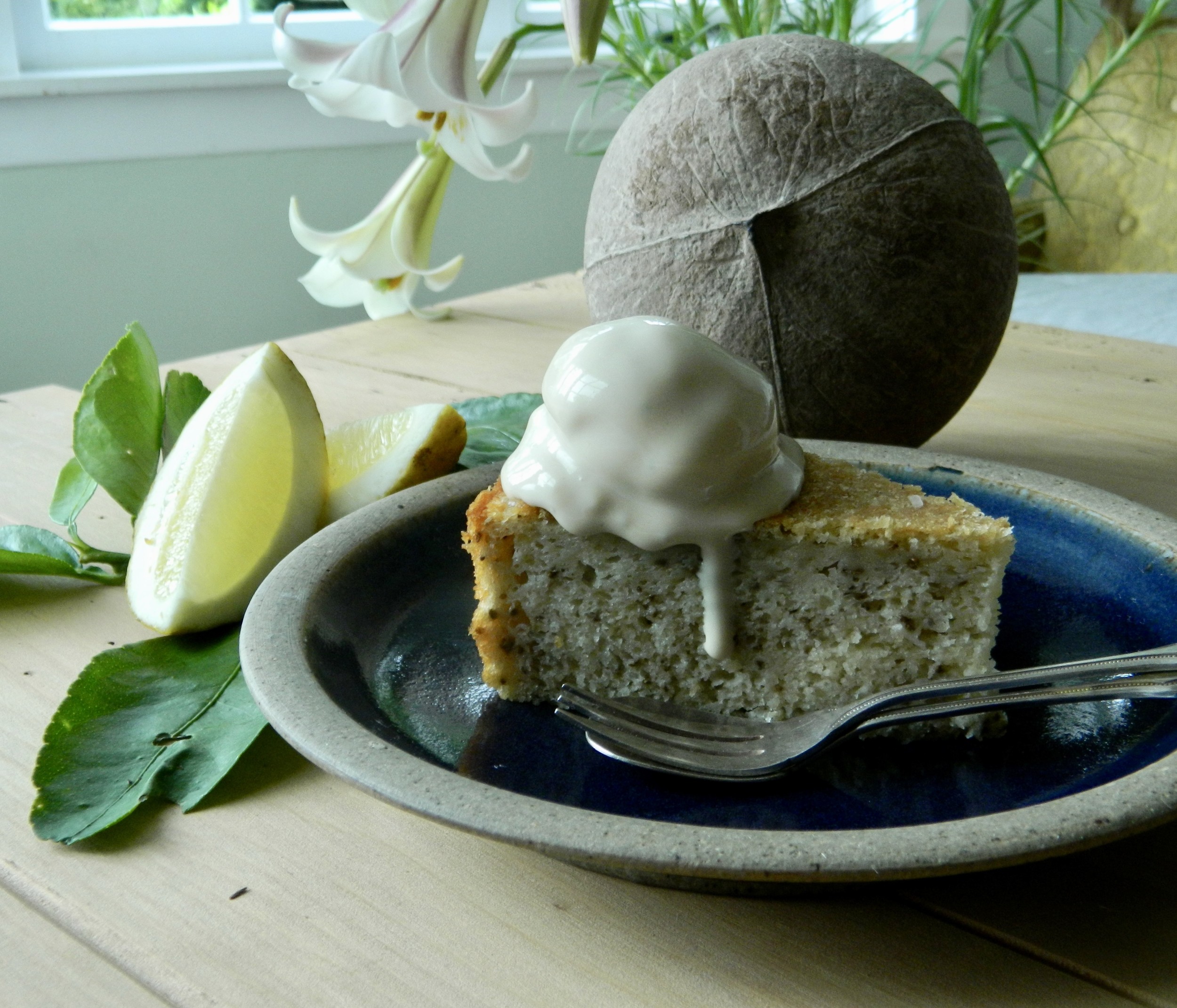 This recipe is from the Veggie Tree Cookbook by Anna Valentine. Anna's recipes also feature in our Vegetarian Living NZ magazine.
An adaptation of lemon poppy seed cake, this cake contains chia seeds which are a fantastic egg substitute. Makes a 22cm cake.
Ingredients
Refer to next section for ingredients.


Directions
Preheat the oven to 180ºC.

Gather your ingredients. Grease a 22cm cake tin well with coconut oil, then add:
2 Tbs desiccated coconut

Move it around so it goes up the sides and covers the base well. In a small bowl, soak:
2 Tbs chia seeds
80 ml water

Allow the chia seeds to soak for a few minutes, giving them a stir every now and then. Sieve these into a large mixing bowl:
1 ½ cups plain flour
½ cup desiccated coconut
2 Tbs coconut flour
4 tsp baking powder

Measure in:
¾ cup unrefined cane sugar.

Make a well in the middle and add:
90g virgin coconut oil, soft or melted
375ml soy or almond milk
Zest and juice of 2 lemons

Pour in the soaked chia seeds. Whisk together until just smooth and pour into the prepared tin. Bake for 50-60 minutes, and test it is cooked by inserting a skewer, which then should come out clean. Cool for a few minutes in the tin, then tip onto a rack to cool completely.
LIME RUM ICE CREAM
This is easy and super tasty. Add the following to a large bowl and use a stick blender to whizz it up until really smooth:
250g tofu
300g coconut cream
4 Tbs unrefined cane sugar
2 Tbs coconut syrup
Zest and juice of 2 juicy limes
1 Tbs rum (optional, but it stops the ice cream from freezing too hard).

Churn in an ice cream machine or transfer into an old ice cream container or tupperware. Freezer for 45 minutes, then give it a good stir with a fork and return it to the freezer. Repeat 3 times until completely frozen.

Take the ice cream out of the freezer 10 minutes before serving to soften it a little.
Latest vegetarian & vegan recipes
Other delicious ideas…