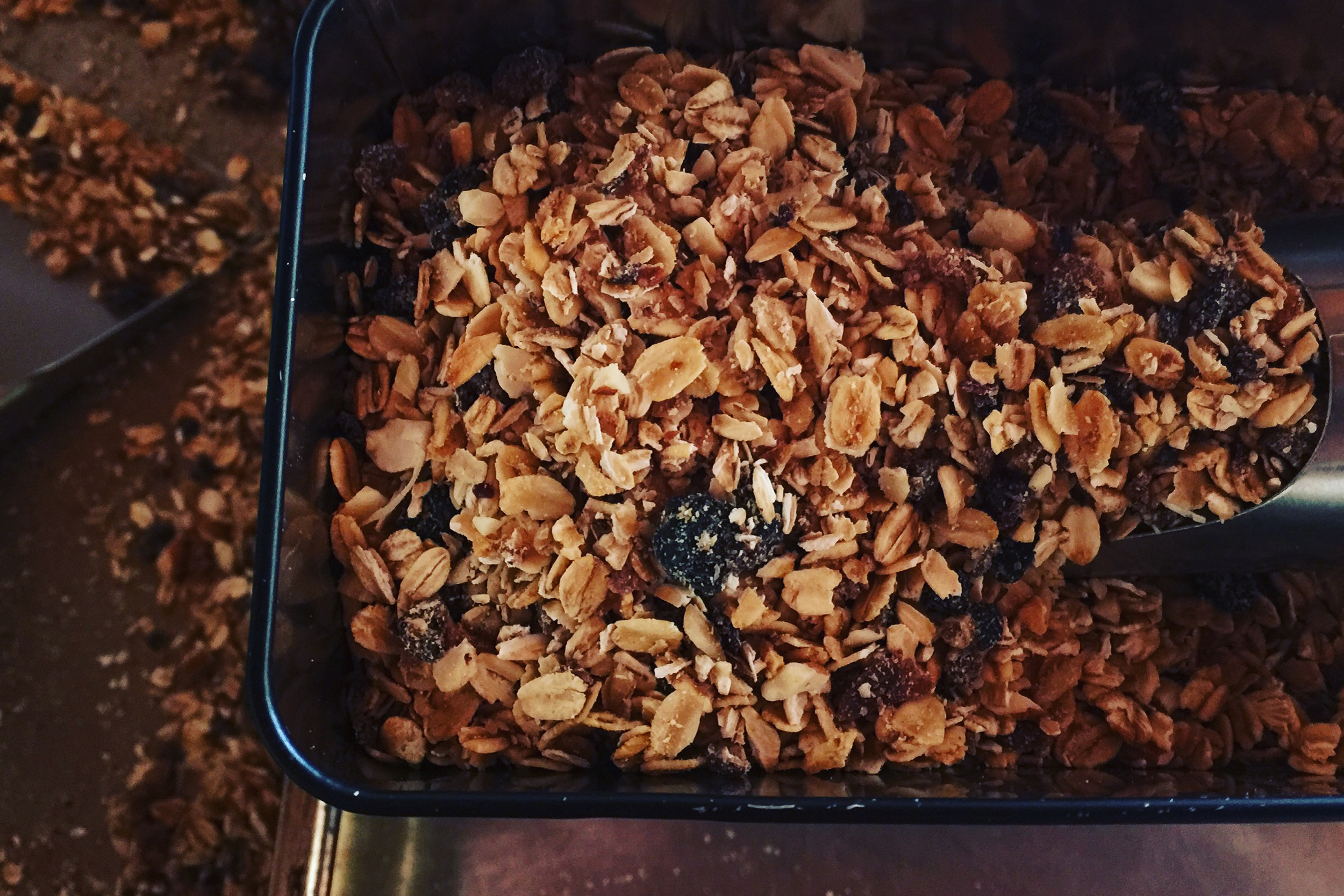 This recipe is from the Veggie Tree Cookbook by Anna Valentine. Anna's recipes also feature in our Vegetarian Living NZ magazine.
"My girls love muesli and this recipe is packed with goodies, plus there is a tasty no-bake recipe for muesli bars as well. It is a pantry staple in our house and can be made to your family's taste by adding your own favourite dried fruits.
Maltexo is a barley based malt extract that is high in B vitamins, amino acids and calcium, potassium and magnesium.
Kombucha adds probiotics and the LSA omega 3 and 6, calcium, vitamins A,B,D and E, selenium and zinc.
All in all a fantastic start to the day.
I make this in the two biggest roasting pans I have. You need room to move everything around so it toasts easily."
Ingredients
Refer to the next section for ingredients.
Directions
Preheat oven to 150°C and gather your ingredients. Grease 2 roasting pans with a little coconut oil. Pour in:
800g rolled oats
100g coconut, desiccated or flakes
Cook in the oven for 10 minutes. Meanwhile, add to a small pot:
2 Tbs coconut oil
¼ cup apple or orange juice or kombucha
½ cup Maltexo
2 Tbs brown rice syrup [or honey if you are making a non-vegan version]
Heat together gently until just melted. Take the oats out of the oven and add:
45g millet or amaranth pops
45g plain rice puffs/pops
Mix together, then pour the melted oil and rice syrup or honey mix over the ingredients in the tray and stir well until everything is well coated. Return to the oven for about 30 minutes until dry and starting to toast, stir every 10 minutes to make sure it all toasts evenly. Remove the tray from the oven and cool.
Meanwhile, measure each dried fruit into its own bowl:
200g dates
150g raisins
150g dried apricots
Or 500g of any dried fruit you have
In a separate bowl, measure:
150g LSA (a blend of ground linseeds, sunflower seeds, and almonds, available from health food shops)
Put a third of the LSA into each bowl of dried fruit, then, one bowl at a time, pulse in the food processor. This helps to evenly distribute the LSA through muesli. Add to the last bowl of fruit:
Pulse briefly in the food processor too.
Add all the fruit into the oat mix, stir and leave to cool completely. Store in an airtight cereal container.

Latest vegetarian & vegan recipes
Other delicious ideas…