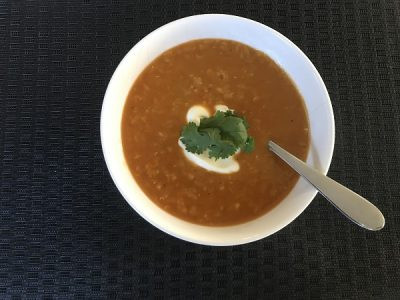 Vegetarianism is growing rapidly in New Zealand, but other parts of the world have had meat-free cuisines for centuries. For a rich and varied plant-based diet, talk to Chinese, Indians, Mexicans… Our wonderful volunteers have shared authentic recipes from around the world. Most of these recipes were traditionally vegan, but some were meat-based recipes that have been 'veganised'. We have collected 31 recipes from 31 different countries to share with you – one for each day of October, World Vegetarian Month.
Thanks to Carole Mcintosh for the recipe & photo.
"I ate a version of this soup every day when I was in Nepal, and now make a pot almost every week in the winter. As well as being delicious is it is hearty, filling and warming, and it uses staples that are always in the pantry. Veg~ns and meat-eaters alike love it and no-one seems to get tired of it."
Ingredients
1 Tbs olive oil
1 onion, finely chopped
1 tsp salt
2 heaped tsp ground cumin
2 heaped tsp ground coriander
2 Tbs tomato paste
1 ½ cups dried red lentils
1 large carrot, finely chopped
1-litre vegetable stock
1 ½ litres water
Freshly ground black pepper
Dairy-free yoghurt and chopped coriander or parsley to serve (optional)*
*Try vegan certified Doctor's Choice yoghurts
Directions
Heat the oil in a large pot add the onion, sprinkle with the salt (this helps to stop the onions from frying) and gently sauté for 10 minutes.
Add the spices and stir for two minutes until fragrant.
Stir in the tomato paste, lentils, carrot, stock and water. Bring to the boil and then simmer for 35 minutes stirring occasionally, especially towards the end of the cooking time otherwise the lentils are liable to catch on the bottom of the pan.
Season well with salt and pepper.
Serve topped with a tablespoonful of yogurt, chopped coriander or parsley.
Latest vegetarian & vegan recipes
Other delicious ideas…