Recipes
Nut Roast with Ale & Miso Gravy & Green (Veggie Tree Roast) Mashed Potatoes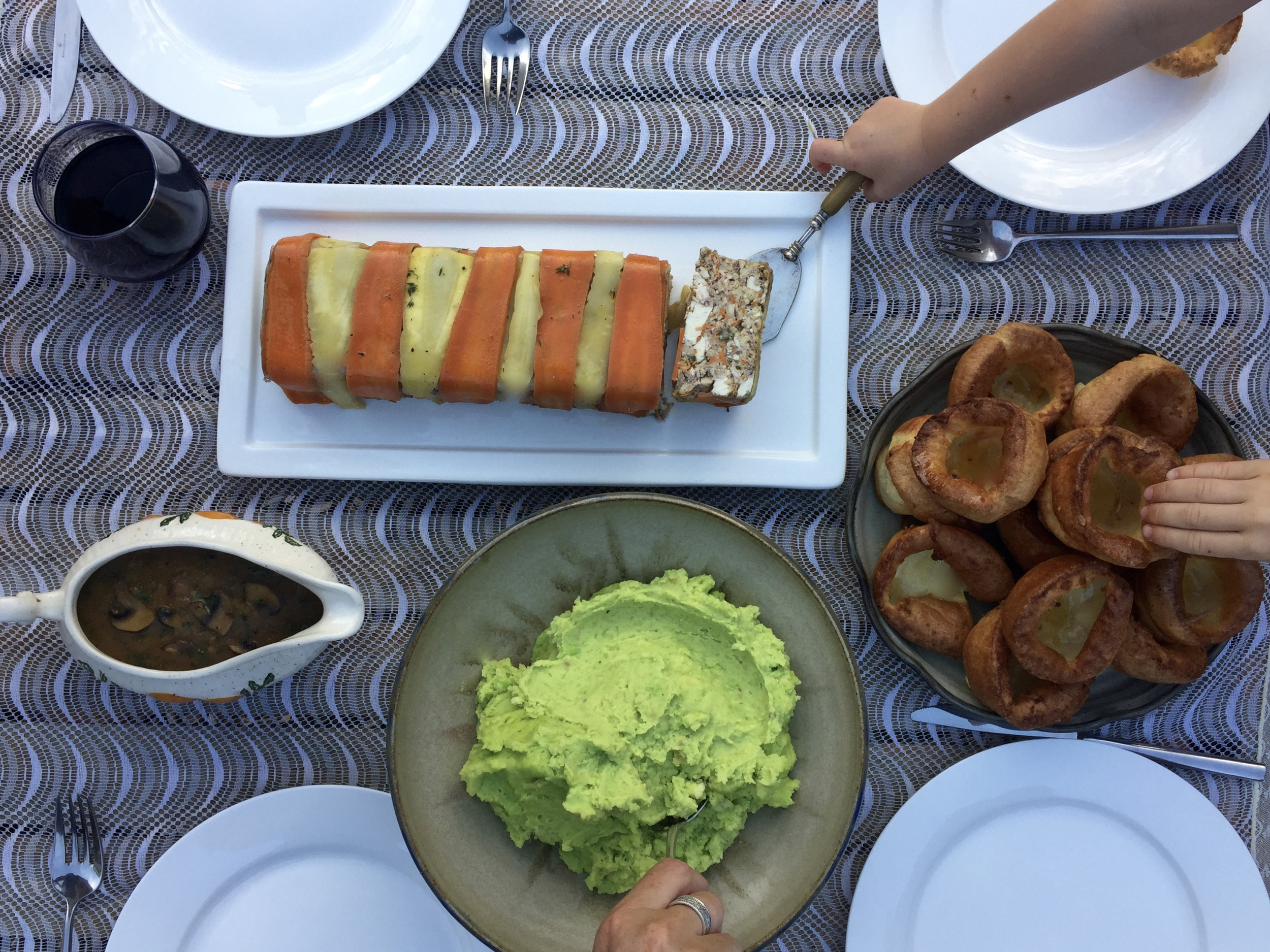 This recipe is from the Veggie Tree Cookbook by Anna Valentine. Anna's recipes also feature in our Vegetarian Living NZ magazine.

Even though it's often hot and sunny for Christmas day it's one of those rare times when you are happy to spend a bit of time on a special dinner. The Veggie Tree Roast is the ultimate nut roast – a protein-packed medley. Adding the peas to the mash means you don't need to chase them around the plate and this gravy is delicious!
Ingredients
Refer to next section for ingredients.
Directions
Spread a little oil in a large loaf tin, line it with foil then baking paper.
Prepare the following vegetables:
1 parsnip, thinly sliced, length ways (use a mandolin if you have one)
1 carrot, thinly sliced, length ways
In a bowl mix together:
25ml olive oil 4 sprigs thyme, leaves and flowers
A few cracks of salt and pepper
Steam for 5 minutes until pliable (or in the microwave for 20 seconds). When cooled, line the vegetable slices up side-by-side on the bottom of your loaf tin, saving some for the top. Pre heat the oven to 180oC.

For the loaf, add to a large bowl in order as follows:
1 slice bread (wheat or gluten free)
50ml milk (dairy or alternative)
1 clove garlic, crushed
1 Tbs olive oil
½ tsp sesame oil
4 sprigs fresh thyme
3 sprigs fresh sage
Zest and juice of 1 lemon
Now prepare and add to the bowl:
1 packet (250g) tempeh,
Grated 1 packet (250g) tofu, crumbled
½ red onion, finely diced
1 carrot, grated
1 cup mixed nuts, roughly chopped in the food processor
5 chives, finely sliced
3 sprigs fresh mint, finely chopped
2 stalks parsley, finely chopped
2 eggs or 2 Tbs chia soaked in 100 ml water
1 tsp salt
¼ tsp cracked black pepper
Mix together well and spoon into the loaf tin, pressing it in as you go. Fold over the baking paper then the foil to cover the top. Bake at 180ºC for 1 hour. The middle of the loaf shouldn't be squishy when pressed. Remove from the oven and set aside to rest, while the rest of the meal is prepared.
GREEN MASHED POTATOES
Steaming potatoes for mashing ensures you don't get soggy mash.
7 medium-sized potatoes, peeled and cut in half
Pinch of salt
Half-fill the bottom of the steamer with water and separate the potatoes between the 2 steaming levels if you have them, so they cook as quickly as possible. Steam with the lid on until a knife goes easily through a potato. If you don't have a steamer, cover potatoes in water and boil until soft. Take the potatoes off the heat, tip the water out of the pan and add:
200ml cream or alternative dairy free milk
Heat the cream to a simmer and add:
200g peas
½ tsp salt
2 Tbs olive oil
Simmer for 1 minute then blend with a stick blender until smooth. Add the potatoes to the green cream and mash or you can use a ricer to push the potatoes through. Lastly, add:
½ tsp salt
¼ tsp cracked black pepper
Whip together with a fork.
ALE & MISO GRAVY
This gravy is packed with umami flavours. Make sure you don't boil it after adding the miso as it will kill off the probiotic goodies. Gather your ingredients. Prepare the following vegetables

½ leek, sliced in half moons
1 stick celery, sliced
4 Swiss brown mushrooms, sliced in half moons
2 cloves garlic, sliced
Place a medium pot on the heat and add:
3 Tbs olive oil
Melt together then add the leek, celery and mushrooms and fry, stirring occasionally, until they start to colour. Add the garlic and cook for 10 seconds, then deglaze the pan with:
Simmer of 1 minute then add:
800ml boiling water
1 tsp vegetable bouillon powder
2 bay leaves
6 sprigs of thyme, leaves removed
Bring to the boil, then turn down to a low simmer and cook for 20 minutes. In a small bowl prepare:
2 Tbs tapioca starch or cornflour
60ml water
Mix together. Scoop a ladleful of the gravy into another small bowl and mix in:
Stir until smooth. Add the starch mix to the gravy stirring well and bring to simmering. Stir in the miso mix and:
1 Tbs dark soy sauce or tamari
1 sprig parsley, finely chopped
Turn off the heat and pour into a gravy boat to serve.
Latest vegetarian & vegan recipes
Other delicious ideas…