Recipes
Pumpkin & Feta Fritters with Salsa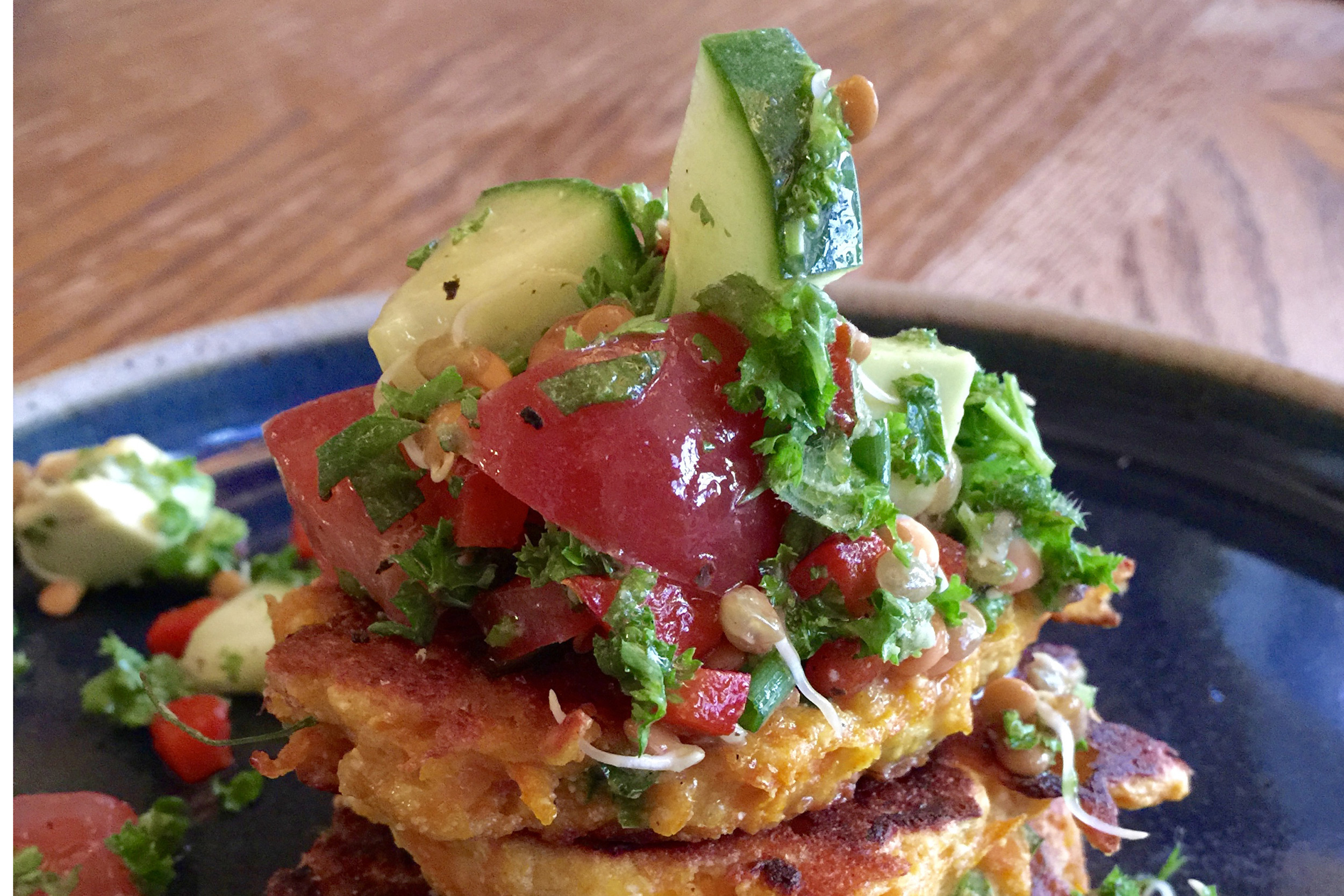 "Fritters are a 'go to' lunch for me. They are full of flavour and really easy to make. I use a cast-iron pan or a hot plate for fritters. Allow enough room between fritters to flip them easily. Make sure your pan is hot enough to seal the fritters, but not so hot that they burn before the inside is cooked through.
The sprouts in the fritters and in the salsa need to be prepared a couple of days in advance. You can use green, brown or even black dried lentils in the salsa. To do this soak dried lentils overnight covered in water, drain it off in the morning through a sieve. Cover the sieve with a tea towel, then rinse the beans again at night and then again in the morning until little tails sprout out. They are now ready to use."
This recipe is from the Veggie Tree Cookbook by Anna Valentine. Anna's recipes also feature in our Vegetarian Living NZ magazine.
Ingredients
Refer to next section for ingredients.
Directions
Gather your ingredients and prepare the following into a large mixing bowl:
¼ pumpkin, peeled and grated
200g feta
1 clove garlic, crushed
1 handful chives, spring onion or onion flowers, chopped
100g sprouted, cooked or canned chickpeas
1 cup (120g) chickpea flour
¼ cup (30g) tapioca starch
2 tsp baking powder
½ tsp salt
¼ tsp cracked black pepper
Mix together, then make a dip in the centre and add:
Mix together well. Use 2 tablespoons to scoop and shape the fritters. Put a frying pan on the heat and add 2 tbs of the following oil at a time:
Place 2-3 fritters in the pan and gently push them flat with a spoon to just under 1cm thick. Fry on a gentle heat until golden brown, flipping to brown the other side. Place on a tray or plate until they are all cooked.
SALSA
Start the salsa:
1 capsicum, chargrilled, peeled and diced
You can either char the capsicum under the grill or on top of the gas element, turning it over with tongs. When the skin has turned black, pop it into a bowl, cover with a tea towel and let it steam for a bit; this makes it easier to remove the skin. Don't worry if there are a few little charred pieces of skin still attached, don't wash them off.
Prepare the following ingredients and add to a small mixing bowl.
1 tomato, diced
¼ cucumber, cubed
1 handful of parsley, finely chopped
3 sprigs mint, finely chopped
½ cup lentil sprouts
1 avocado, diced
juice of ½ a lime
2 Tbs extra virgin olive oil
¼ tsp salt
A few cracks of pepper
Add the diced capsicum and stir everything together. Serve with the fritters.
Latest vegetarian & vegan recipes
Other delicious ideas…