Recipes
Roast Veggies with Crispy Chickpeas, Roasted Nuts & Tahini Mayo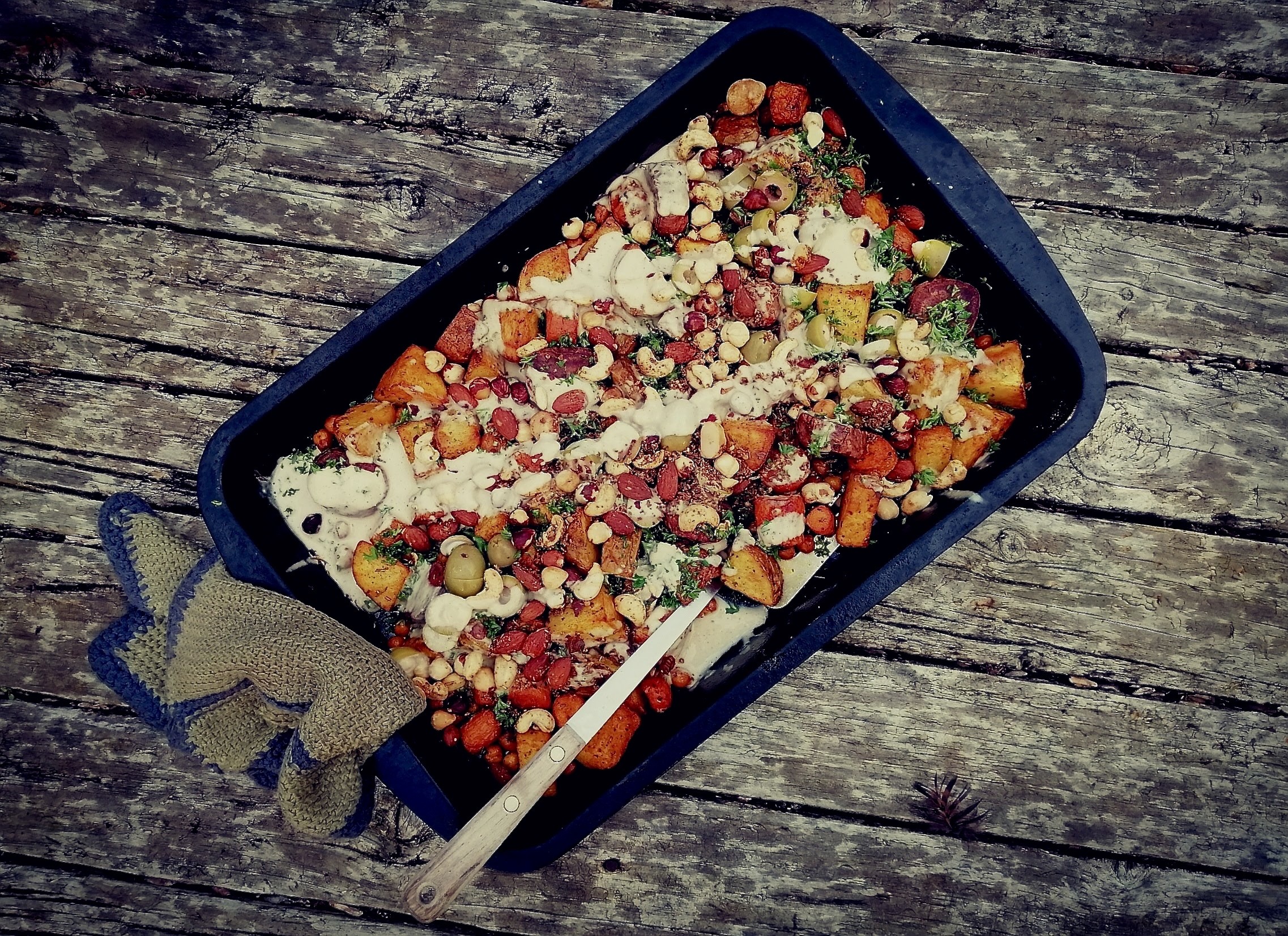 In this quick easy recipe, you can utilize any vegetables and nuts you have on hand. It is nutritious and delicious with chickpeas, nuts and tahini for protein and many other essential minerals along with your five servings of vegetables to maintain a healthy body. It's the perfect family friendly dinner without too many dishes to wash up at the end!
It is important that you cut all of the vegetables into the same sized pieces so they cook at the same time. "I just give my vegetables a scrub to remove dirt, it helps to retain nutrients and time. If you have more people in the house, a rough measure is one vegetable per adult and half for a child, depending on what you have around and what are people's favourites."
If you have raw nuts there are instructions within the recipe to roast these, but if you have roasted salted nuts just add them to the top at the end.
Our thanks to Anna Valentine for sharing this recipe! Click here for more delicious recipes.
Ingredients
Refer to next section for ingredients.
Directions
1. Gather your ingredients and preheat the oven to 200°C. Measure:
2 Tbs rice bran or any neutral oil
Into a large roasting pan and put it into the oven while it is heating.
2. Meanwhile prepare the following vegetables chopped into bite-sized pieces:
4 potatoes
4 carrots
2 kumara
2 beetroot
2 parsnips
1 broccoli
1 cauliflower
3. Put the root vegetables in a large bowl and toss together with:
2 Tbs olive oil
3 Tbs fresh rosemary, roughly chopped
1 tsp salt
¼ tsp cracked black pepper
4. Remove the hot pan from the oven and carefully transfer the seasoned vegetables and roast for 45 minutes to 1 hour, turning a couple of times during cooking.
Meanwhile, add the broccoli and cauliflower to the seasoning bowl with an additional 2 Tbs olive oil and toss to coat. These will be added towardS the end of cooking.
5. Then drain:
1 x 400g can or home-cooked chickpeas
Rinse and pour onto a dry tea towel or paper towel to remove moisture then make the Tahini mayo (see below).
6. After 30 minutes or so, add the broccoli and cauliflower to the roasting pan and cook for a further 10 minutes. Add the chickpeas and:
1 cup mixed nuts, raw
1 tsp smoked sweet paprika or cumin powder
½ tsp salt
¼ tsp cracked black pepper
2 Tbs olive or neutral oil
To the bowl and toss to coat. Pour into another roasting pan or ovenproof dish and add to the oven. Cook for 10 minutes, giving it a mix after five minutes.
7. To finish the dish, prepare:
½ cup parsley or coriander, roughly chopped
½ cup olives, sliced (optional)
Remove the roasting pans from the oven and tip the chickpea and nut mix on top of the other roasted vegetables, scatter over the parsley and olives, drizzle liberally with the tahini mayo and serve.

TAHINI MAYO Makes 1 cup (250ml)
This makes enough mayo for two or three servings. It is also delicious as a dip, in a wrap, or as a dressing.
1. Gather your ingredients and prepare the following in a food processor or bowl:
¼ cup tahini
¼ cup plain yogurt, dairy, or alternative
1 clove garlic, crushed
Zest and juice of 2 lemons
2 tsp pomegranate molasses (optional)
¼ cup extra virgin olive oil
¼ tsp Himalayan sea salt
A few cracks of black pepper
2. Whizz or mix together well until smooth. Store in a covered jar in the fridge, it will thicken in the fridge also.
Latest vegetarian & vegan recipes
Other delicious ideas…