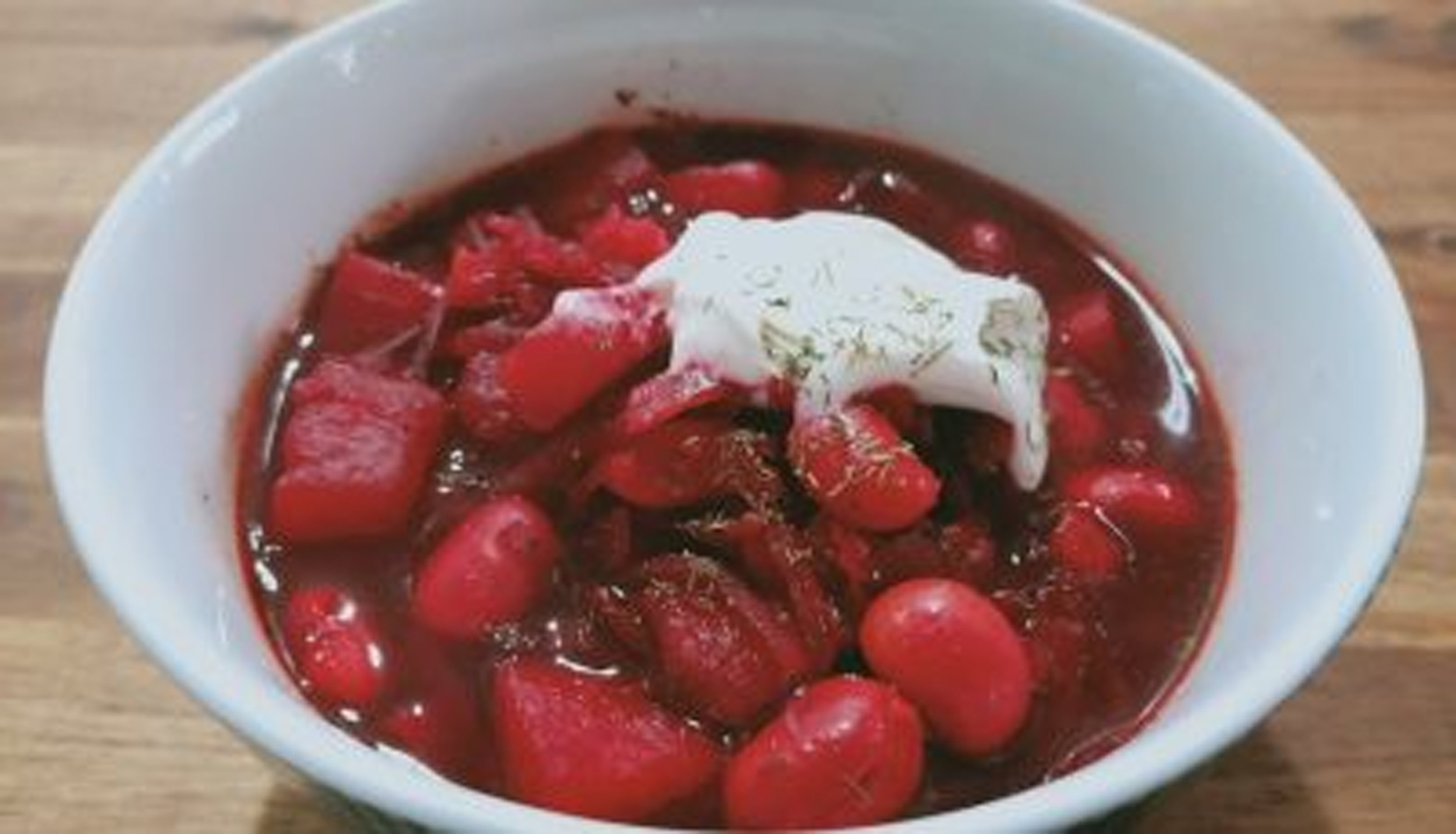 Vegetarianism is growing rapidly in New Zealand, but other parts of the world have had meat-free cuisines for centuries. For a rich and varied plant-based diet, talk to Chinese, Indians, Mexicans… Our wonderful volunteers have shared authentic recipes from around the world. Most of these recipes were traditionally vegan, but some were meat-based recipes that have been 'veganised'. We have collected 31 recipes from 31 different countries to share with you – one for each day of October, World Vegetarian Month.
This recipe is made by Viktoria Lencses – she got the recipe from https://natashaskitchen.com/cl...
Ingredients
For Borscht:
3 medium beets peeled and grated
4 Tbs olive oil
4 cups vegetable broth + 6 cups water
3 medium Yukon potatoes peeled and sliced into bite-sized pieces
2 carrots peeled and thinly sliced
For Zazharka (Mirepoix):
2 celery sticks trimmed and finely chopped
1 small red bell pepper finely chopped, optional
1 medium onion finely chopped
3 Tbs tomato sauce
Additional Flavorings:
1 can white cannellini beans with their juice
2 bay leaves
2-3 Tbs vinegar or to taste
Salt & pepper to taste
1 large garlic clove pressed
3 Tbs chopped dill
Directions
Peel, grate and/or slice all vegetables, keeping sliced potatoes in cold water until ready to use.
Heat a large soup pot over medium/high heat and add olive oil. Add grated beets and sauté for 10 minutes, stirring occasionally until beets are softened.
Add broth and water. Add sliced potatoes and sliced carrots then cook for 10-15 minutes or until easily pierced with a fork.
While potatoes are cooking, place a large skillet over medium/high heat and add oil. Add chopped onion, celery and bell pepper. Saute stirring occasionally until softened and lightly golden (7-8 minutes). Add tomato sauce and stir fry 30 seconds then transfer to the soup pot to continue cooking with the potatoes.
When potatoes and carrots reach desired softness, add beans with their juice, bay leaves, vinegar, salt, black pepper, 1 pressed garlic clove, and chopped dill. Simmer for an additional 2-3 minutes and add more salt and vinegar to taste.
Latest vegetarian & vegan recipes
Other delicious ideas…