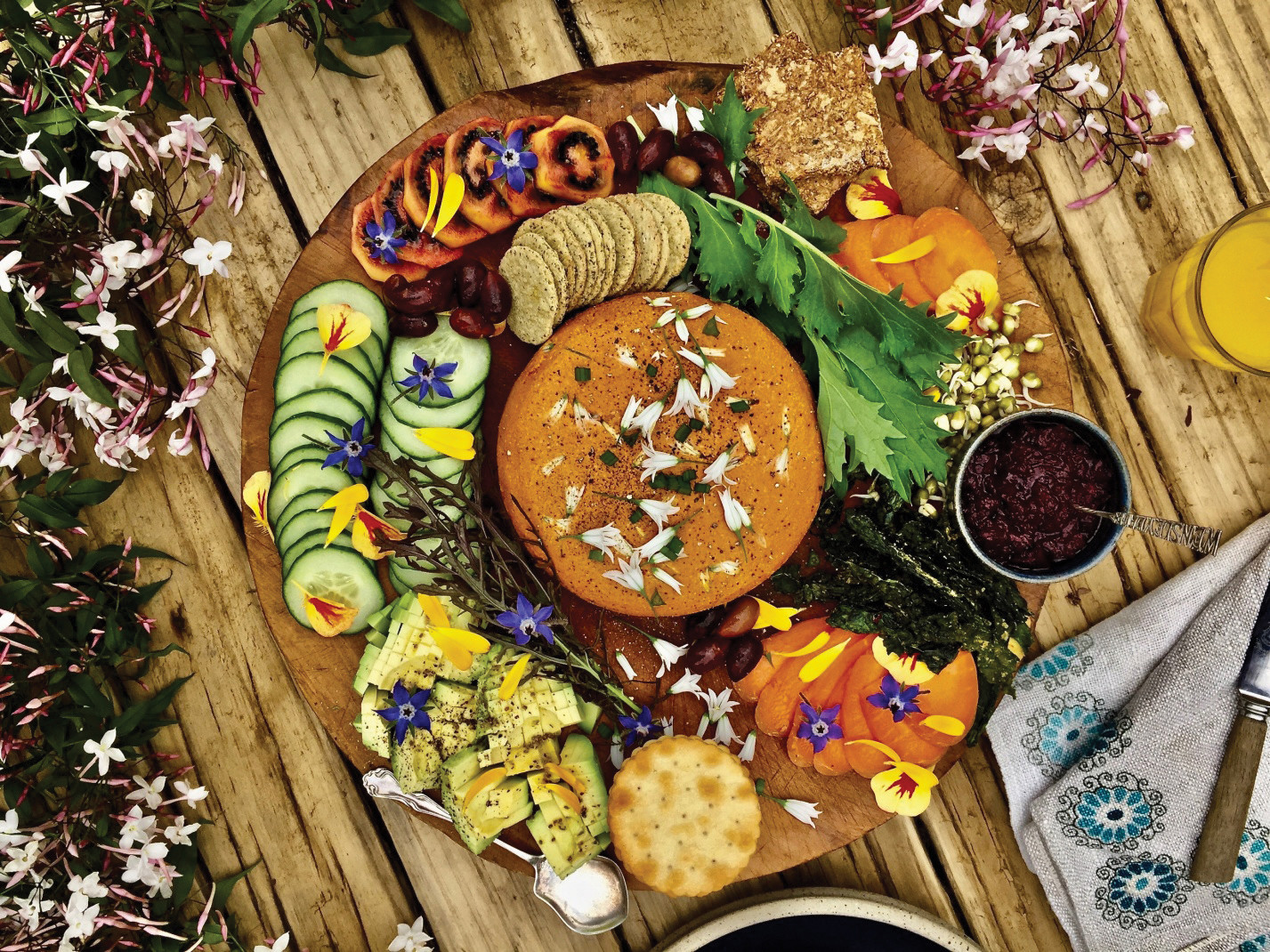 "Perfect for a plant-based cheese board or antipasto platter this Cashew Cheese is soft and spreadable, packed with protein, vitamin B12 and totally delicious. It gets its cheesiness and vitamin B12 from the nutritional yeast. I use Bragg's, as the list of vitamins and minerals are clearly marked, it's free from questionable ingredients and it tastes great. Cashew nuts are nutrient dense and linked to many positive health benefits. This cheese is easy to whip up and will store in the fridge for a week." - Anna Valentine
Ingredients
You will need a cheese cloth, muslin or the like, to form the cheese

½ cup chopped fresh herbs, e.g. parsley, dill, chives or onion flowers, mint or coriander

zest of 1 lemon

½ tsp flaked sea salt

¼ tsp cracked black pepper
1 tsp cracked black pepper
2 cups raw cashews
2 cloves garlic, peeled

zest and juice of 2 lemons

2 Tbsp extra virgin olive oil

1/4 c nutritional yeast flakes
1/4 tsp cracked black pepper
1 tsp salt
1 Tbsp smoked paprika
2 tsp smoke liquid
½ cup chopped fresh herbs, e.g. parsley, dill, chives or onion flowers, mint or coriander
zest of 1 lemon

½ tsp flaked sea salt

¼ tsp cracked black pepper
1 tsp cracked black pepper
Directions
You will need a cheese cloth, muslin or the like, to form the cheese. It needs to
be sterilised first. Cover the cloth in boiling water and boil for five minutes then drain, leave to cool a moment before touching it, then drape over the sieve ready to use. Choose your preferred herbs for coating the cheese. I have given a few suggestions, so mix and match to your taste.
1. Cover the cashews well with water: either for 12 hours in cold water or boiling hot water for one and a half hours before processing:
2, Gather and prepare the ingredients into a food processor:
2 cloves garlic, peeled

zest and juice of 2 lemons

2 Tbsp extra virgin olive oil

1/4 c nutritional yeast flakes
1/4 tsp cracked black pepper
1 tsp salt
1 Tbsp smoked paprika
2 tsp smoke liquid
3. Drain the cashews and add to the food processor. Whizz ingredients together to form a smooth paste, adding ¼ cup water if the processor is struggling.
4. Place the sterilised cloth over a sieve placed on a bowl. Scoop the mix out of the processor into the cloth and gather up the edges and twist gently to form a disk shape. Secure with a rubber band and place in the fridge to set for 12 hours. Not a lot (if any) liquid will come out but the dry cold of the fridge takes any excess moisture away.
5. Prepare the coating and place onto a plate:
½ cup chopped fresh herbs, e.g. parsley, dill, chives or onion flowers, mint or coriander
zest of 1 lemon

½ tsp flaked sea salt

¼ tsp cracked black pepper
1 tsp cracked black pepper
6. Take the cheese from the fridge and remove the cheese cloth carefully. Undo the rubber band, open out the cloth
and tip the cheese disk straight onto
the herb mix on the plate. Then remove the rest of the cloth, using a spatula to flip the cheese over and gently pat the herbs over the rest of the cheese. It is now ready to serve. Keep any remaining cheese in an airtight container in the fridge.
Latest vegetarian & vegan recipes
Other delicious ideas…