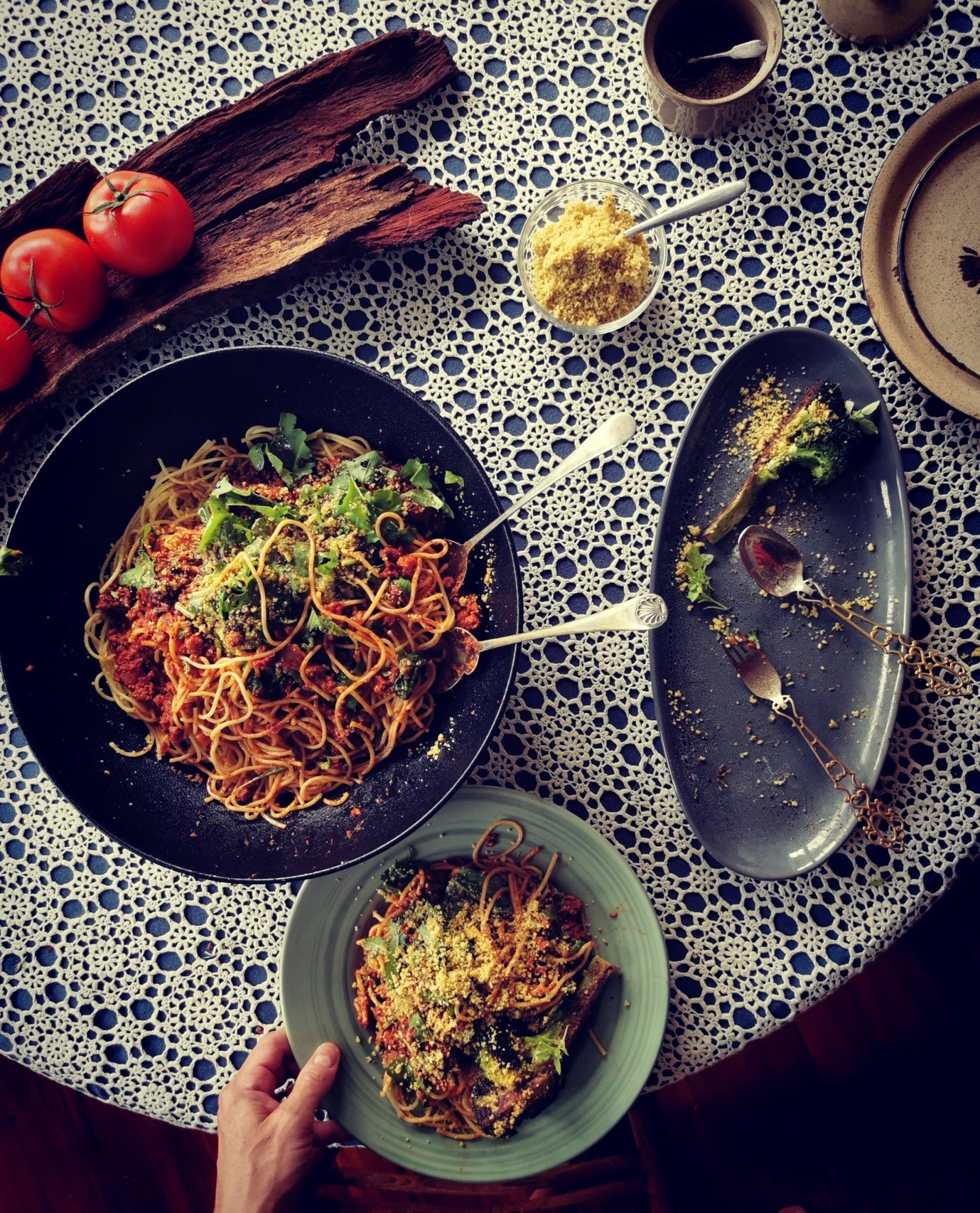 Spaghetti Bolognese is a firm family favourite. This recipe utilises vegetable protein-based mince. "My favourite is 'Quorn' for texture, you keep and cook it straight from the freezer so it is ready to use when you are. Alternative proteins for the sauce include brown lentils, cooked or in a tin, and rehydrated TVP. Tofu can also be utilized for creating a 'mince' as can processed tempeh. For the tofu substitute freeze a block of tofu, defrost, squeeze out the excess water then crumble up well. You could also use this mince as a base for shepherd's pie."
Our thanks to Anna Valentine for sharing this recipe! Click here for more delicious recipes.
Ingredients
Refer to next section for ingredients.
Directions
1. Gather your ingredients and prepare the following:
1 onion, finely diced
2 cloves garlic, crushed
3 mushrooms, finely diced
1 carrot, stick of celery or capsicum, finely diced
2. You will need 2 large pots, the larger one with a lid. In the first pot, heat together:
4 Tbs olive oil (increase if dairy-free)
2 Tbs butter (optional)
3. On a high heat, add the prepared veggies and fry until they start to colour. Next, add:
300g vegetarian mince or alternative
4. Fry for a couple of minutes, then add:
150ml red wine or red wine vinegar with a pinch of sugar
5. Stir through and reduce the heat for 1 minute. Then add:
1 x 700m jar passata or 2 x 400g Can chopped tomatoes
400ml water
2 tbs balsamic reduction
5 sprigs fresh thyme, tough stalks removed
1 sprig sage, leaves roughly chopped
1 tsp dried oregano
1 small stalk of fresh rosemary, stripped and leaves roughly chopped
2 bay leaves
30g pine nuts (optional)
6. Simmer for 25 minutes, stirring occasionally. When thickened, season with:
½ tsp salt
¼ tsp cracked black pepper
7. Fill the second pot ¾ full with water, cover and bring it to the boil. Add:
2 Tbs salt
400g dried spaghetti, wholemeal or gluten-free
Stir, then boil for 10 minutes or until just cooked through. Drain through a colander and put back in the pot (not on the heat though), add the sauce and mix through gently, using tongs.
8. Grate the following amount of cheese:
150g parmesan cheese, dairy or hemp parmesan (recipe below)
9. Add some to the pasta and use the rest to top each portion and serve with rocket drizzled with balsamic reduction, extra virgin olive oil and salt.
Latest vegetarian & vegan recipes
Other delicious ideas…