Recipes
Sri Lankan - Vegetable Kottu Roti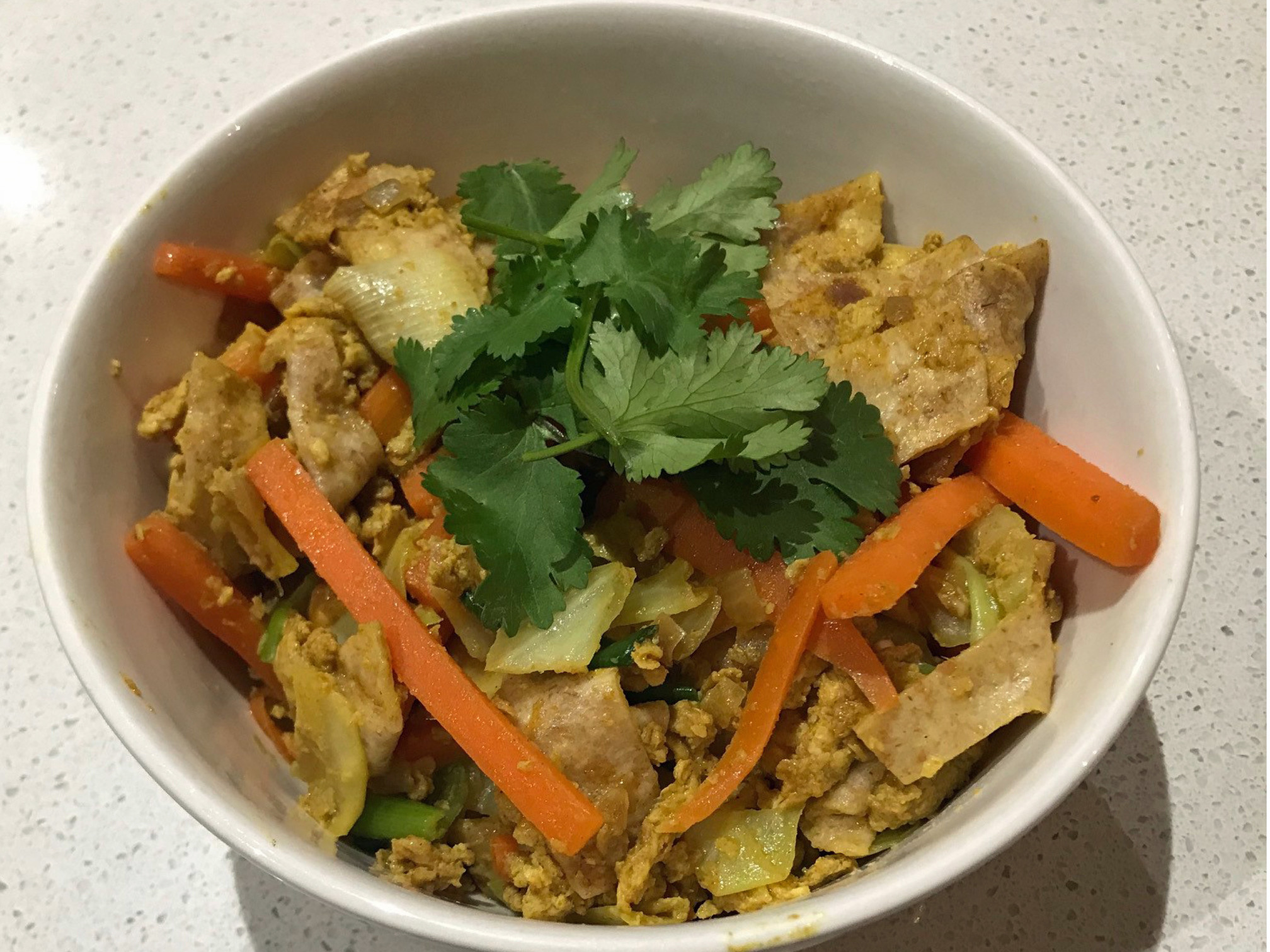 Vegetarianism is growing rapidly in New Zealand, but other parts of the world have had meat-free cuisines for centuries. For a rich and varied plant-based diet, talk to Chinese, Indians, Mexicans… Our wonderful volunteers have shared authentic recipes from around the world. Most of these recipes were traditionally vegan, but some were meat-based recipes that have been 'veganised'. We have collected 31 recipes from 31 different countries to share with you – one for each day of October, World Vegetarian Month.
This recipe is adapted from a Sri Lankan street food classic. Thank you Carole McIntosh for the recipe! If you don't have roti on hand, use three wholemeal wraps instead – that works well.
Ingredients
A glug of olive oil
3 cloves garlic, crushed
1 ½ Tbs grated ginger
1 small red onion, finely chopped
1 tsp salt
1 ½ Tbs curry powder
½ tsp turmeric
¼ tsp chilli powder
3 medium carrots, cut into matchsticks
¼ cabbage, shredded
2 spring onions, halved lengthways and cut into 2cm pieces
1 Tbs soy sauce
1 block of tofu
2 handfuls roti (or other flatbread) cut into strips approx. 1.5cm wide, then chopped into 5cm lengths
Freshly ground black pepper
Chopped coriander to serve (optional)
Directions
Heat the oil in a large pot over a low heat, add the garlic, ginger and onion, sprinkle with the salt (this helps to stop the onions from frying) and gently sauté for 10 minutes.
Add the curry powder and chilli powder and stir for two minutes.
Stir in the carrots and cook for two minutes, then add the cabbage, spring onions and soy sauce, and cook, stirring often for five minutes or until the veggies are just cooked.
Chop the tofu and use a fork to crumble it into bite-sized pieces. Mix the turmeric in with the tofu to give a nice colour to it.
Turn up the heat and stir in the tofu and roti. Stir until the tofu is cooked through, season well with salt and pepper, garnish with coriander and serve immediately.
Latest vegetarian & vegan recipes
Other delicious ideas…