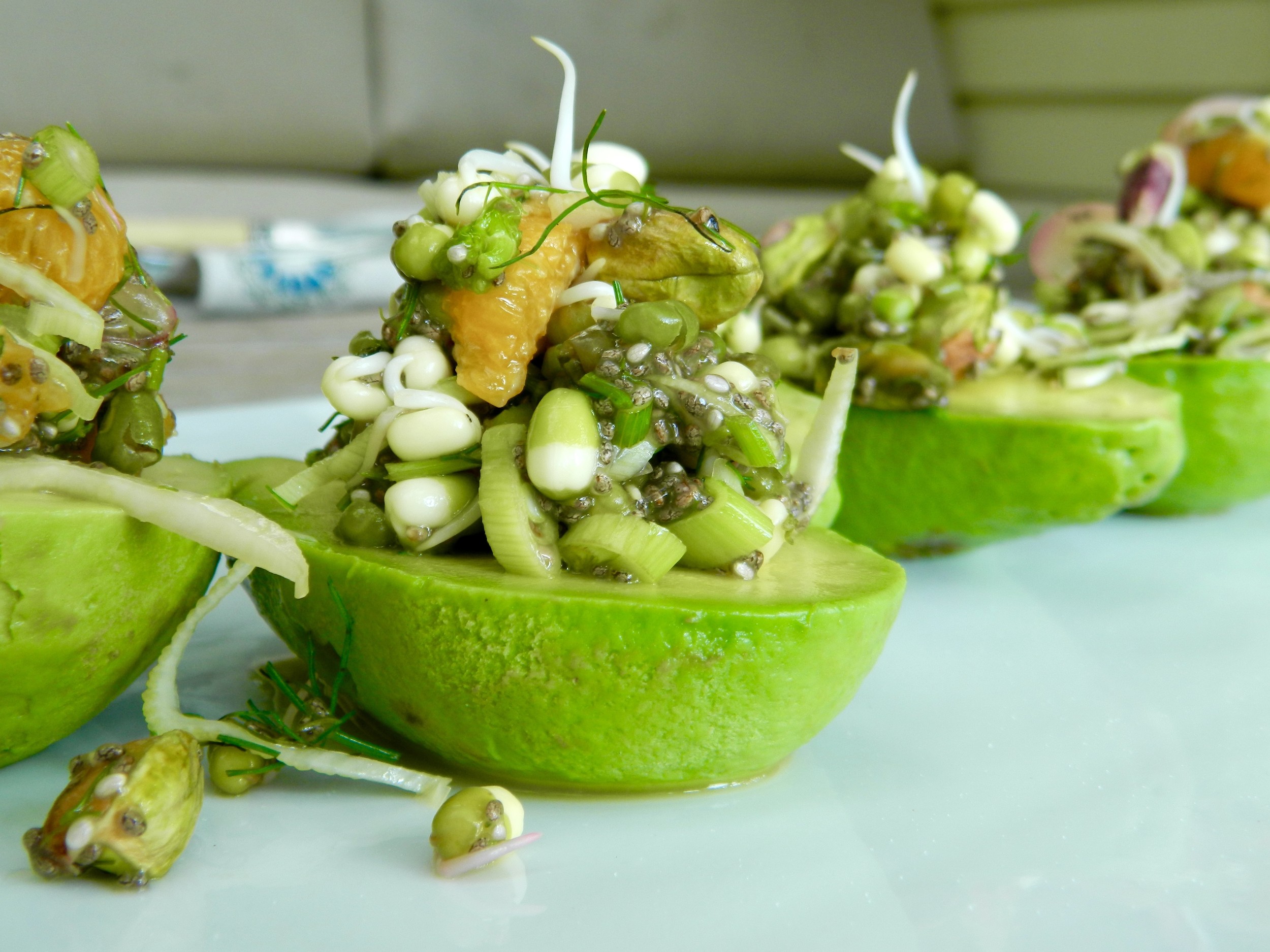 "These stuffed avocados are crunchy, creamy, zesty, nutty and nutritious. Mung bean sprouts and fennel are the base of the stuffing with chia seeds to soak up the dressing. I really enjoy using pulse sprouts. They are so good on so many levels. They have great texture and taste plus they are full of essential vitamins."
This recipe is from the Veggie Tree Cookbook by Anna Valentine. Anna's recipes also feature in our Vegetarian Living NZ magazine.
To prepare sprouts if you don't have a sprouter: soak dried pulses overnight covered, drain next morning through a sieve, then leave in sieve and cover with a tea towel. Rinse the beans again that night, then again next morning until they sprout. They are now ready to use.
Ingredients
Refer to next section for ingredients.
Directions
Gather your ingredients and prepare the following ingredients straight into your large salad bowl:
½ red onion, thinly sliced
1 bulb fennel, very finely sliced (you could use a mandolin)
1 Tbs chia seeds
½ tsp salt
1 orange or tangelo, peeled and diced
juice of 1 lime
2 tsp sugar or maple syrup (or honey for a non-vegan version)
1 cup mung bean sprouts
1 handful fresh coriander and fennel tops, finely chopped
1 Tbs extra virgin olive oil a few cracks of pepper
Mix everything together and leave to marinate for half an hour.
Now take:
Allow one avocado half per person. Cut each avocado in half, length ways and twist it apart. Remove the stone.
Add to the salad mix:
40g pistachio nuts, shelled
Toss the salad mix together and pile it into the halved avocados. Serve with roasted vegetables.
Latest vegetarian & vegan recipes
Other delicious ideas…