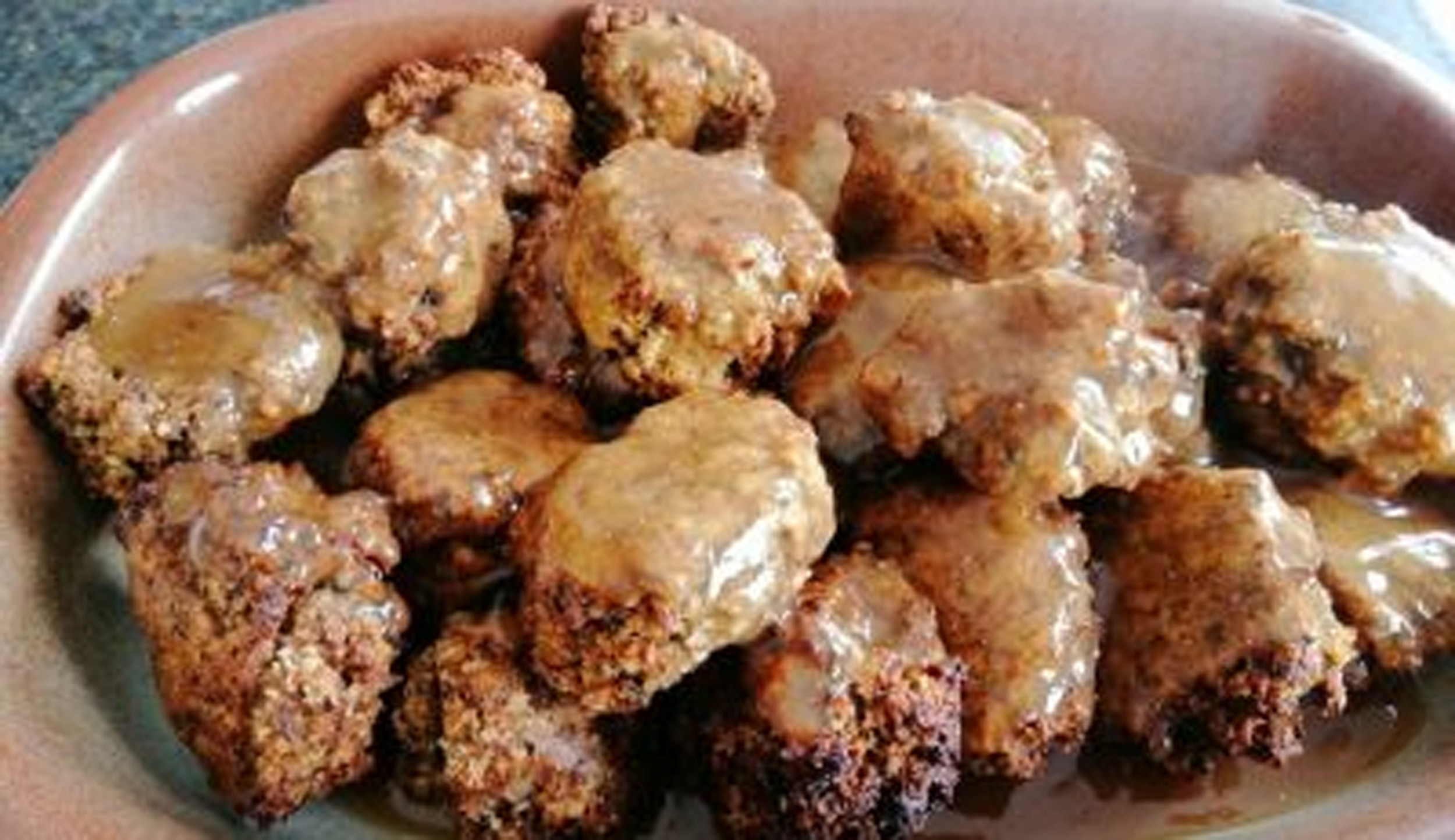 Vegetarianism is growing rapidly in New Zealand, but other parts of the world have had meat-free cuisines for centuries. For a rich and varied plant-based diet, talk to Chinese, Indians, Mexicans… Our wonderful volunteers have shared authentic recipes from around the world. Most of these recipes were traditionally vegan, but some were meat-based recipes that have been 'veganised'. We have collected 31 recipes from 31 different countries to share with you – one for each day of October, World Vegetarian Month.
Thanks to Margaret Johns for this recipe.
Ingredients
Can of Vegie Delights nutmeat
1 cup burghul wheat or ¾ cup rolled oats
1 ½ cups boiling water (if using rolled oats use 1 cup boiling water)
1 tsp veg~n stock powder
1 onion, diced
1 large field mushroom (about 150g), chopped
3 slices wholemeal plain bread
2 tsp nutmeg
½ tsp ground cardamom
1 tsp cracked black pepper
1-2 Tbs chopped parsley
1 Tbs soy sauce
Vegetable oil for cooking
Gravy
You can use the Orgran Gluten Free Gravy Mix as per instructions on packet OR :
1/4 cup blanched almonds, soaked in cold water for an hour or two and then drained
1/3 cup vegetable oil
1/3 cup plain wholemeal flour
3 cups boiling water
2 heaped tsp veg~n stock powder
1 Tbs soy sauce
Juice of half a lemon
Pinch of nutmeg
Directions
Mix burghul or rolled oats and stock powder. Add boiling water and leave for 15 minutes.
Pulse bread in food processor to form fine soft breadcrumbs. Put in a mixing bowl.
Sauté onions and mushrooms in oil until the onions are soft and transparent. Add to food processor together with nutmeat and burghul or rolled oats, process briefly until all mixed together then add to mixing bowl with breadcrumbs.
Add the spices and parsley and mix all together well using your hands – mixture should be firm but not dry. (If too dry, add a little bit of water or soy sauce.)
Form into balls – should make about 35 walnut sized balls.
Fry in batches until browned and then transfer to a baking/casserole dish. Alternatively, place balls in baking dish and bake in oven at 180oC for 15 minutes, turn balls then bake for another 15 minutes, until browned.
To make the gravy puree the almonds with the lemon juice until a smooth paste is formed.
Heat the oil in a small saucepan. When hot, add the flour and stir well. Cook for 2-3 minutes stirring frequently.
Add the stock powder and the soy sauce to the boiling water. Add this mixture a little at a time to the flour int he saucepan, stirring vigorously the whole time to prevent lumps forming. Continue until you've added all the water.
Add the pureed almonds and stir well. More water can be added if you want a thinner gravy.
Pour over balls and serve immediately.
Latest vegetarian & vegan recipes
Other delicious ideas…