Recipes
Tempeh, Quinoa & Pickled Vegetables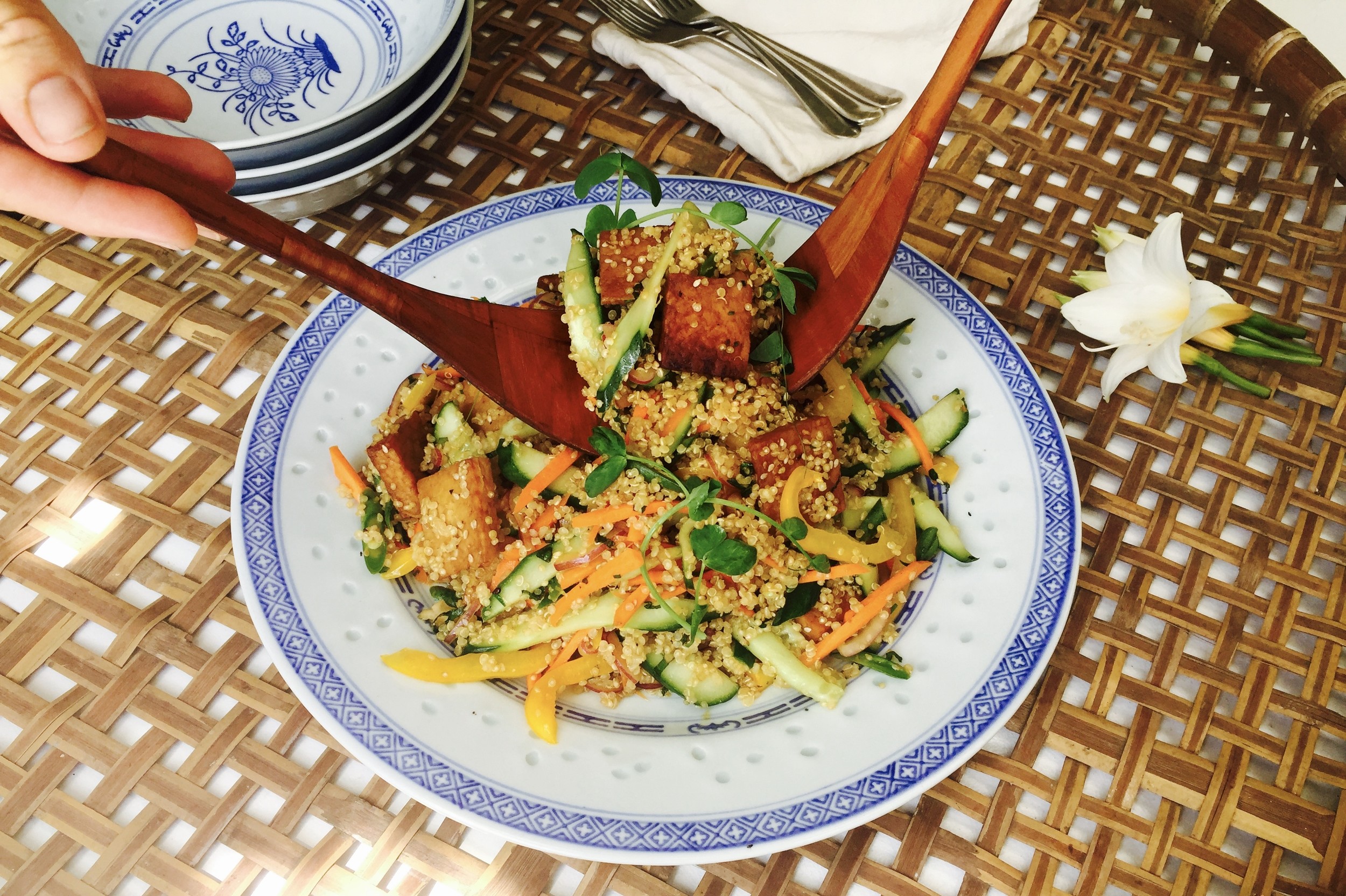 This tempeh quinoa and pickled vegetables recipe is from the Veggie Tree Cookbook by Anna Valentine. Anna's recipes also feature in our Vegetarian Living NZ magazine.
If you want this dish to be gluten free make sure you select gluten free versions of the sauces.

Ingredients
Refer to next section for ingredients.
Directions
Gather your ingredients then take a small pot and add:
½ cup quinoa
190 ml water

Cover and bring to the boil, then turn down to a simmer leaving the lid on and cook for 5 minutes until the water is absorbed. Remove from the heat and leave to steam for a couple of minutes. Remove the lid and stir to help cool.

Meanwhile, add the following ingredients to a large salad bowl:
1 red onion, sliced as finely as you can
2 Tbs coconut or rice vinegar
1 lime juice
1 Tbs sweet soy sauce

Mix these together so the onion is coated and leave to marinate while you
prepare these other ingredients.
1 carrot, sliced into match sticks (julienned)
½ cucumber, sliced finely
½ broccoli, sliced finely

Add these prepared vegetables to the bowl along with:
1 Tbs tamari soy sauce
½ tsp sesame oil
1 tsp peanut oil

Toss together well. Put a wok or large frying pan on high heat and add:
2 Tbs coconut oil

When this is melted add:
1 block (250g) tempeh, sliced into flat cubes

Stir fry until starting to colour, then add:
1 Tbs sesame seeds
When the seeds are toasted add:
2 Tbs mirin

It will sizzle and evaporate quickly then add:
1 Tbs tamari soy sauce

Remove from the heat and add to a bowl with the cooled quinoa. Lastly add:
5 sprigs fresh coriander, roughly chopped
4 chives, finely sliced
2 sprigs of fresh mint

Give it all a good mix through and serve.
Latest vegetarian & vegan recipes
Other delicious ideas…