Recipes
Tofu Scramble with Hash Browns & Smoky Coconut Chips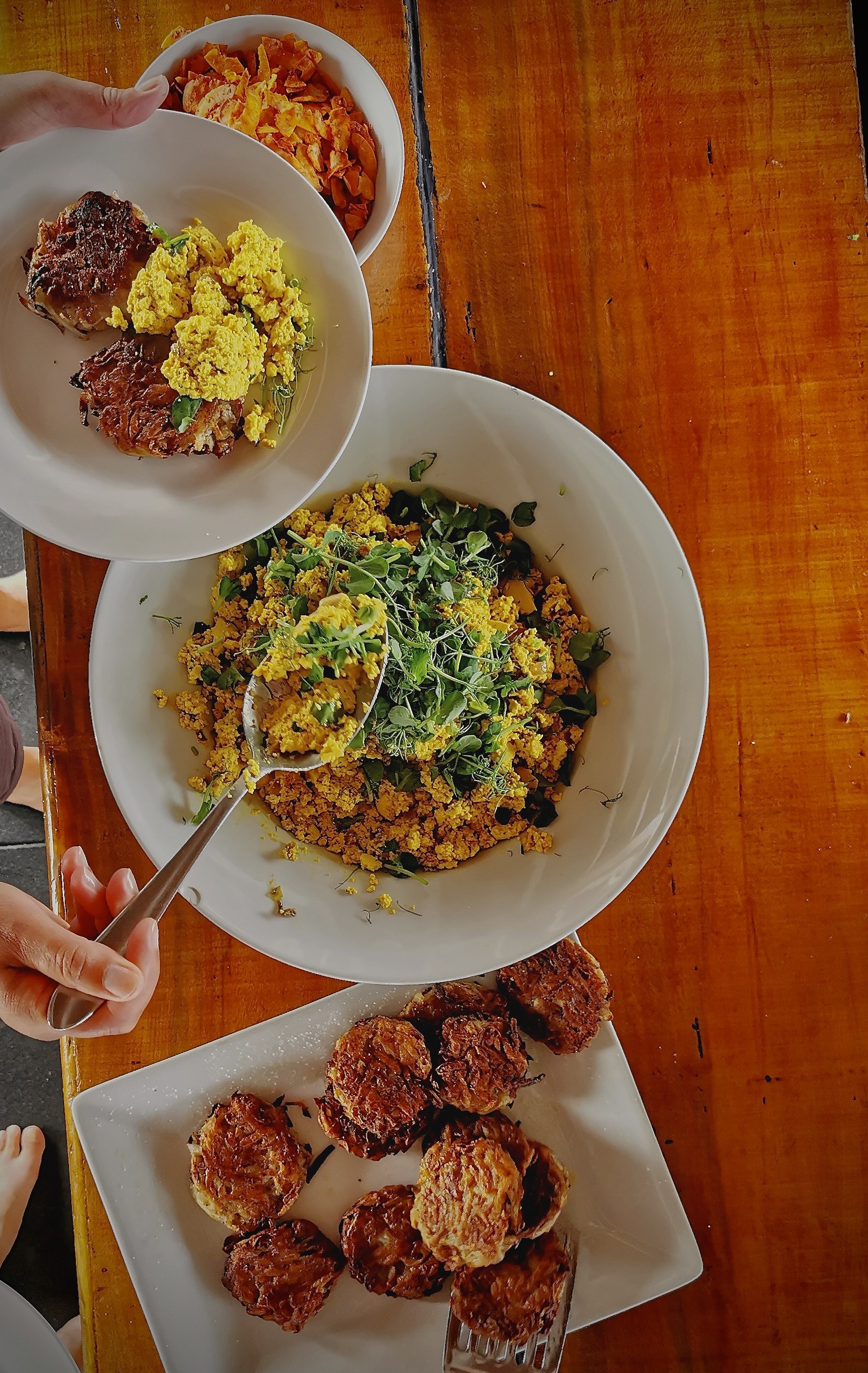 This tofu scramble is quick, easy, soft and scrumptious! "I love a good brunch and this combo really hits the spot with crispy quick hash browns and smoky coconut chips. It's the perfect plant-based brunch or lunch with a little relish or hot sauce."

Our thanks to Anna Valentine for sharing this recipe! Click here for more delicious recipes.
Ingredients
Refer to next section for ingredients.
Directions
Gather your ingredients and add to a flat bowl:

1 x 300g block tofu, soft or firm
¼ cup aqua faba
½ tsp turmeric powder
¼ tsp black pepper
½ tsp salt or black salt for a more eggy flavor
¼ cup onion weed, chives or parsley, finely chopped
Mash together well. Take a cast iron pan on a medium-high heat and add:
2 Tbs extra virgin olive oil
1 onion, diced
Slowly sauté until soft but not colored, approximately eight minutes. Add the tofu mixture and cook gently, stirring constantly for two minutes serve on top of your prepared toast, and hash browns, and top with freshly diced tomato or green pea micro-greens and smoky coconut chips.
Hash Browns
Gather your ingredients. Start with the flax egg if using.
Mix together in a large bowl:
2 Tbs flaxseed, ground and mixed with 1/3 cup water and leave to absorb for 5 minutes, stirring once during this time
OR
2 eggs
4 medium potatoes, scrubbed clean and grated
¼ cup cornflour (starch)
1 Tbs chives, onion flowers or sage, roughly chopped
½ tsp salt
A few cracks of pepper
Heat two Tbs of oil for each round of hash browns in a cast-iron pan or hot plate on a barbeque.
Scoop one Tbs of the mix at a time into the pan or the hotplate on a medium-high heat. Push it flat with the back of the spoon and cook the first side until golden brown before flipping over, making sure your pan is hot, but not so hot that it will burn your hash.
When both sides are golden, take it out of the pan and place it on a cooling rack to keep crisp.
Repeat with the rest of the mixture.
Smoky Coconut Chips
Line an oven tray with baking paper and preheat the oven to 150°C.
Gather the ingredients and add the following into a mixing bowl:
2 Tbs soy sauce, Tamari or Braggs
1 Tbs liquid smoke
1 Tbs maple syrup
1 Tbs smoked paprika
½ tsp of Himalayan or flaked salt
Mix together then add:
Mix well to coat evenly and spread out on the prepared tray in one layer. Bake for 10 minutes, stirring once. These burn easily so turn your timer on!
When cold, store in a jar to keep crisp.
Latest vegetarian & vegan recipes
Other delicious ideas…