Recipes
Turmeric Honey Roasted Carrots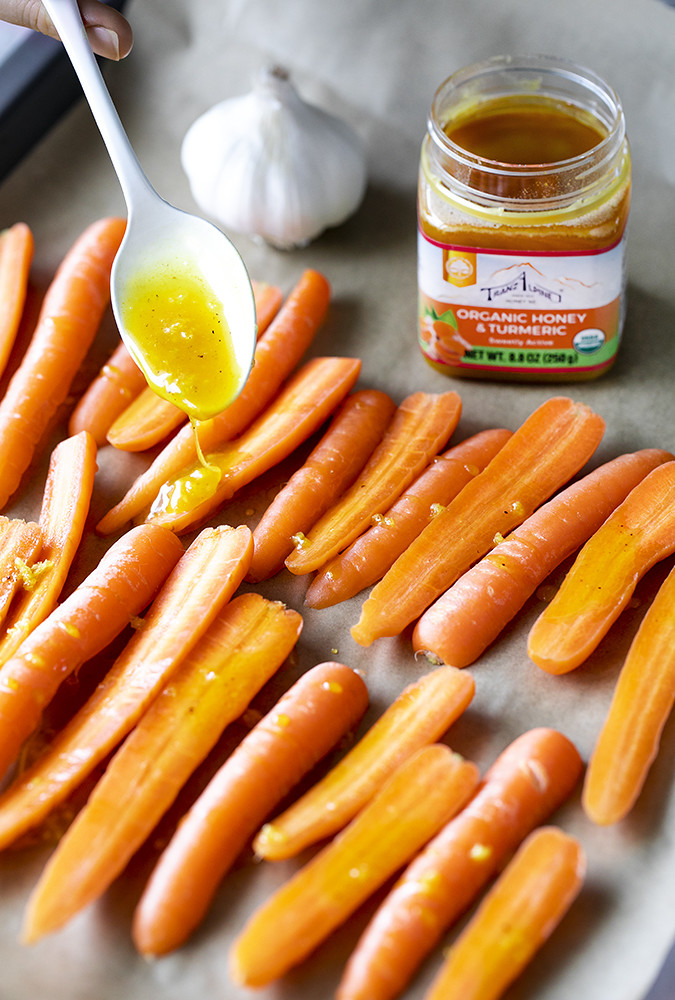 Finally a carrot recipe the whole family will love! Delicious garlicky carrots roasted with the heavenly organic TranzAlpine Tumeric honey fusion.
Budget-friendly, super healthy and jam-packed with Vitamin C, anti-inflammatories and antioxidants that will boost your family's immune system.
You won't need a special occasion to make this healthy and nutritional sweet carrot dish and with simple ingredients like carrots and garlic, it will quickly become an everyday meal favourite.
Dress them up for a fancy dinner, serve them as a sweet and savoury side at the BBQ, pack the leftovers in for a delicious lunch snack at work or school and be perfect for whipping up when the pantry stocks are low at the bach.
Gluten-free, suitable for strict vegetarians and made with our one of a kind TranzAlpine Honey Organic Honey Fusion with Tumeric
Turmeric is a well known, proclaimed superfood. Familiar in home kitchens as an orange-yellow powder or whole root – similar to its cousin, whole ginger, except for its bright orange colour under the skin – has been used as a staple in Asian cooking for thousands of years.
Ingredients
250g Baby carrots, washed, pat dried with a paper towel, cut lengthwise
1 Tbs TranzAlpine Organic Turmeric Honey Fusion
1 Garlic clove, grated
1 Tbs butter or plant-based butter alternative, melted
1/4 Tsp salt
Black pepper to taste
Toasted sesame seeds to serve
Directions
Toasting sesame seeds enhances their nutty flavour and crunchy texture. For toasted sesame seeds you will need a wide frying pan and stovetop. Heat the sesame seeds on low heat, shaking the pan occasionally. Remove the seeds when they slightly darken and become fragrant. They should be toasted and ready between 3 and 5 minutes. Keep in an airtight container in a cool, dry place for up to three months.
Preheat the oven to 180°C
In a small bowl make the aromatic butter or a plant-based alternative - mix the turmeric honey, grated garlic, and melted butter using a small whisk.
Season with salt and pepper.
Toss the baby carrots with the aromatic garlic butter and honey mix.
Transfer the carrots to the baking sheet. Arrange them in a single layer.
Roast for about 30 minutes or until soft and tender, flipping every 10 minutes.
Transfer to a plater, drizzle with the remaining aromatic butter, sprinkle with toasted sesame seeds and serve.
Enjoy!
Latest vegetarian & vegan recipes
Other delicious ideas…