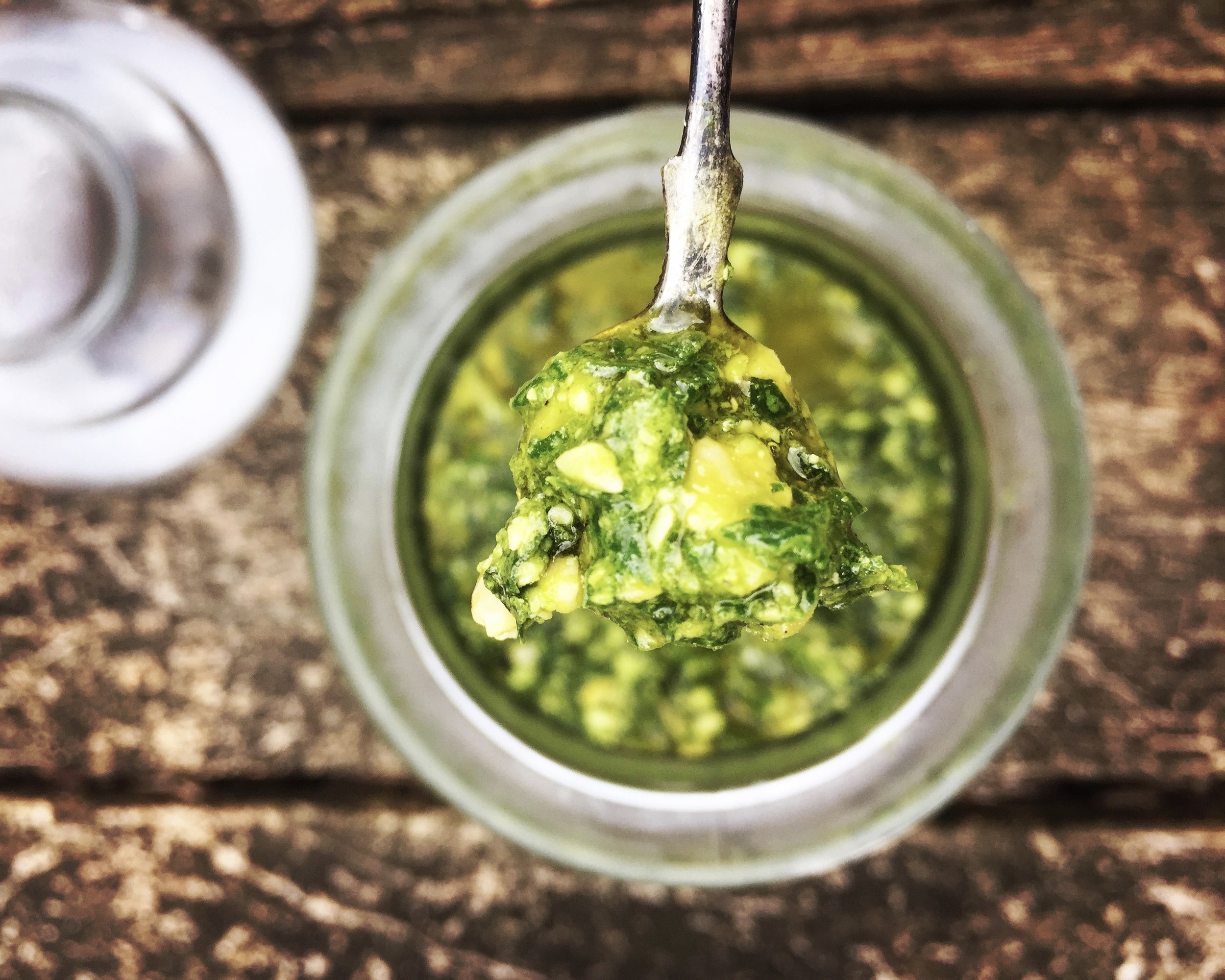 Pesto is great with tomato and Italian flavours, ideal as a pasta sauce with ricotta or cream cheese, in burgers, mixed through pie fillings; it also makes tasty dip or cracker topping. This wild weeds version with fennel or mung beans means it is packed with essential nutrients.
This recipe is from the Veggie Tree Cookbook by Anna Valentine. Anna's recipes also feature in our Vegetarian Living NZ magazine.
Ingredients
Refer to the next section for ingredients.
Directions
1. The easiest way to make this is in a food processor. If you don't have one you could use a mortar and pestle or just chop everything up as fine as you can, then mix together well. If you are using a food processor, start with:
1 clove garlic, peeled
1/4 cup macadamia, cashew nuts or 2Tpinenuts
1/2 cup mung bean sprouts or 1 fennel bulb, roughly chopped
2. Whizz these together until roughly chopped. Then add:
3 cups dandelion, plantain, nasturtium, onion weed, chicory, borage and/or clover leaves, roughly chopped and loosely packed
1/4 cup parmesan, dairy or vegan, finely grated
125ml extra virgin olive oil
Zest and juice of 1 lemon
1 tsp salt
1/4 tsp black pepper
3. Whizz again, scraping down the edges as necessary. Blitz again until finely chopped. Store in a jar in the fridge. I find covering the jar with tin foil to stop the light getting in helps keep it from going brown on the top and always keep a layer of olive oil on top as this also helps it to stay fresh.
Latest vegetarian & vegan recipes
Other delicious ideas…