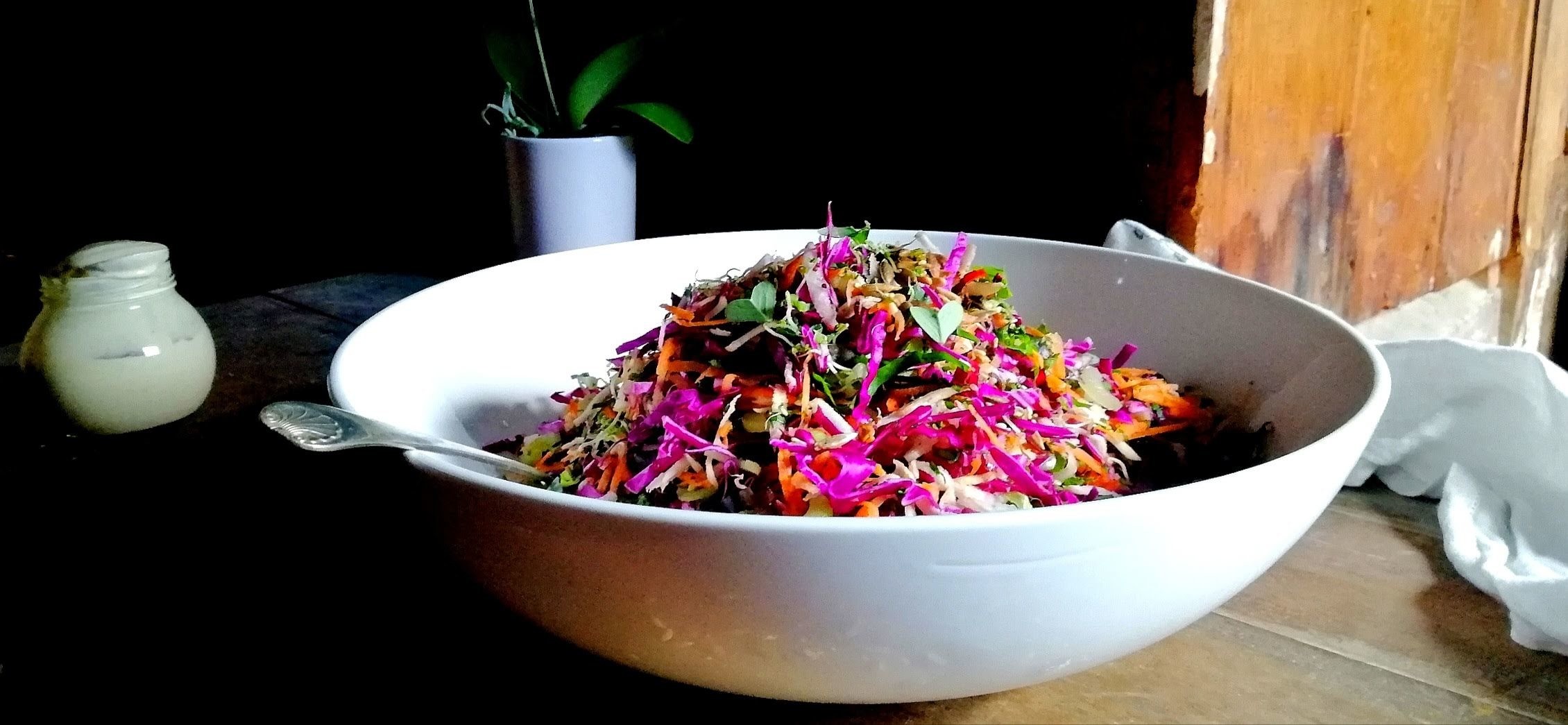 "I love winter vegetables in salads, they are crunchy, juicy and delicious! And a great source of nutrients in the winter time, I very rarely peel vegetables as the nutrients are usually found in or just under the skin so I give them a quick scrub to clean off any dirt. Utilising the wild weeds in the garden is empowering and free so I have added some options for those who would like to add these to the salad for extra nutrition and flavour."
Our thanks to Anna Valentine for sharing this recipe! Click here for more delicious recipes.
Ingredients
Refer to next section for ingredients.
Directions
1. Gather your ingredients and prepare the following into a large salad bowl:
¼ red cabbage, finely sliced
1 cup silverbeet or kale, finely sliced (approximately 4-5 leaves and stems)
4-5 florets cauliflower or broccoli, finely sliced
1 celery stick, finely sliced
1 carrot, grated
1 parsnip, grated
1 apple, grated
Juice of 1 lime
2 stems fresh parsley, finely chopped
½ cup onion weed, dandelion, chicory or plantain leaves, finely chopped (optional)
2 gherkins, diced
1 Tbs capers (optional)
3 Tbs raisins or cranberries
½ Tbs Himalayan pink salt
2. Toss together and leave to marinate for 30 minutes. Then add:
½ cup homemade mayonnaise
½ cup pumpkin and sunflower seeds
A few cracks of black pepper
3. Toss everything together well and serve, garnish with pretty little oxalis leaves if you like. Store leftovers in a jar in the fridge for 3-4 days, I find that slaws have a great shelf life in the fridge, unlike other dressed salads.

Latest vegetarian & vegan recipes
Other delicious ideas…