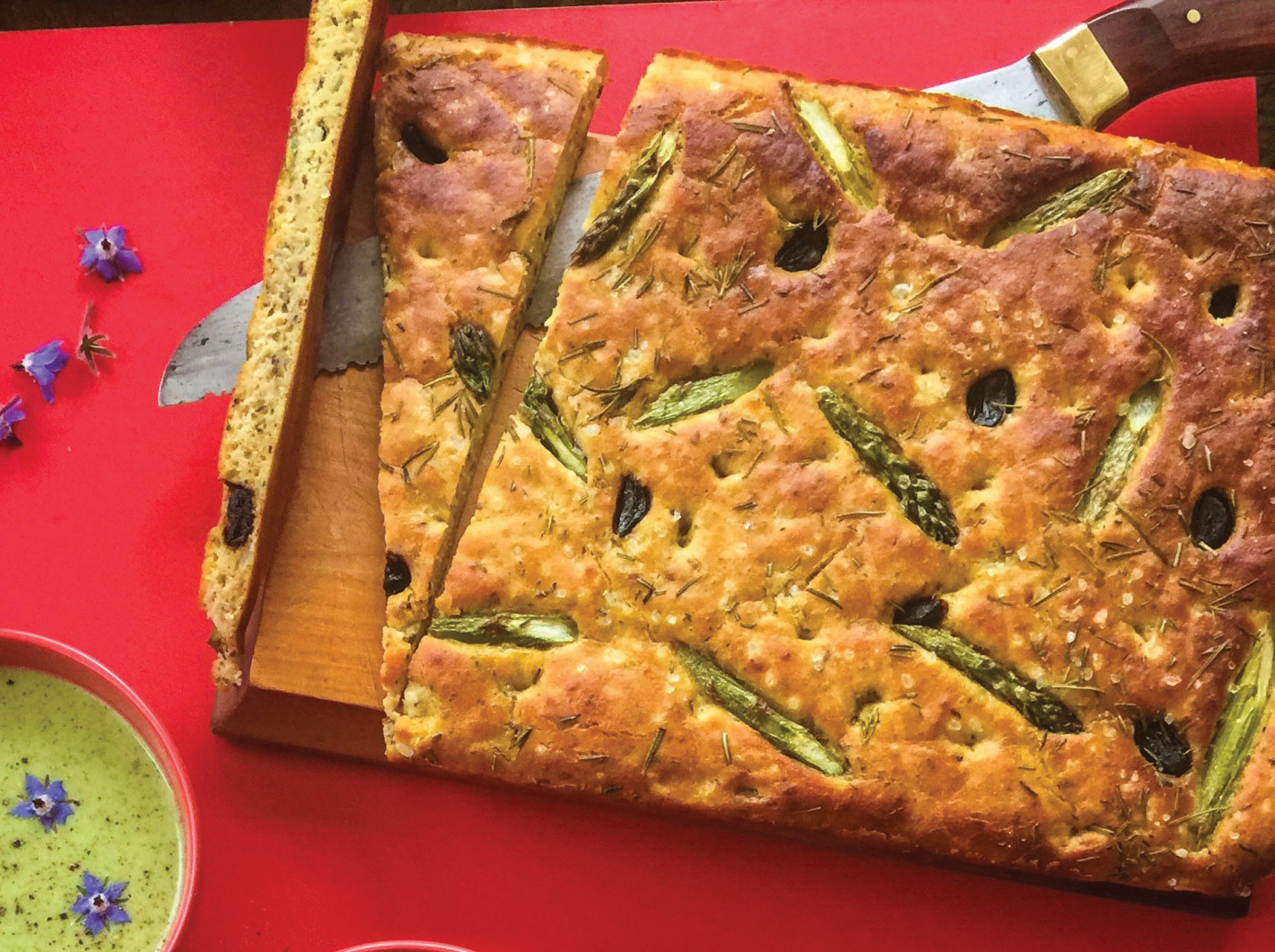 "This gluten and dairy-free focaccia is moist on the inside and crisp and oily on the outside. You can keep it simple by using just rosemary and rock salt, or asparagus is a great addition in spring, or sliced tomato and olives is another option.
It's important to use a roasting tray with sides so when you cover it with the tea towel, it doesn't touch the dough (it will stick as it is quite a wet mix)."
Our thanks to Anna Valentine for sharing this recipe! Click here for more delicious recipes.

Ingredients
Refer to next section for ingredients.
Directions
1. Line a 20x30cm roasting tray with baking paper, ensure it has sides to hold the tea towel when leaving to rise. To a large bowl add the following ingredient
1 tsp dry yeast
1 Tbs honey or other liquid sweetener
450ml almond or alternative milk, warm
2. Whisk together and leave for 10 minutes.
Meanwhile mix together:
2 Tbs chia or flaxseed or both with ½ cup water
3. Measure into another bowl:
1 cup corn flour (starch) or tapioca flour
1 cup soy flour, quinoa or chickpea flour
2 cup brown rice, buckwheat or maize flour
1 Tbs psyllium husk
1 tsp baking powder
¼ cup olive oil: 1/2 in mix, 1/2 on top
½ tsp salt
1 onion, diced
2 Tbs sesame seeds (optional)
1 Tbs poppy seeds (optional)
4 Tbs pumpkin seeds (optional)
4. Add the chia mixture to the flour mixture and whisk until smooth.
5. Pour into a lined loaf or roasting dish and leave to rise for 45 minutes, covered with a damp tea towel.
6. Preheat the oven to 200°C.
7. Top focaccia with:
4 asparagus, tough ends removed and sliced on the diagonal
4 cloves garlic, peeled
1 stick rosemary, leaves removed and roughly chopped
1 tsp rock salt
2-3 Tbs extra virgin olive oil
8. Bake for 20-30 minutes until golden brown, skewer test to check.
Latest vegetarian & vegan recipes
Other delicious ideas…