Recipes
Chickpea & Fennel Tagine with Almond Couscous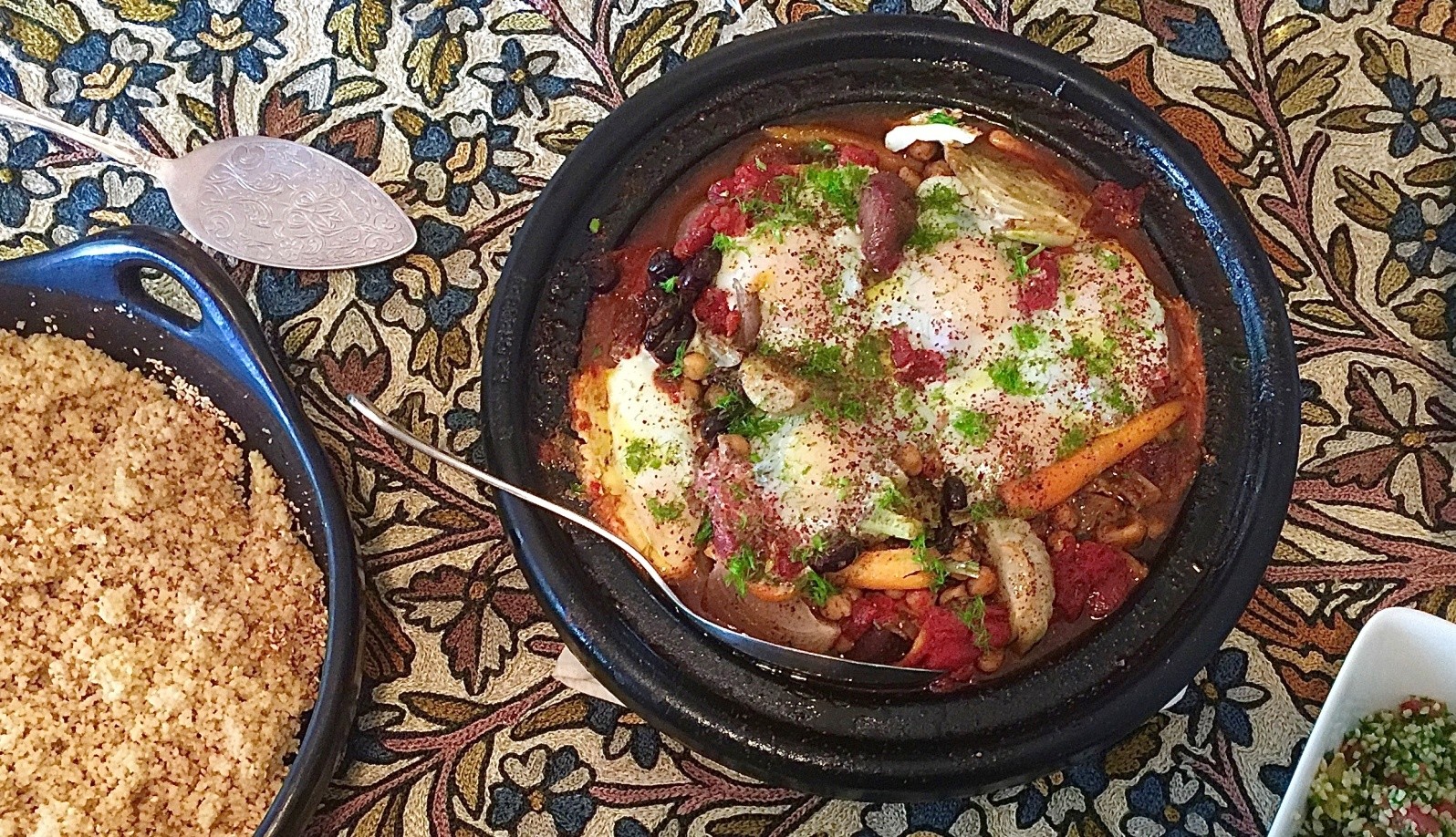 "Tagines are beautiful to cook with and to look at, but you can use any ovenproof dish with a lid if you don't have one. Warming the dish up in the oven is essential for cooking time. To make this meal gluten-free, use quinoa in place of couscous, but you'll need to cook the quinoa first instead of just leaving it to steam. Omit eggs for a vegan option, There are still chickpeas and almonds in there for protein." - Anna Valentine
Ingredients
1 red onion, sliced into wedges
1 x 400g can chopped tomatoes, plus 1 can water
1 x 400g can chickpeas, drained
6 small flat mushrooms
2 cloves garlic, crushed
1 lemon, sliced into thin rounds, pips removed or 1 preserved lemon skin, sliced
6 dried apricots, figs or fresh figs halved
150g olives, pitted
1 large fennel bulb, sliced into sixths OR 2 sticks celery, quartered
6 baby carrots OR 1 capsicum, cored, deseeded and sliced
1 Tbsp cumin seeds
1 tsp coriander seeds
1 tsp fennel seeds
1 tsp caraway seeds
2 Tbsp olive oil
1 cup couscous, wholemeal or regular
2 Tbsp extra virgin olive oil
1½ cup boiling water
½ cup ground almonds or hemp hearts
2 Tbsp sesame seeds, toasted
½ tsp salt
a few cracks of black pepper
4-6 eggs (omit for vegan option)
1 tsp sumac
3 Tbsp fresh fennel flowers
2 Tbsp extra virgin olive oil
Directions
Heat the oven to 180°C with the tagine or ovenproof dish inside.
Gather your ingredients. Prepare the following:
1 red onion, sliced into wedges
1 x 400g can chopped tomatoes, plus 1 can water
1 x 400g can chickpeas, drained
6 small flat mushrooms
2 cloves garlic, crushed
1 lemon, sliced into thin rounds, pips removed or 1 preserved lemon skin, sliced
6 dried apricots, figs or fresh figs halved
150g olives, pitted
1 large fennel bulb, sliced into sixths OR 2 sticks celery, quartered
6 baby carrots OR 1 capsicum, cored, deseeded and sliced
Next, toast the following seeds together then smash them up a little in a mortar and pestle or a spice grinder.
1 Tbsp cumin seeds
1 tsp coriander seeds
1 tsp fennel seeds
1 tsp caraway seeds
Add the toasted seeds to a spice grinder or mortar and pestle to grind up.
Bring the tagine from the oven and add 2 Tbsp olive oil along with all of the prepared ingredients and ground spices put the lid on and bake for one hour.
Meanwhile, make the couscous. You can make this in the same bowl you serve it in. Measure into the bowl:
1 cup couscous, wholemeal or regular
pinch of saffron (optional)
Now add:
2 Tbsp extra virgin olive oil
1½ cup boiling water
Cover the bowl and leave to steam for at least 10 minutes. Fluff with a fork then add:
½ cup ground almonds or hemp hearts
2 Tbsp sesame seeds, toasted
½ tsp salt
a few cracks of black pepper
Mix these through well. Now back to the tagine - after an hour, season with:
½ tsp salt
cracked black pepper
Stir through. Carefully crack onto the top:
4-6 eggs (omit for vegan option)
Leave the eggs where you placed them and cook for five more minutes with the lid on. Remove from the oven and top with:
1 tsp sumac
3 Tbsp fresh fennel flowers
2 Tbsp extra virgin olive oil
Latest vegetarian & vegan recipes
Other delicious ideas…