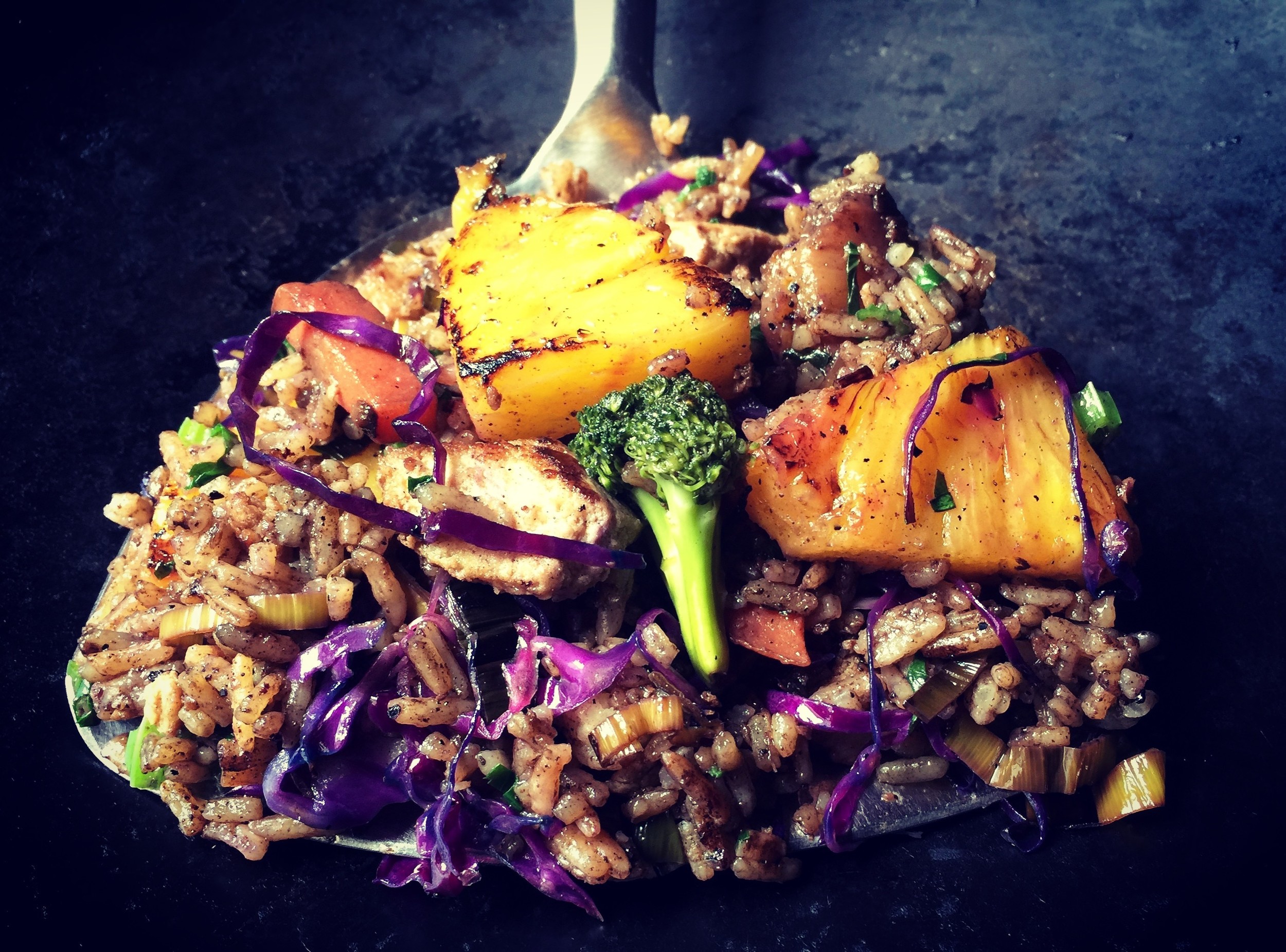 This recipe is from the Veggie Tree Cookbook by Anna Valentine. Anna's recipes also feature in our Vegetarian Living Magazine.

A quick stir-fry is a must for busy families. Always stir-fry on the highest heat – stand over it because it needs to cook quickly. Freezing the tofu creates a different texture and crispy bits, but it's not essential so just use regular firm tofu and omit the squeezing! Remember to take tofu from the freezer in the morning for your evening meal.
Ingredients
Refer to next section for ingredients.
Directions
Measure into a pot:
1 1/2 cups jasmine rice, rinsed well in a sieve
3 cups (740ml) water

Cover and bring to the boil then reduce to a simmer. Give it a quick stir with a fork, replace the lid and when you can't see the water, give it another quick stir with a fork. Now remove from the heat; keep the lid on and steam for 10 minutes. Then tip the rice out into a large bowl to cool. Remove the tofu from the freezer in the morning for the evening meal. Start by marinating your tofu.
1 packet (250g) defrosted tofu

Gently squeeze out the excess water and crumble the tofu into bite-sized pieces (if using fresh tofu cut into cubes). Place into a flat container, then add:
1 clove garlic, crushed
1 Tbs frozen ginger, grated on a micro-plane
100ml light soy sauce or tamari
1 tsp sesame oil

Prepare vegetables.
200g fresh pineapple, cored and chopped into chunks
1 onion or 1/2 a leek, thinly sliced
1 carrot, thinly sliced
1/4 of a broccoli, cut into small florets
1/4 of a cauliflower, cut into small florets
1/4 of a red cabbage, very finely sliced

When you're ready for the tofu, drain the marinade off through a sieve, give it a gentle squeeze to remove as much moisture as you can and put the marinade aside for later. Place the wok on the heat and add:
3 Tbs (50ml) coconut or rice bran oil
1 Tbs peanut oil

Add the tofu and stir-fry, moving it often to prevent burning. When the tofu is crisp, take out it using a slotted spoon and set it aside.
Using the oil that's left in your wok, stir-fry the fresh pineapple, leaving it to colour up before flipping over. Add the onion or leek and carrot, then add:
2 tsp five-spice powder

Stir-fry for 1 minute, then throw in your broccoli, cauliflower, and red cabbage.
Add:
2 Tbs Chinese cooking wine

Next add the cooked rice, toss through, then add the marinade back into the wok, along with:
1 Tbs tamari sauce
1 Tbs honey or Maple Syrup for vegan version

Give it a good mix through. Serve straight away with the crispy tofu.
Latest vegetarian & vegan recipes
Other delicious ideas…