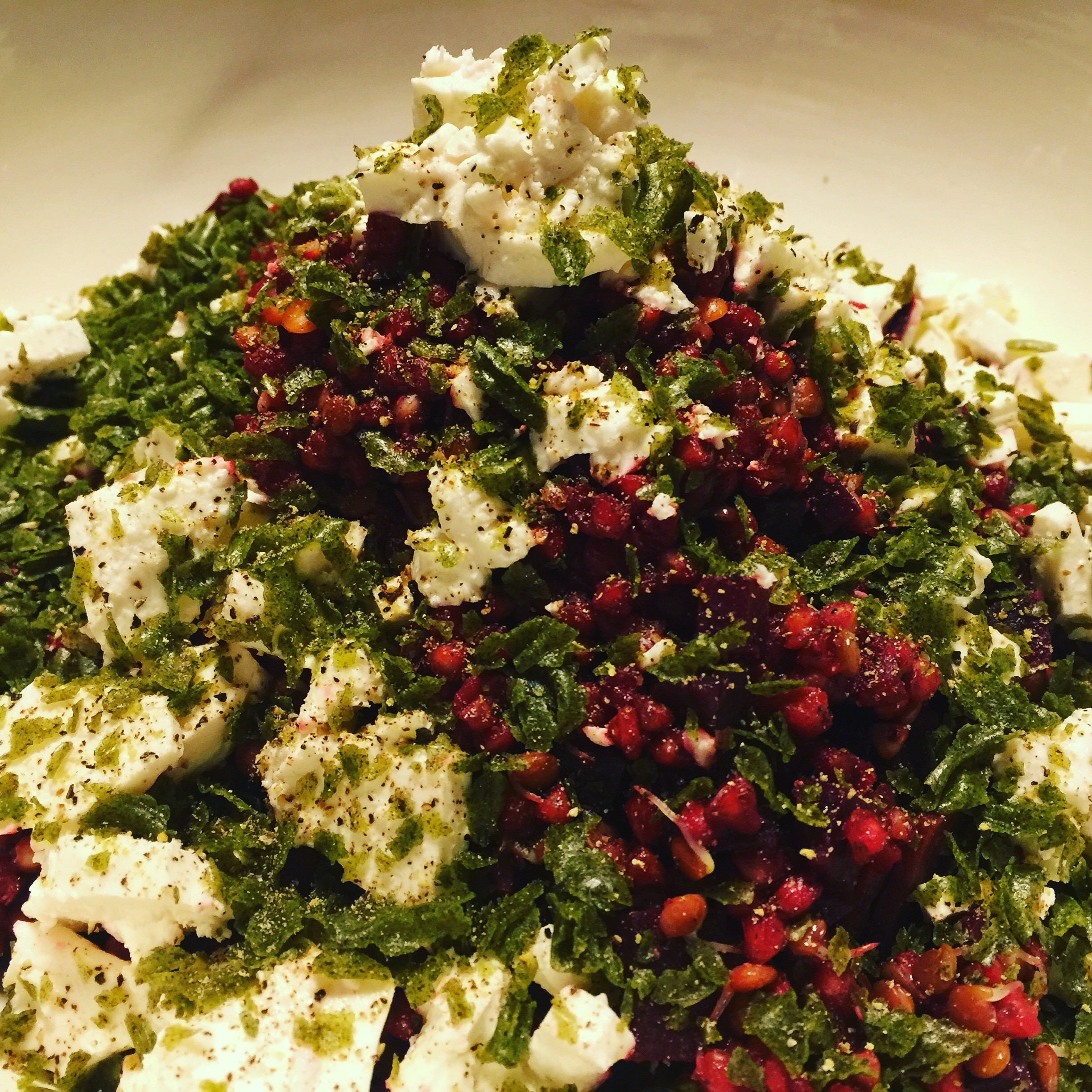 This salad recipe is from the Veggie Tree Cookbook by Anna Valentine. Anna's recipes also feature in our Vegetarian Living NZ magazine.
The earthy flavours of beetroot, kasha and walnuts work really well with super nutritious hemp seeds. The seeds and oil extracted from the seeds are an excellent source of nutrition, containing all the essential amino acids (the building blocks of protein) the body needs as well as omegas 3 and 6. This recipe contains lentil sprouts that will need to be made in advance. The ready nutrients found in sprouts are awesome. They are full of goodies that are easily absorbed by the body and really tasty.
If you are planning to use your own marinated feta (use our dairy free feta recipe), make the marinade first, preferably the day before!
Ingredients
Refer to the next section for ingredients.
Directions
Gather your ingredients and add the following to a small pot:
1 cup kasha (toasted buckwheat groats) or plain buckwheat groats
400ml water
½ tsp salt
1 beetroot, finely diced
Put a lid on the pot, bring to the boil, then turn down to a gentle simmer and cook for 10 minutes. Stir gently, replace the lid and take off the heat, but leave the lid on for another 5 minutes to steam. Remove the lid and add:
A few cracks of pepper
1 clove garlic, crushed
2 Tbs hempseed oil
Stir through and leave to cool.
Next, marinate the onion in the bowl you are serving the salad in:
½ red onion, thinly sliced
Juice of 1 lime
1 tsp coconut sugar
¼ tsp salt
Now, prepare the following ingredients and add them to the bowl as they become ready:
1 handful fresh parsley, finely chopped
100g walnuts, sliced
½ cup sprouted brown lentils
Add the cooled kasha and toss together. Top with:
200g feta, cubed
¼ cup hemp flakes or crushed seeds
A few cracks of pepper
Serve.
Latest vegetarian & vegan recipes
Other delicious ideas…