Recipes
Lemongrass & Mushroom Broth with Aduki Bean Noodles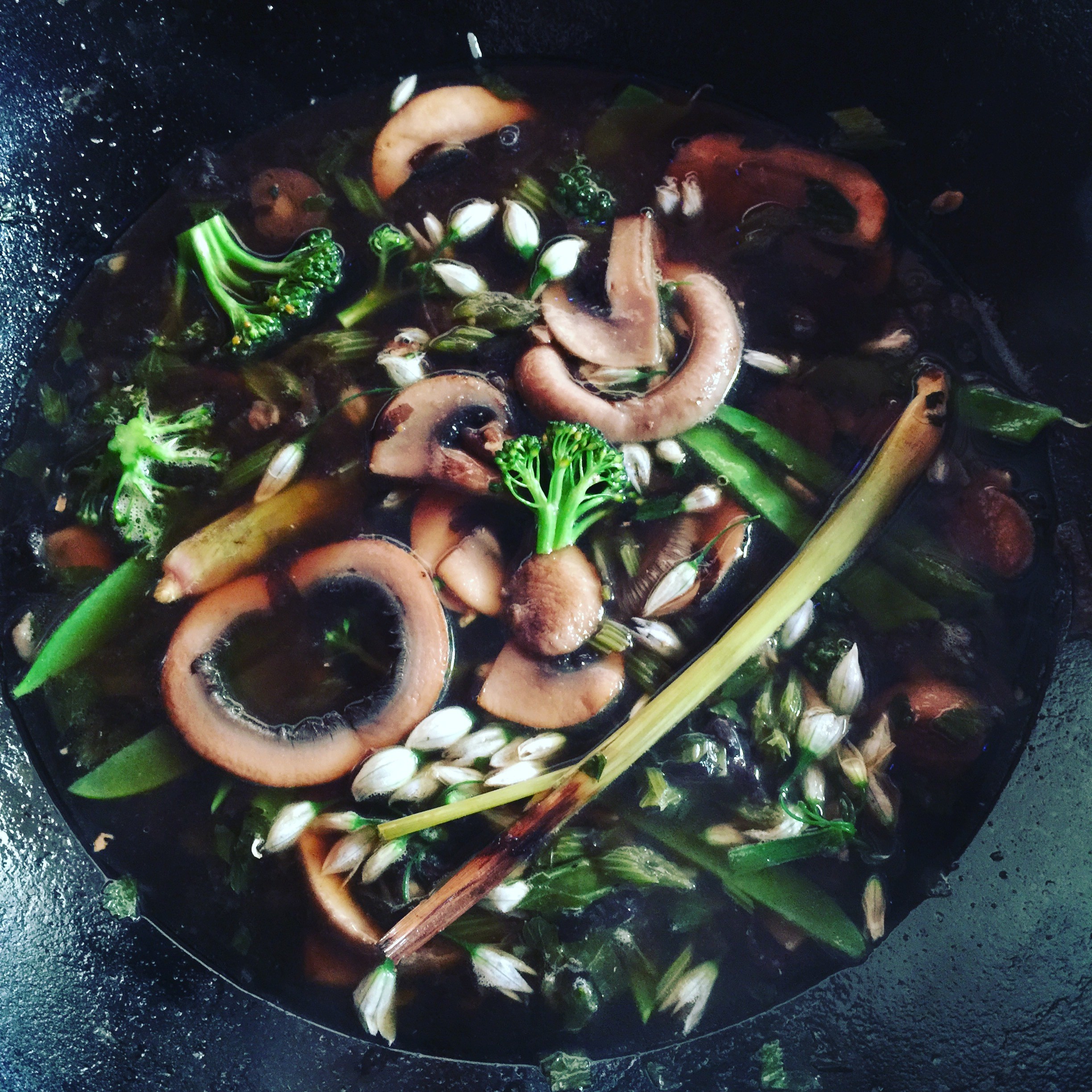 This recipe is from the Veggie Tree Cookbook by Anna Valentine. Anna's recipes also feature in our Vegetarian Living NZ magazine.
This is a lovely clear broth that's light and tasty. The karengo seaweed is nutritious and has a satisfying taste of the sea.
Ingredients
Refer to next section for ingredients.
Directions
Gather your ingredients. Prepare the following vegetables:

1 shallot, sliced
4 button mushrooms, sliced
2 celery stalks, thinly sliced, diagonally
1 clove garlic, thinly sliced
¼ broccoli, cut into florets
10 snow peas, cut on the diagonal
Put a wok or large deep frying pan or pot on high heat and add:

2 Tbs rice bran oil
1 Tbs peanut oil
1 tsp sesame oil


When the oil is smoking, add the prepared shallot, mushrooms, and celery. Fry these for a minute, stirring to prevent burning. Now add the sliced garlic, plus

Stir through and add:

1 tsp vegetable bouillon powder, dissolved in 2 L water
1 Tbs sweet soy sauce
50ml soy sauce
1 thumb fresh ginger, finely grated on the microplane
2 sticks of lemongrass, bruised with a knife.

Bring the broth to a gentle simmer and cook for 10 minutes.

To prepare the noodles:

200g aduki or edamame bean noodles (I use Explore Asian Authentic Cuisine)

Bring 2 L water to a boil, then add noodles and cook for 6–8 minutes, moving occasionally with a fork. Drain, then rinse with cold water to prevent noodles from sticking together. Then toss through:

Remove the lemongrass from the broth and add the broccoli and snow peas along with:
50g onion flowers or 1 spring onion, thinly sliced
2 Tbs dried karengo seaweed

Turn off the heat. To serve, add a nest of noodles to each serving bowl, then spoon over the broth.
Latest vegetarian & vegan recipes
Other delicious ideas…