Recipes
Maple Tempeh & Hazelnut Farro Risotto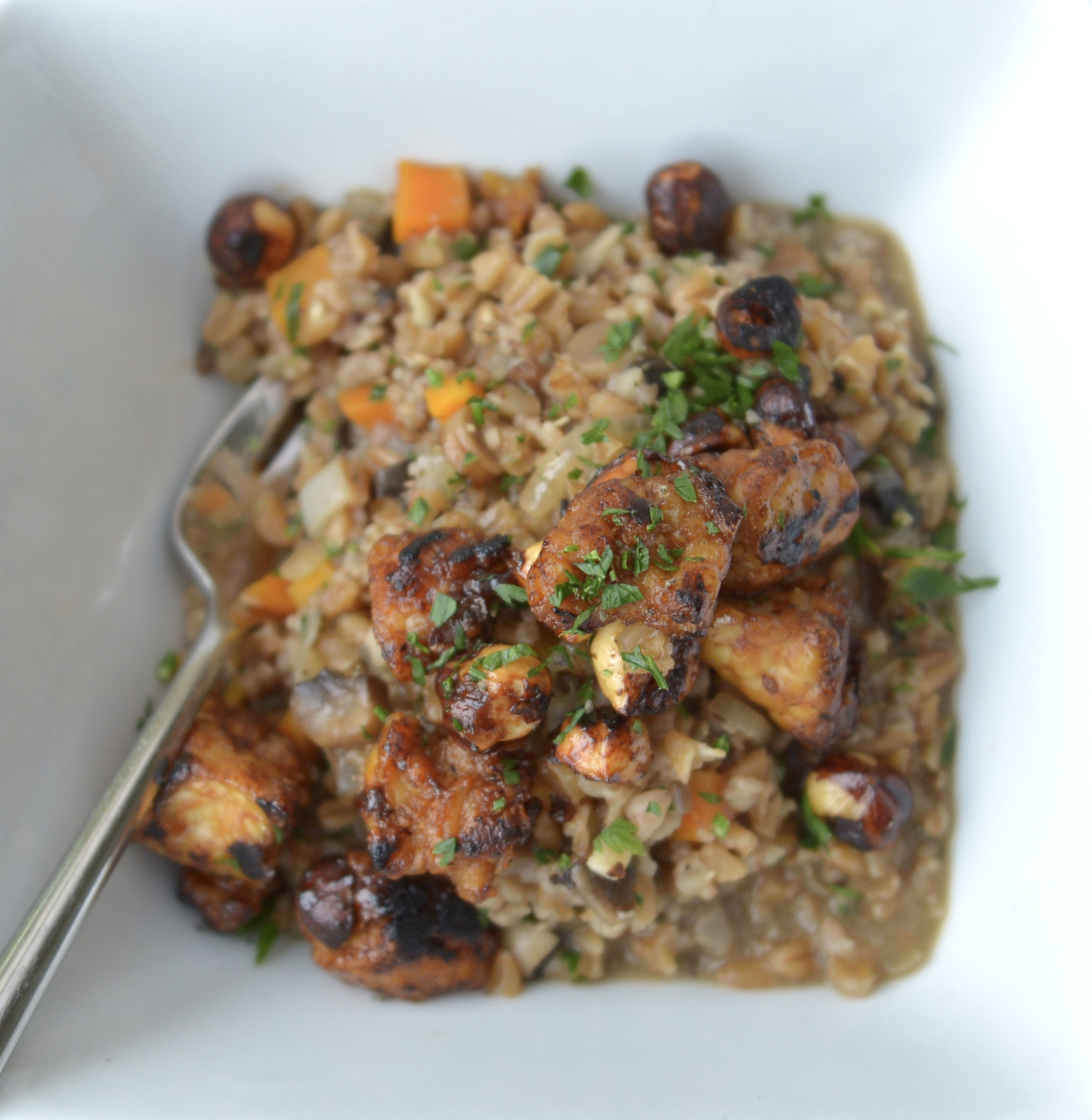 This vegan risotto recipe is from the Veggie Tree Cookbook by Anna Valentine. Anna's recipes also feature in our Vegetarian Living NZ magazine.
A lovely bowl of comfort food. This is a fusion dish from all corners of the world. Tempeh is delicious and the umami flavour paired with the sweet nuttiness from the hazelnuts works a treat with the earthy farro.
Allow a couple of extra hours in order to soak the farro grains.
Ingredients
Refer to next section for ingredients.
Directions
Put the farro grains in to soak for a couple of hours before you need them to reduce the cooking time. Adding mushrooms and bay leaves to the soaking liquid brings out the flavours, which creates the stock for your risotto. Add the following to a large saucepan, and soak for at least 2 hours:
1 cup (220g) whole farro grains
1 litre water
¼ cup smoked, dried mushrooms or porcini
2 bay leaves
Gather your ingredients. Prepare the following vegetables:
1 onion, diced
1 carrot, diced
6 Swiss brown mushrooms, diced
2 cloves garlic, crushed
1 Tbs dried sage
Put a large, heavy-based pot or risotto pan on the heat. Melt together:
2 Tbs olive oil
2 Tbs butter or extra olive oil
When it's sizzling, add:
80g hazelnuts, roughly chopped
200g tempeh, pinched into little nuggets
Fry these, moving often until the hazelnuts are toasted, then add:
Fry for another 30 seconds to caramelize the maple.
Add a pinch of salt.
Use a slotted spoon to remove the tempeh and nuts, place in a bowl and set aside. Add the prepared vegetables, garlic and sage to the same pan, and fry together. Meanwhile, strain the farro and mushrooms through a sieve and reserve the stock in a saucepan. Place the stock over a gentle heat, ready for adding to the risotto. Slice the soaked mushrooms and add to the stock. Next, add the farro to the vegetables and stir through well. Heat for 1 minute, then start adding the warm stock, a cup at a time, and stir, stir, stir. Keep cooking on a medium heat, adding more stock and stirring as it evaporates; cover the pot with a lid when you're not stirring. It should be ready when all the stock has been used.
Season with:
1 tsp salt
a good few cracks of pepper
Finish by adding:
Stir through and serve. Garnish each plate with a little extra Parmesan.
Latest vegetarian & vegan recipes
Other delicious ideas…