Recipes
Maple Walnut & Spring Greens Salad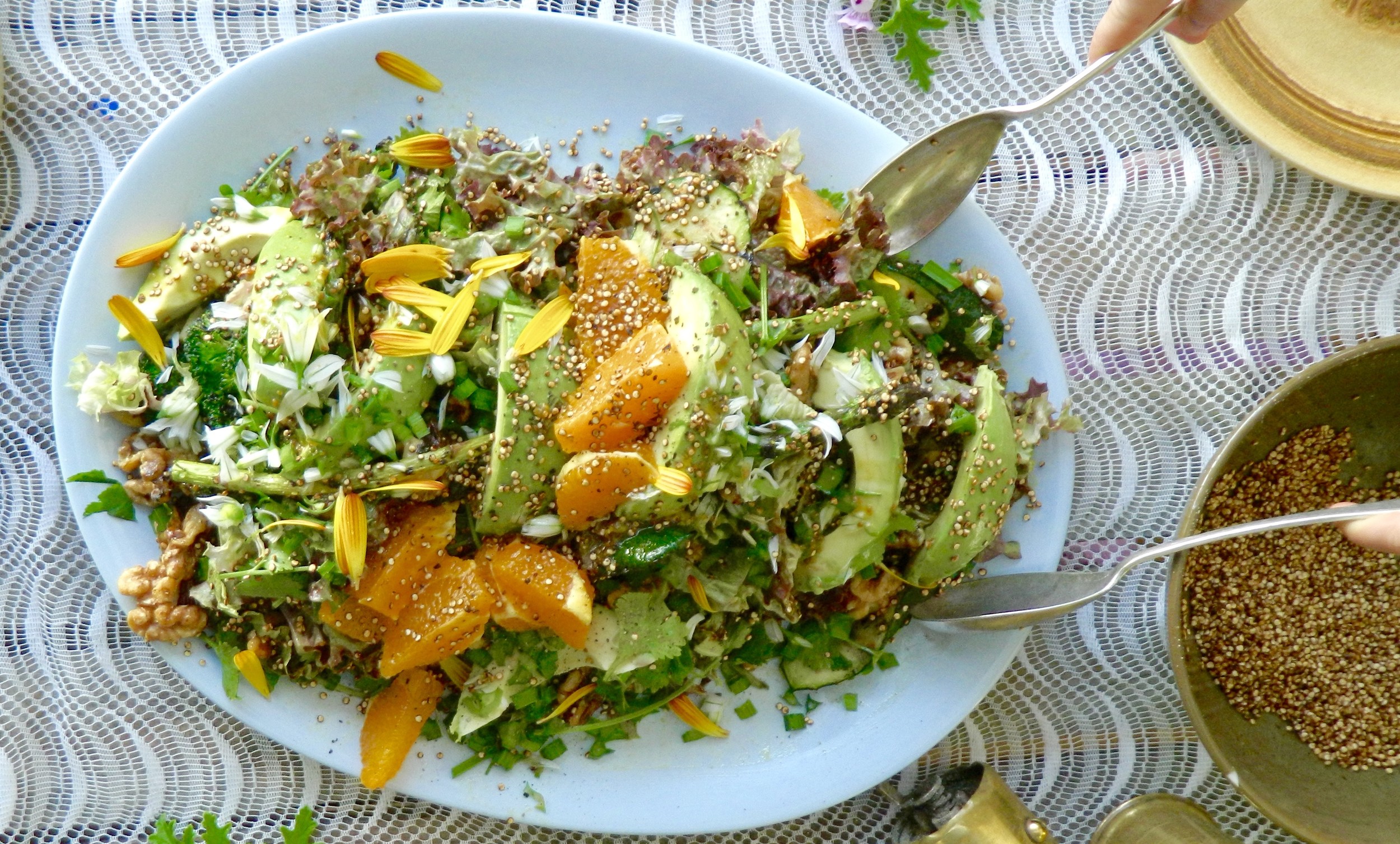 This recipe is from the Veggie Tree Cookbook by Anna Valentine. Anna's recipes also feature in our Vegetarian Living NZ magazine.
Nutrient-packed with broccoli, asparagus, quinoa and walnuts with the added juicy zest of orange and smooth avocado, this salad is a spring delight. Chargrilling the asparagus and broccoli is a good alternative to steaming. When popping the quinoa use a heavy-based pan and heat it up before adding the quinoa. They burn easily so move the pan constantly once quinoa is added.
Ingredients
Refer to the next section.
Directions
Gather your ingredients, including a serving of Orange Maple Chia Dressing. Preheat the oven to 180°C. Measure the walnuts onto an oven tray:
Toast in the oven for 10 minutes then add:
Stir through and return to the oven for two minutes. Remove and cool. To pop the quinoa measure into a dry pan:
Toast over high heat, moving the grains constantly until they start to pop. Remove from the heat immediately. Prepare the vegetables:
1/2 broccoli, cut into florets
1 bunch asparagus, tough ends snapped off
1 orange, peel removed and sliced into wedges
1 red lettuce, roughly chopped
2 spring onions or 8 onion flowers and stems, sliced
3 calendula flowers, petals removed (optional)
Steam the broccoli and asparagus for four minutes until bright green and just cooked, run under cold water to cool quickly and retain color, then drain in a colander. Layer the remaining prepared ingredients onto a platter and drizzle well with the orange maple chia dressing.
Orange Maple Chia Dressing
As well as thickening up this dressing the chia seeds are little nutrient-packed powerhouses making this dressing not only delicious but healthy too.
Makes 1 x 400ml jar
Measure the following into the jar:
1/2 cup orange juice
Juice of 1 lemon
2 Tbs chia seeds
2 Tbs maple syrup
2 Tbs pomegranate molasses or tamarind paste
2 Tbs apple cider vinegar
2 Tbs macadamia or hemp seed oil
1 Tbs fresh turmeric, finely grated
1 clove garlic, crushed
60ml extra virgin olive oil or almond oil
1 tsp salt 1/4 tsp cracked pepper
Secure the lid and shake vigorously for one minute. Keep in the fridge and bring out one hour before using.
Latest vegetarian & vegan recipes
Other delicious ideas…