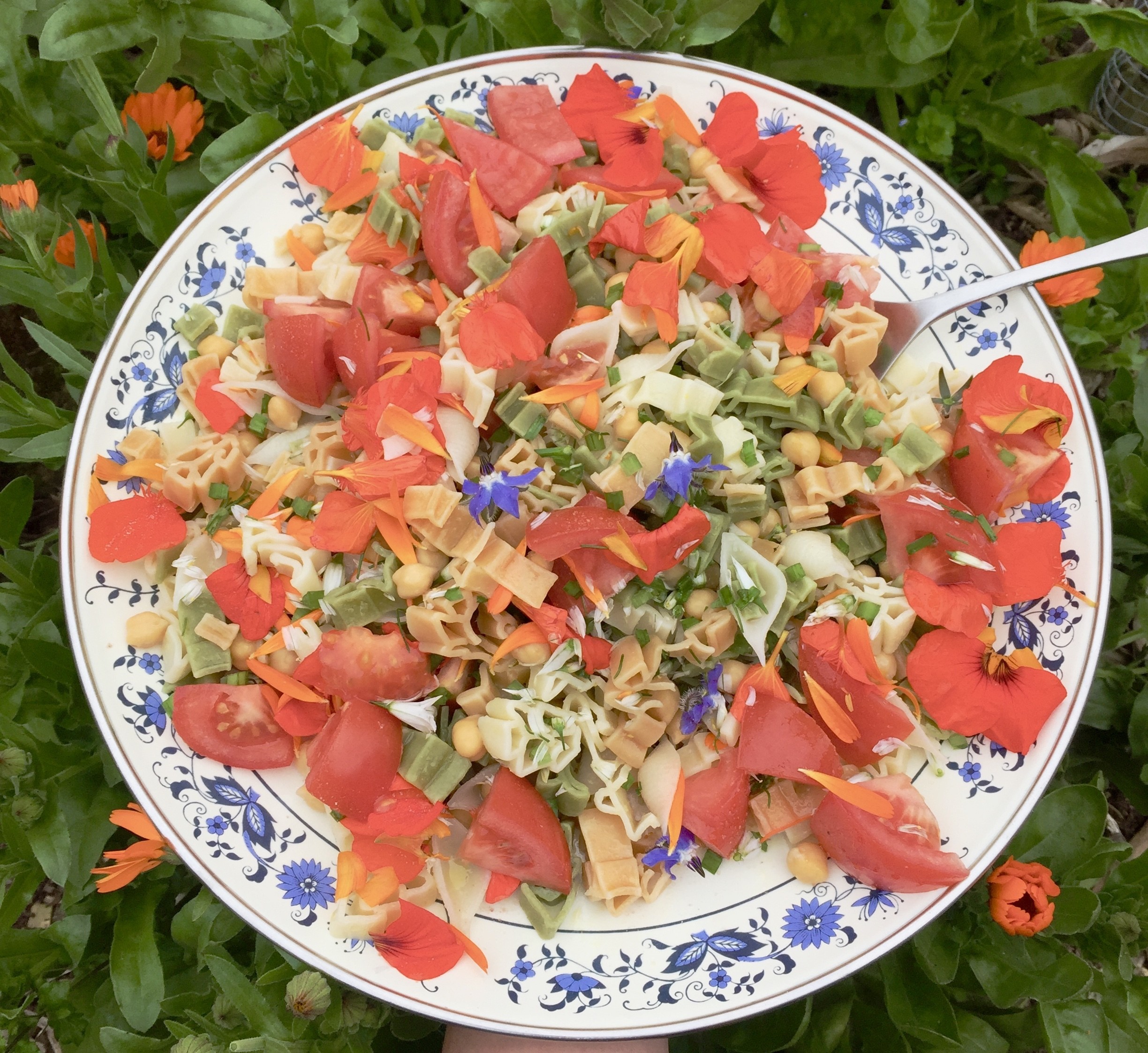 This is the most simple pasta salad ever but sometimes with family food, simple is best. These fun tri-colour pasta shapes are coloured with vegetables and are easily found. Any pasta will do though – gluten-free, paleo or wholemeal.
This recipe is from the Veggie Tree Cookbook by Anna Valentine. Anna's recipes also feature in our Vegetarian Living NZ magazine.
"Even if you have a tiny patch of garden or only a pot you will be able to grow some calendula or borage. Once you have it, it pops up year after year in the craziest places. Nasturtiums and onion weed grow wild all over New Zealand (please reference my edible flowers blog so you can be sure of what you are gathering). You can also buy edible flowers in some stores and markets."
Ingredients
Refer to next section for ingredients.
Directions
Gather your ingredients and put a large pan of water on to boil. Prepare then set aside the following:
1 x 400g can chickpeas, drained and rinsed
4-5 tomatoes, sliced into bite-sized pieces, or 1 cup cherry tomatoes, halved
½ cup edible flowers and/or fresh herbs such as chives, basil, dill or parsley
¼ cup extra virgin olive oil
Once the water has come to the boil add:
1 tsp salt
300g dried pasta shapes of choice
Cook the pasta as per instructions until just cooked, then empty into a colander in the sink. Transfer the cooked pasta into a bowl and add the prepared ingredients along with:

1 tsp flaked sea salt
¼ tsp cracked black pepper
Toss together well and top with a few extra petals.
To add green beans to the salad, first top and tail them and cut them into 5mm slices. Add to the pasta boiling water one minute before the pasta is cooked. Drain the beans along with the pasta.
You could also add feta cheese (make your own dairy-free feta), any leftover grilled or roasted vegetables, pesto, sliced beans or snow peas, avocado chunks, olives or sprouted pulses.
Latest vegetarian & vegan recipes
Other delicious ideas…