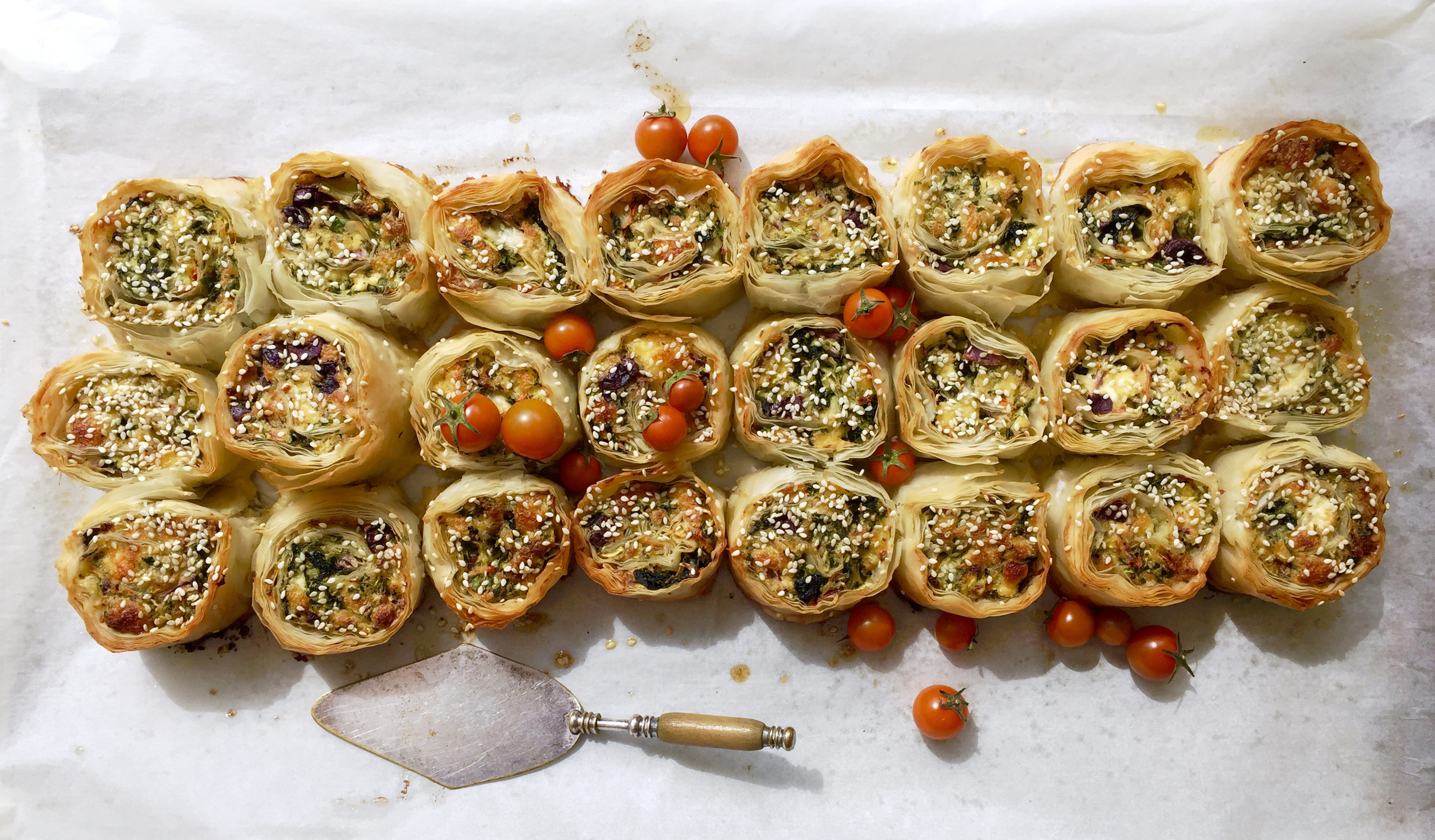 This recipe is from the Veggie Tree Cookbook by Anna Valentine. Anna's recipes also feature in our Vegetarian Living NZ magazine.
This quick, easy plant-based meal is great for Christmas time or pot-luck dinners. Silverbeet is an awesome green to have in the garden as it needs barely any love to produce big, juicy, dark green leafy goodness. It is also quite cheap to buy and doesn't wilt as much as spinach. While I love filo pastry it can be time consuming and (let's face it) we all want a quick meal to whip up in the summer. This took me 30 minutes to prep from start to finish (and another 30 minutes in the oven) and can be adapted for vegans or made a little cheesy. It is great both ways so grab your trusty pastry brush and let's get started. Makes 24 pinwheels.
Ingredients
Refer to next section for ingredients.
Directions
Gather your ingredients and begin by cooking the silverbeet:
1 bunch silverbeet, 10 leaves, roughly chopped
½ tsp salt
Add 2cm of water to a pan and add the prepared silverbeet. Cover and cook on high heat for five minutes until just wilted. Tip into a colander and run under cold water to cool quickly. Squeeze well to remove as much water as you can, then place in a clean, dry tea towel.

Meanwhile prepare:
Squeeze the excess liquid from the grated zucchini and place in the tea towel with the silverbeet. Fold the tea towel over the silverbeet and zucchini and twist the ends in opposite directions to squeeze out all the excess liquid. In a small pan melt:
100g butter or 100ml olive oil
Preheat the oven to 190°C.
In a bowl measure the following:
3 cloves garlic, crushed
zest of 1 lemon
½ cup pitted olives, roughly chopped
3 sprigs dill or fennel, finely chopped
2 sprigs mint, finely chopped
½ cup parsley, finely chopped
250g ricotta or tofu, crumbled
250g cream cheese or vegan cheese, grated
1 tsp salt
½ tsp cracked black pepper
1 egg or 1 chia egg (combine 1 Tbs chia seeds with 3 Tbs water then leave to absorb for 10 minutes)
Add the drained zucchini and silverbeet and mix together well.

Place three sheets of filo together and butter the top layer. Place another three sheets halfway along the first pile and again butter the top layer. Repeat two more times to form an 80cm length of filo. Butter the entire length, then place a sheet across each join. Butter the entire length again.

At this point you should have four sheets of filo left. Distribute the filling evenly over the filo leaving 3cm at each end and along the far edge. Fold the edges in, butter, and roll up like a pinwheel, starting from one end tucking and rolling from end to end, then back again.

Line up the remaining sheets so they will fit the sausage you have made, buttering to join together if needed. Then butter this all over and roll the sausage over it. This will hold it all together.

Now using a serrated knife, cut the sausage in half, then each piece in half again, then each piece in half again, until you have eight equal pieces. Now cut each piece into three so in total you should have 24 pinwheels. Turn them on their cut ends and arrange on a lined baking tray. Brush the tops with butter and sprinkle over:
Bake in the oven for 30 minutes until golden brown. For a simple garnish, scatter cherry tomatoes over the pinwheels.
Latest vegetarian & vegan recipes
Other delicious ideas…