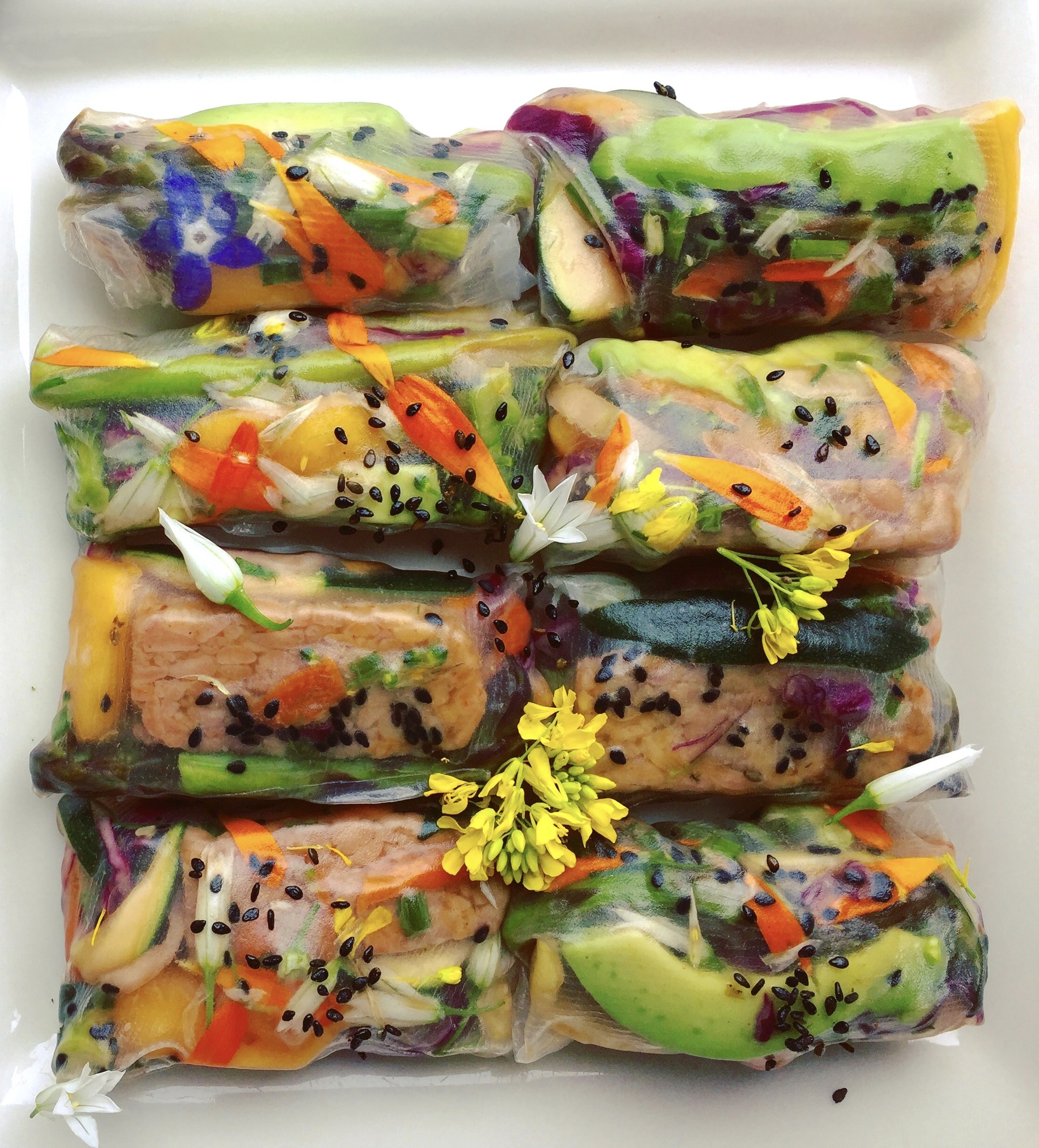 A perfect lunch in the sun. Fresh, light and delicious, these compact little packages are nutritious and very healthy. To make the process easier get yourself set up with a production line so you can do at least three at a time. This is a great group activity and everyone can have their own little production line going.
This recipe was provided by Anna Valentine and you can find more of her amazing recipes in the Veggie Tree Cookbook (Spring & Summer).
Ingredients
1 clove garlic, crushed
1 Tbs ginger, finely grated
1/4 cup soy sauce, Tamari or Braggs
1 tsp toasted sesame seed oil
1 block (250g) tempeh, sliced in half lengthways, then into thin pieces
1/4 red or green cabbage, finely sliced
1/2 broccoli, finely sliced
1 carrot, finely sliced
1 bunch asparagus or 6 green beans, tough ends removed and finely sliced
6 sprigs each fresh mint and coriander, finely chopped
1 avocado, thinly sliced with a squeeze of lemon over it
1/4 cup rice bran oil
1 Tbs coconut oil
1 tsp toasted sesame seed oil
2 Tbs coconut vinegar
Juice of 1 lime
2 Tbs sweet soy sauce (or sweet chilli sauce and soy sauce, Tamari or Braggs)
Rice Paper (22cm diameter)
Directions
Gather your ingredients. In a large bowl combine the first 5 ingredients.
Stir carefully with a spatula and leave to marinate while you prepare the next 6 ingredients.
In a large frying pan or wok heat the oils (next 3 ingredients: rice bran, coconut and sesame oil).
Remove tempeh from marinade with a slotted spoon, drain for a moment on the side of the bowl, and add to the hot oil. Leave pieces to fry so they have a chance to colour up on each side. While the tempeh is cooking add the sliced vegetables to the leftover marinade, then add vinegar, soy sauce, lime juice.
Stir well. When the tempeh has started to colour, add sesame seeds and maple syrup.
Fry for one minute more, moving everything around so it doesn't burn. Remove from the heat and allow to cool. Return the cooked tempeh to the bowl and mix through the chopped herbs.
Next soak rice papers in very hot tap water, one at a time. This is best done in a pan that is large enough to submerge the sheets of paper until they soften. Once softened, lay out each sheet on a clean bench or plate, I do two or three at a time and replace as I use each. Place a slice of avocado and a good pinch of the filling (about one heaped tablespoon) and shape it into a log.
Fold the back edge first then fold in each side and roll up.
Transfer the rolls to the plate you will be eating them from; they are a bit sticky and don't like to be moved. Repeat until all of the mix is gone and serve with leftover marinade (strained).
Makes 15 rolls with 22cm rice papers
Latest vegetarian & vegan recipes
Other delicious ideas…