Recipes
Tempeh Nuggets with Tamari Tomato Sauce, Bok Choy & Brown Rice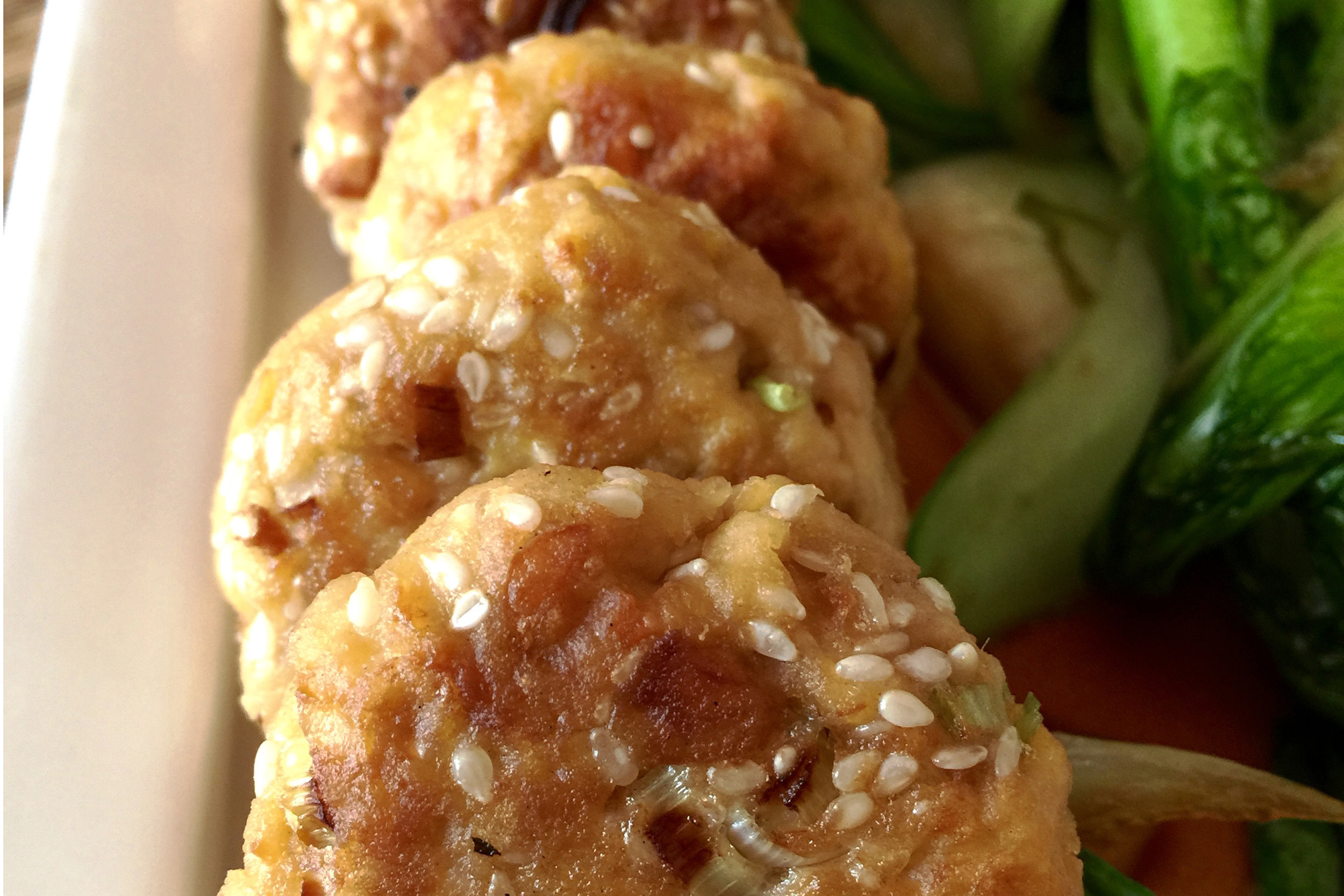 This recipe is from the Veggie Tree Cookbook by Anna Valentine. Anna's recipes also feature in our Vegetarian Living NZ magazine.
Tempeh is a great source of nutrients with the same protein quality as meat, omegas 3 and 6, and countless vitamins and minerals. It also tastes delicious! These nuggets are great for party snacks and can even be made into sausages. I find keeping fresh ginger in the freezer makes it easier to grate and add, as the juices don't run all over the board and it isn't as stringy.
Ingredients
Refer to next section for ingredients.
Directions
TAMARI TOMATO SAUCE
Put a frying pan on a high heat and add:
2 Tbs rice bran oil
2 shallots, diced
Fry for 1 minute, then add:
1 clove garlic, crushed
1 Tbs fresh/frozen ginger, grated on a microplane
Then deglaze the pan with:
Let it bubble for 1 minute, then add:
1 x 400g can chopped tomatoes plus 200ml water to rinse out the can
2 tsp manuka honey or alternative liquid sweetner
2 Tbs tamari soy sauce
1 Tbs peanut butter
Simmer for 20 minutes until thickened.
RICE
Measure the rice into a sieve and rinse:
250g short grain rice, brown or white
Add water and salt: 650ml water for brown or 600ml for white rice
½ tsp salt
Cover and bring to the boil. Stir the rice with a fork, then replace the lid and turn down to a simmer. Simmer until you can't see the water, around 10 minutes. Stir again, replace the lid and turn off the heat. Leave the rice to steam for 5-10 minutes. Give it one last stir with your fork before serving.
TEMPEH NUGGETS
In a large mixing bowl measure:
250g tempeh, grated
2 Tbs brown rice flour
2 Tbs sesame seeds
1 Tbs tamari or light soy sauce
2 Tbs flaxseed ground mixed with 100ml water
1 spring onion, finely sliced
1 Tbs fresh ginger, finely grated
1 clove garlic, crushed
Mix together well. Shape the mix into nuggets by scooping it up with a teaspoon and rolling and pushing into a flattish round patty with your hand. Mix the following oils together:
60ml rice bran oil for frying
½ tsp sesame oil
Heat up 2 Tbs of oil at a time in a frying pan and fry the nuggets until golden on each side.
BOK CHOY
When you've finished frying the tempeh nuggets, use the same pan and quickly wilt the bok choy (alternatively, you could use broccoli or any Asian greens).
½ tsp sesame oil
4 bok choy, slice in half length-ways
1 Tbs mirin
1 Tbs light soy sauce or tamari
Put the sesame oil and bok choy in the hot pan. Turn a couple of times then add the soy sauce or tamari, cover with a lid and cook for 1 minute. Remove the lid and serve on a bed of rice, with the nuggets and Tamari Tomato Sauce.
Latest vegetarian & vegan recipes
Other delicious ideas…