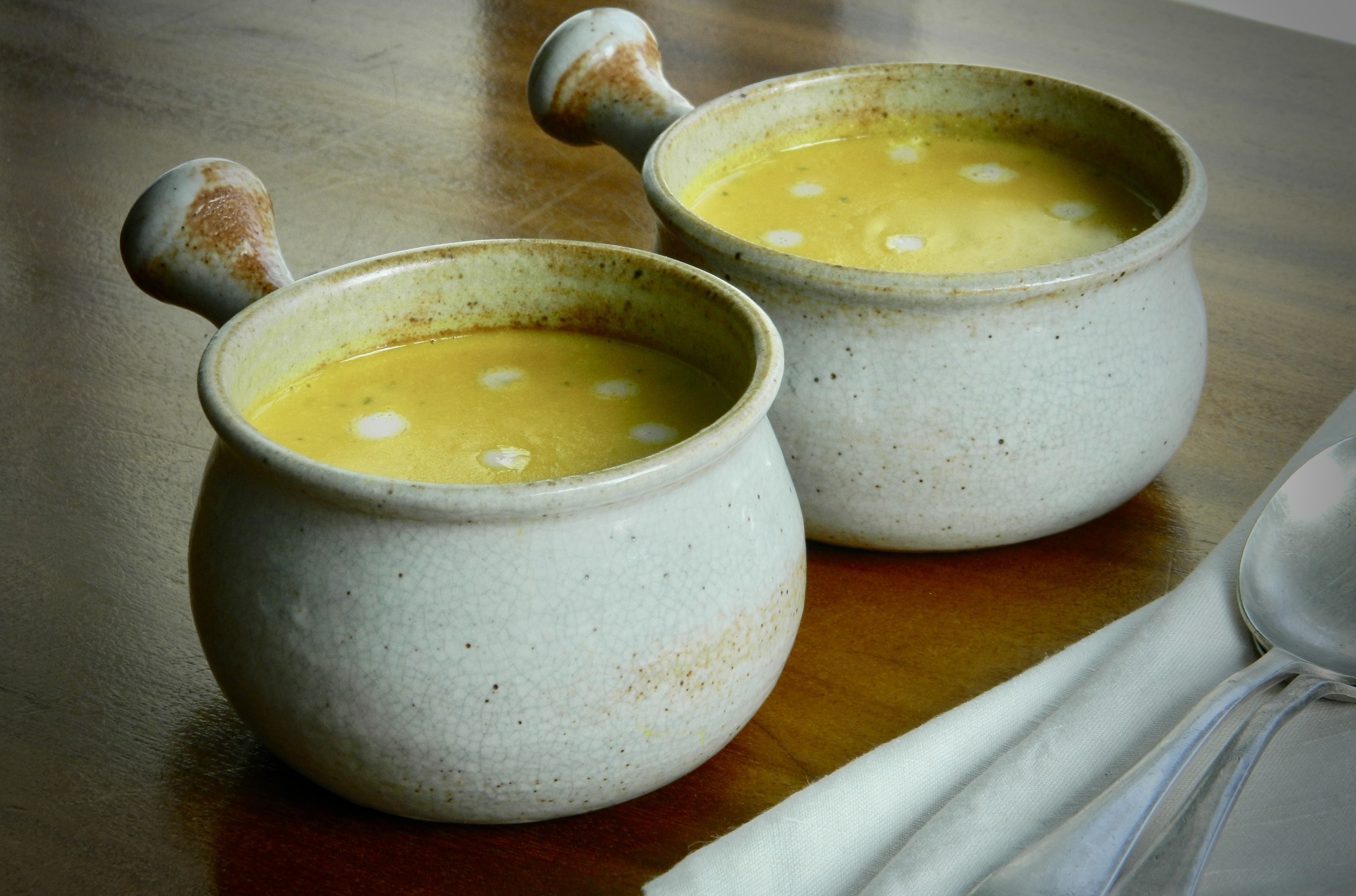 This recipe is from the Veggie Tree Cookbook by Anna Valentine. Anna's recipes also feature in our Vegetarian Living NZ magazine.

"This soup is silky smooth with additions of jasmine rice for thickening and cashew for protein. Ginger and turmeric give a wonderful flavour, plus their anti-inflammatory properties are a bonus for winter chills. I use butternut pumpkin here, as it's a little easier to skin than most but any variety will work."
Ingredients
Refer to next section for ingredients.
Directions
Gather your ingredients and prepare the following vegetables:
1 leek or onion, roughly chopped
1 carrot, roughly chopped
1 butternut pumpkin, peeled and chopped into pieces
2 cloves garlic, crushed
Melt in a large saucepan:
2 Tbs coconut oil
1 tsp sesame oil
Add the prepared vegetables and fry for 1-2 minutes, then deglaze the pan with:
Stir through then add:
400g coconut cream (reserve 2 Tbs for serving)
1.5 litre water
1 thumb fresh or frozen ginger, grated
1 small finger fresh or frozen turmeric, grated, or 1 tsp dried
2 lemongrass sticks, bruised
2 kaffir lime leaves
60g jasmine rice
80g cashews
2 Tbs soy sauce, Tamari or Braggs
Bring to the boil, then turn down to a simmer and cook for about 20 minutes, until the vegetables are soft and the rice is cooked. Add:
5 sprigs fresh coriander, roughly chopped
Cool slightly, blend until smooth in the pot if you have a stick blender, otherwise pour into your blender and blend until smooth. If it's too thick, add a little water when blending.
Check the seasoning and bring back to a simmer. Serve topped with a few drops of the coconut cream.
Latest vegetarian & vegan recipes
Other delicious ideas…