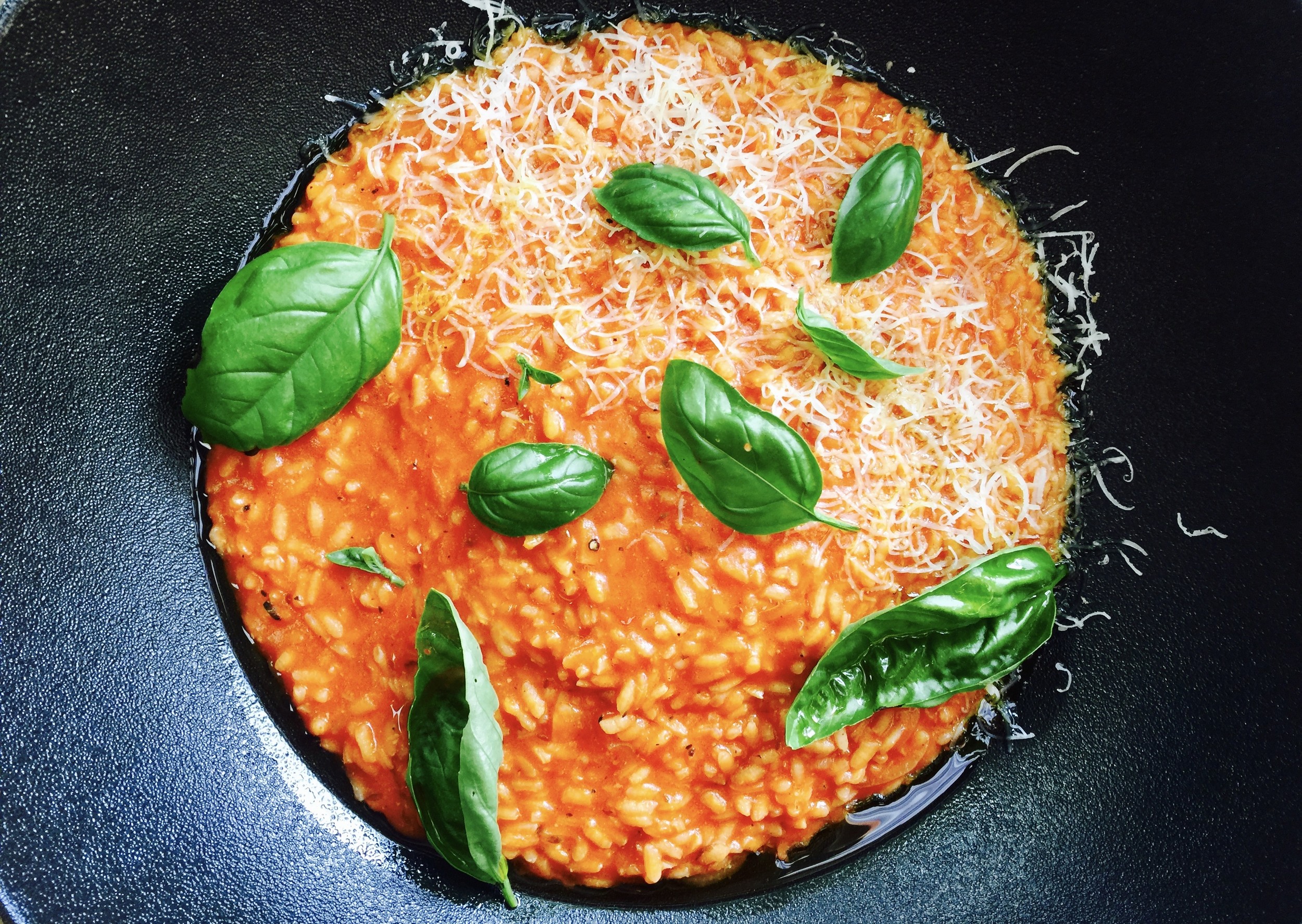 This recipe is from the Veggie Tree Cookbook by Anna Valentine. Anna's recipes also feature in our Vegetarian Living NZ magazine.
Risotto has got to be one of the most versatile recipes for flavour options. To get this beautiful colour for the tomato and basil risotto use a stick blender to puree whole fresh tomatoes, push through a strainer to remove the skin and pips. You can also use canned but to achieve the smooth consistency it will need to be pureed. Use a large heavy bottomed pan for your risotto. It needs to be constantly stirred, so you need enough room to slap it up the sides a little.
Ingredients
Refer to next section for ingredients.
Directions
Gather your ingredients and prepare the following:
700 g tomatoes, pureed with a stick blender and sieved to remove skin and pips
1 onion, finely chopped
1 clove garlic, sliced
1 stick celery, sliced
1 Tbs oregano, fresh or dried
5 sprigs basil, leaves only
Meanwhile in a separate pan heat:
600ml vegetable stock with the prepared tomato puree
In a second pan heat:
2 Tbs butter or extra olive oil
Add the prepared onion, garlic and celery to the pot. Fry for two minutes, then add:
1 ½ cups (300g) risotto rice (arborio)
Fry for two more minutes, then add:
¼ cup Marsala or sweet white wine or lemon juice
Stir through, then start adding the tomato mixture to the pan, a quarter of a cup at a time, constantly stirring. Add the prepared oregano. Wait for the rice to absorb each addition of stock before adding the next. When all the stock is gone add:
1 tsp salt
¼ tsp cracked black pepper
Stir through half of the following:
Pour the risotto into a large serving bowl sprinkle the second measure of cheese over the top and add the fresh basil leaves. Serve.
Latest vegetarian & vegan recipes
Other delicious ideas…