Recipes
Turkish – Roasted Cauliflower Fattoush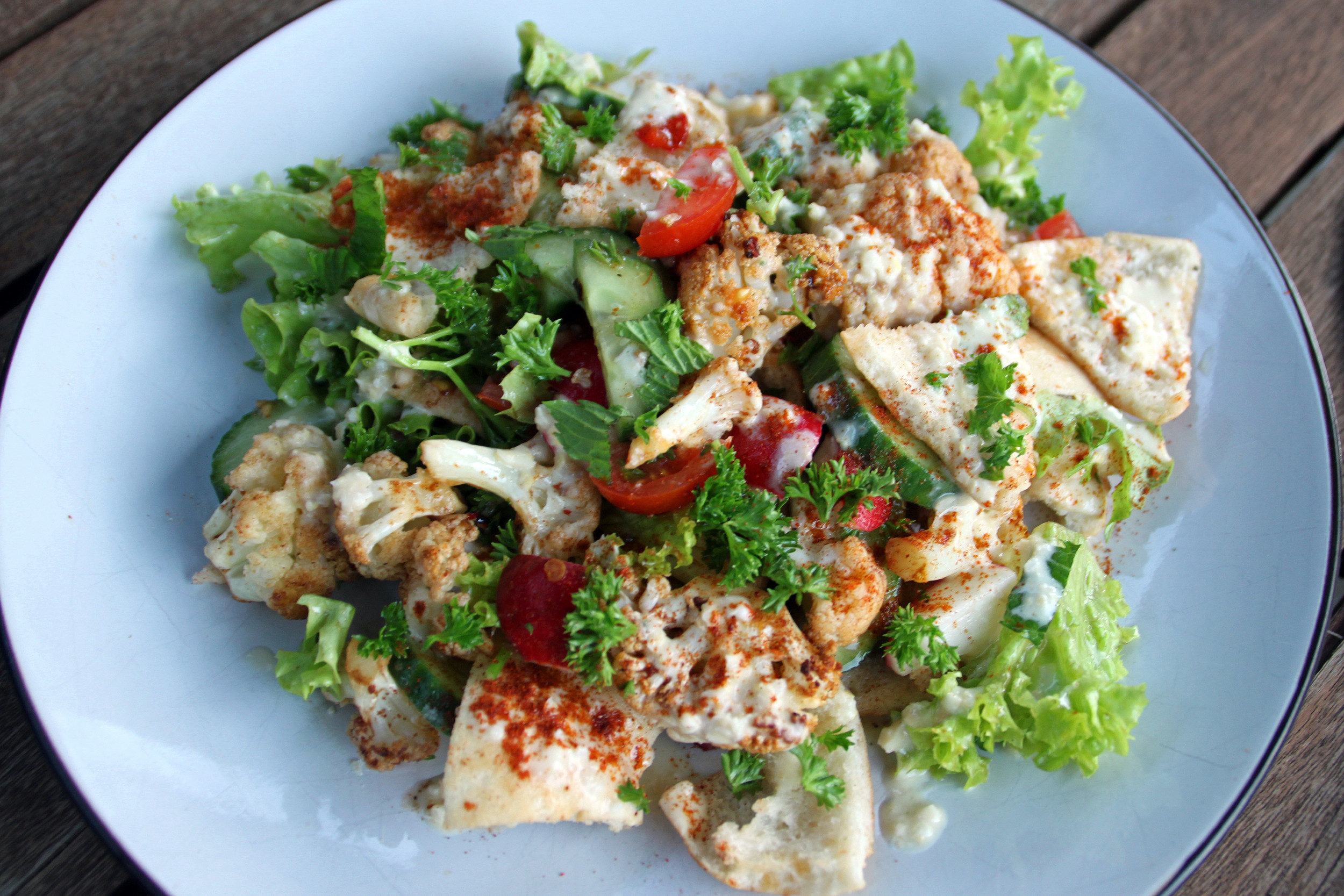 Vegetarianism is growing rapidly in New Zealand, but other parts of the world have had meat-free cuisines for centuries. For a rich and varied plant-based diet, talk to Chinese, Indians, Mexicans… Our wonderful volunteers have shared authentic recipes from around the world. Most of these recipes were traditionally vegan, but some were meat-based recipes that have been 'veganised'. We have collected 31 recipes from 31 different countries to share with you – one for each day of October, World Vegetarian Month.
Here is a recipe from Turkey, thanks Julia.
Ingredients
1 small cauliflower, cut into small florets

SALAD

1 lettuce
5-6 cherry tomatoes
1/3 cucumber, sliced into half-moon shapes (slice into circles and cut in half)
5 radishes, diced
A handful of parsley, chopped
A handful of coriander, chopped
10-15 mint leaves, chopped
2 pittas toasted

CAULIFLOWER MARINADE
1 tsp smoked paprika
1 tsp cumin
1/2 tsp ground cinnamon
1/2 tsp chilli powder
1/2 tsp allspice
Pinch cayenne pepper
Juice of 1/2 a lemon
1 tsp agave syrup
1 Tbs olive oil
Salt and pepper to taste

CHILLI SALAD DRESSING

1 tsp chilli paste
1 Tbs vinegar
1 tsp agave syrup
Juice of 1/2 a lemon
3 Tbs olive oil
Salt and pepper to taste

TAHINI DRESSING

3 Tbs hummus
2 Tbs tahini
1 tsp agave syrup
Juice of half a lemon
1/4 cup of water
Directions
Preheat oven to 200oC.
Place cauliflower florets in baking dish.
Whisk marinade ingredients together.
Coat cauliflower with marinade.
Bake in oven for 35-40 minutes, until they brown.
Place salad ingredients in large bowl.
Whisk chilli salad dressing ingredients together.
Pour half over salad and toss.
Lightly toasted pittas and cut into triangular, bite size pieces.
Drizzle remaining chilli salad dressing over pitta pieces and add to salad.
Whisk tahini dressing ingredients together until smooth.
Remove roasted cauliflower from oven, season with salt, add to salad and toss.
Drizzle tahini salad dressing over salad and sprinkle with smoked paprika.
Latest vegetarian & vegan recipes
Other delicious ideas…