Recipes
Vegan Christmas Roast with cranberry, sage and cashew stuffing balls and tomato onion gravy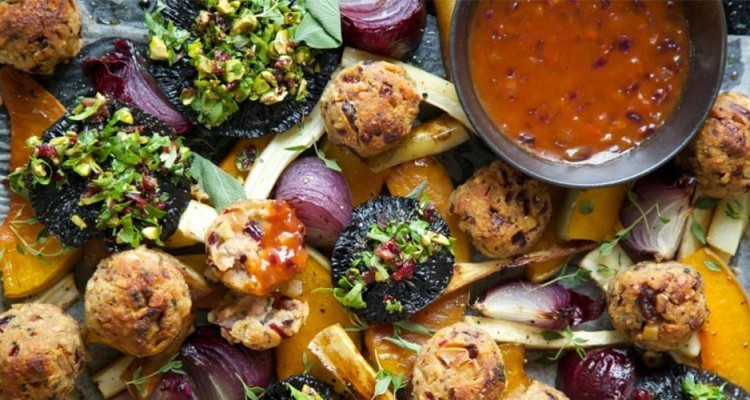 By Nadia Lim
To serve, arrange roast vegetables, mushrooms and stuffing balls on a large serving platter (or two). Sprinkle cranberry pistachio mixture over roast mushrooms. Serve with tomato onion gravy in a bowl or pouring jug on the side. Toast your fellow Christmas feast companions and dig in!
*note: to make a flax egg, mix together 1 tablespoon finely ground flax seed or chia seeds (you can do this in a coffee grinder) with 3 tablespoons water. Mix well and place in the fridge to set for 20-30 minutes until it is 'gummy' in texture. Then it's ready to use!
Ingredients
Stuffing Balls:
1/2 onion, finely diced
1 small apple, finely diced
80g melted margarine
3 Tbs chopped fresh sage leaves
1/3 cup cranberry sauce
110g (about 1 ¾ cups) panko breadcrumbs (use gluten-free breadcrumbs if you like)
1/4 cup unsweetened soy or almond milk
1/3 cup finely chopped roasted cashew nuts
1 flax egg* or egg substitute
1 tsp wholegrain mustard
1/4 tsp salt
1/2 tsp finely ground black pepper

Roast balsamic and thyme mushrooms with cranberry and pistachio topping:
2 Tbs balsamic vinegar
2 tsp maple syrup or agave
2 cloves garlic, minced
1 1/2 Tbs olive oil
1-2 Tbs chopped thyme leaves
8-12 large Portobello mushrooms, stems removed
3 Tbs finely chopped dried cranberries
3 Tbs finely chopped pistachio nuts
3 Tbs chopped flat-leaf parsley

Tomato onion gravy:
1/2 onion finely diced
2 cups vegetable stock
1 Tbs tomato paste
1 1/2 tsp corn flour mixed with 2 Tbs water
Salt and pepper to taste
Directions
Preheat oven to 200°C. Line an oven tray with baking paper.
Toss pumpkin, parsnip and onions with maple syrup and olive oil in prepared tray. Season with salt and pepper and roast for 45-50 minutes while you prepare the rest of the meal.
Heat a drizzle of olive oil in a medium fry pan on medium heat. Cook onion for 1-2 minutes until soft. Add apple and sage and continue to cook for a further 2-3 minutes until apples are soft. Transfer to a bowl.
Add melted margarine, cranberry sauce, breadcrumbs, milk, cashew nuts, flax egg/egg substitute, wholegrain mustard, salt and pepper to apple and sage mixture and mix until well combined.
Roll mixture into small golf ball sized balls, making sure you roll them quite firmly so that they don't fall apart when they are roasted. Place stuffing balls in a separate oven tray lined with baking paper and drizzle with olive oil. Lightly roll the stuffing balls in the olive oil to coat. Place in the oven (on a shelf above the vegetables) to roast for 20-30 minutes or until golden brown. Meanwhile, prepare the mushrooms.
Mix balsamic vinegar, maple syrup/agave, garlic, olive oil and thyme together. Take roasted vegetables out of the oven and arrange Portobello mushrooms, gill-side-up, in the oven tray with the vegetables. Spoon balsamic mixture over the mushrooms and season with salt and pepper. Return to the oven to continue roasting everything for about 15 minutes until mushrooms are soft and vegetables are soft and lightly caramelised.
Mix chopped dried cranberries, pistachio nuts and parsley together with a little drizzle of extra-virgin olive oil, and set aside.
To make the gravy, heat a drizzle of olive oil in a fry pan on medium heat. Cook onion until soft, then stir in vegetable stock and tomato paste, and bring to a simmer. Add corn flour mixture and continue simmering, whilst continuously stirring with a wooden spoon (to avoid any lumps forming), for 3-5 minutes or until the gravy has thickened. Season to taste with salt and pepper.
Latest vegetarian & vegan recipes
Other delicious ideas…