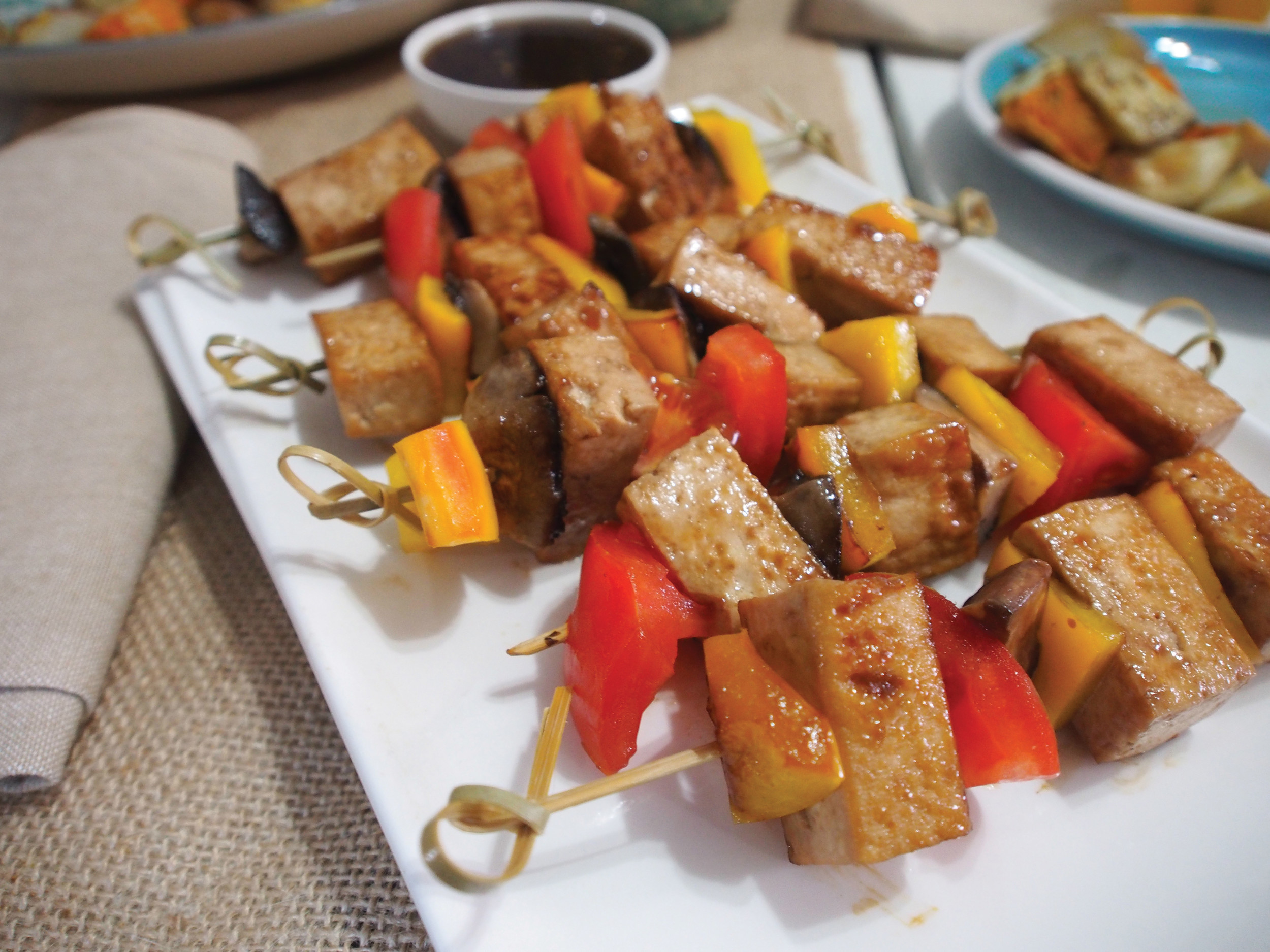 Looking for barbeque ideas? Try this simple to make gluten free vegetable kebabs packed with vitamin C and plant-based protein. This will surely be a megahit on your next barbeque party.
This recipe is featured in our Home Tried Favourites Recipe Book.
You need to marinade the tofu overnight.
Ingredients
1 capsicum sliced into 2cm strips
1 × 225g can of pineapple pieces
4 tomatoes quarters or use individual baby tomatoes
8 button mushrooms, halved
2 small onions, quartered
2 courgettes, cut at 2cm intervals
8 brussels sprouts, halved
16 pieces of baby corn
1 × 300g block of firm tofu cut into 2cm cubes
Soy & ginger marinade (see below)


The ingredients above are suggestions only, and a starting point for you.
Soy and Ginger Marinade
1 small onion diced
4 large cloves garlic, finely chopped
1 Tbs oil
1 tsp cornflour
1 cup water
2 tsp finely chopped fresh ginger
3 Tbs soy sauce
2 Tbs sugar

Directions
1. To make the marinade: sauté onion and garlic in oil.
2. Mix cornflour in water, avoiding getting lumps.
3. Put ingredients in pot with sautéed onion mixture.
4. Place tofu in marinade or brush over vegetable kebabs and leave overnight, if possible, to absorb the flavours.

To make the kebabs: prepare all the ingredients.
Thread them onto kebab sticks.
Place in a high-sided tray.
Prepare the soy and ginger marinade sauce.
Pour over kebabs, refrigerate overnight.
Cook on barbeque or roast in oven, turning frequently to avoid burning.
Latest vegetarian & vegan recipes
Other delicious ideas…