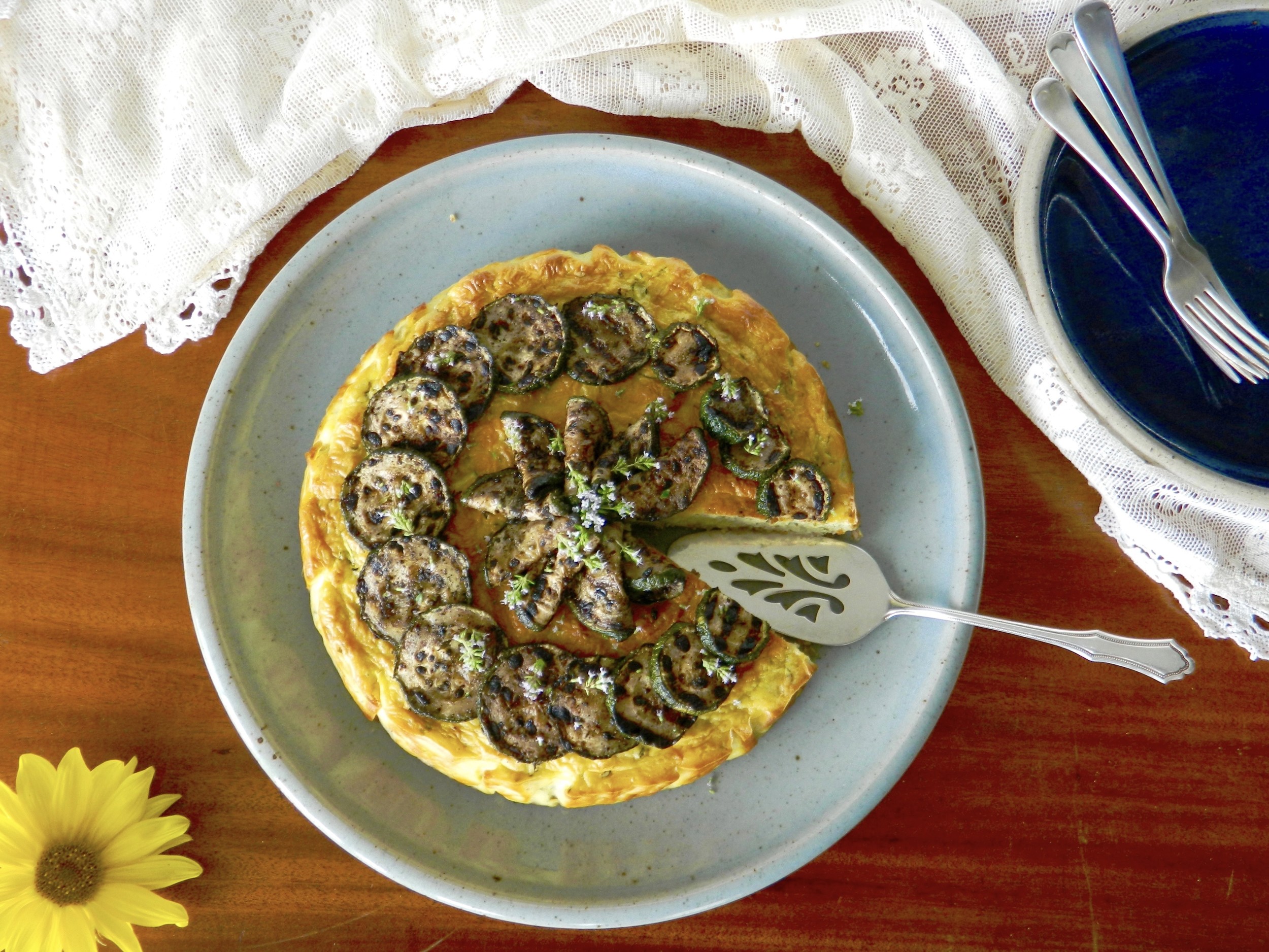 This savoury zucchini (courgette) cheesecake recipe is the perfect alternative to a quiche and is a great dish to take to share at a party or picnic. "Chargrilling is one of my absolute favourite ways to prepare them. In my cookbook and classes I go through step by step to how to perfect this technique, but essentially you need to let them get really good chargrill lines before you flip them.
You will need a stand-alone mixer or hand held electric whisk for the vegetarian version and a food processor for the vegan version. The food processor is also utilised for the base but the seeds could be chopped by hand then mixed together in a mixing bowl before pushing into the tin. I do find the mini food processors great for chopping seeds and nuts to a good consistency, far superior to larger ones.
Squeezing out the excess liquid from the zucchini's is an essential part of the recipe and I like to place the grater on top of a clean tea towel and grate them straight onto it, then gather the edges together and squeeze the life out of it. After you have squeezed till you can't squeeze any more, leave it sitting in the tea towel until you are ready to use it."
Our thanks to Anna Valentine for sharing this recipe! Click here for more delicious recipes.
Ingredients
Refer to next section for ingredients.
Directions
1. Line a 25cm spring-form tin with baking paper. For the base measure the following in a food processor:
½ cup raw walnuts or pumpkin seeds
¾ cup sunflower seeds
2. Whizz until finely chopped, then add:
1 cup wholemeal or oat flour
or
1 cup buckwheat and brown rice flour
2 Tbs psyllium husk
1 Tbs ground flaxseed with ¼ c water, leave to absorb for 10 minutes before adding
½ tsp salt
100g butter, cubed and chilled
or
100ml extra virgin olive oil
3. Pulse together until it becomes one mass. Push the dough evenly into the lined tin and refrigerate while you get the filling prepared.
4. Preheat oven to 150°C. Next prepare:
4x zucchini, grated and well squeezed to remove excess water
5. Slice and marinate an extra 2 zucchini in:
1 Tbs fresh thyme roughly chopped
2 Tbs extra virgin olive oil
6. Chargrill on both sides on a smoking hot grill or grill pan and set aside.
Vegetarian Filling
1. Measure into a large bowl or mixing bowl with a whisk attachment:
250g ricotta or Easy Cheese
250g cream cheese
2. Beat until smooth then add:
3. Continue beating until light and fluffy. Mix together in a separate small bowl:
4 tsp cornflour (starch)
1 Tbs mustard powder
½ cup cream
1 tsp salt
¼ tsp cracked black pepper
4. Reduce the beater speed, then pour the mixture from the small bowl into the main bowl and beat for another 30 seconds.


Vegan Filling
1. Measure the following into a food processor:
2 x 300g blocks of tofu
1 cup pre-soaked cashews
¾ cup nutritional yeast
1 Tbs mustard powder
1 clove garlic, peeled
4 tsp corn or tapioca flour (starch)
½ cup water
1/3 cup extra virgin olive oil
1 tsp salt
¼ tsp cracked black pepper
2. Then fold into the mix the reserved grated zucchini and:
2 Tbs chopped chives, onion flower stems or coriander
1 Tbs chopped mint or basil
3. Add the filling to the chilled base, then bake for one hour or so; the filling should be set but retain a little wobble. There may be cracks in it but don't worry. Cool in the tin, then remove the outside ring and chill further in the fridge before sliding it out of the base.
4. Top with the chargrilled zucchini and fresh thyme flowers and serve with your favourite relish or chutney, a leafy salad and a chilled glass of pinot gris, enjoy!
Latest vegetarian & vegan recipes
Other delicious ideas…