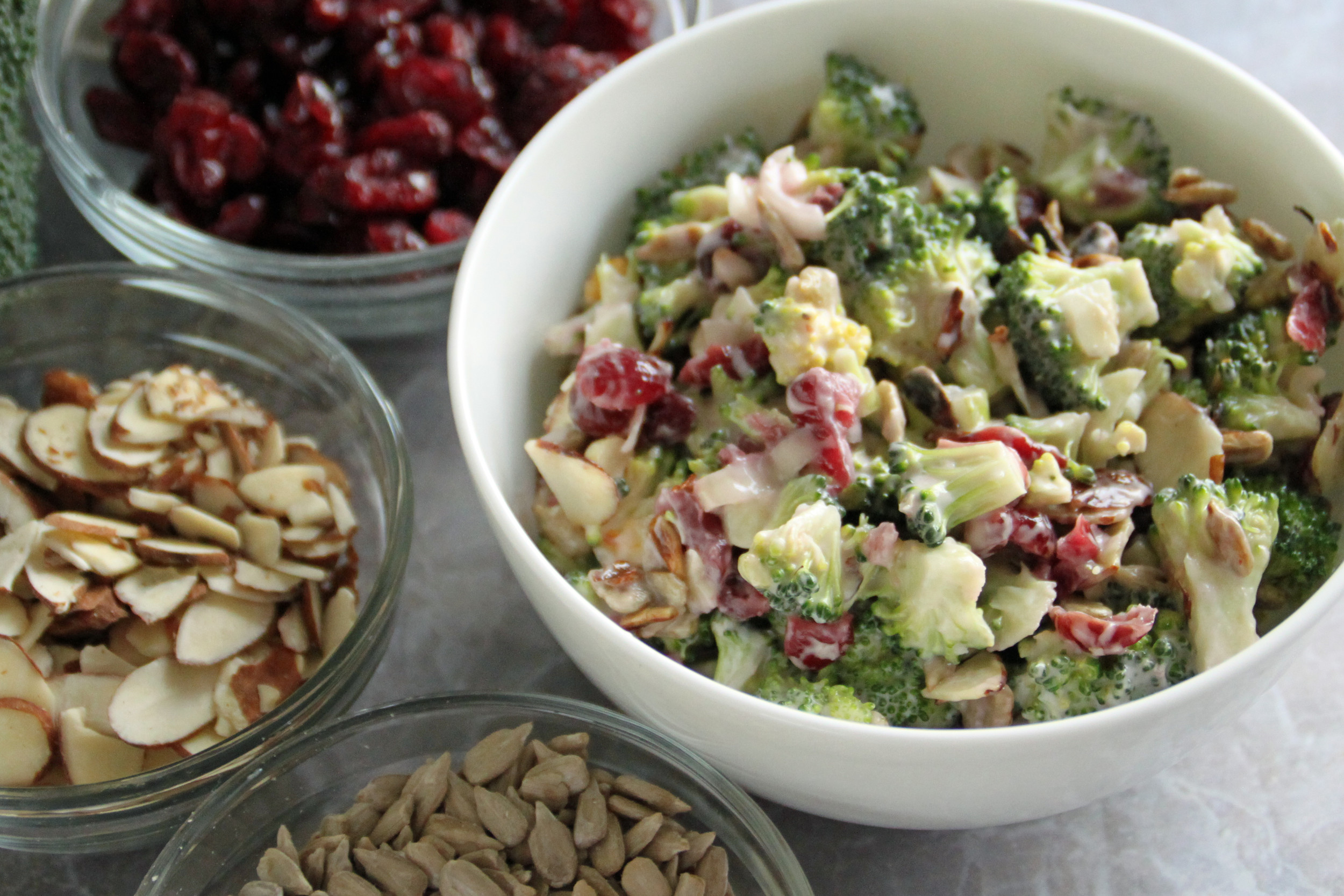 A crunchy, tasty salad that's perfect for a summery Christmas lunch.
The cranberries give a hint of Christmas.
This recipe is from our Home Tried Favourites recipe book, available from our shop.
You can use our recipe for a dairy-free, egg-free mayonnaise or try plain soy yoghurt instead.
Broccoli is a nutritional powerhouse full of vitamins, minerals, fibre and antioxidants. One cup of broccoli contains 2.6g protein, 2.4g fibre and 81.2mg vitamin C (135% of your daily needs).
Ingredients
3 heads of fresh broccoli, raw
1 bunch of spring onions, chopped
½ cup dried cranberries, chopped
½ cup slivered almonds, roasted
½ cup sunflower seeds, roasted
Dressing/Sauce

4 Tbs lemon juice/cider vinegar
1 cup creamy mayonnaise
1 Tbs sugar, optional
Directions
Make this 24 hours before you require the salad.
Chop the raw broccoli, spring onions and cranberries very finely. Place in serving bowl.
Put dressing ingredients into a 'shaker' and mix well. If it is too thick, add a little more liquid.
Pour dressing over vegetables, stir through, and refrigerate 24 hours, stirring from time to time. This allows the raw broccoli to soften.
Immediately before serving, stir through the roasted slivered almonds and sunflower seeds.
Latest vegetarian & vegan recipes
Other delicious ideas…